5 Mistakes Therapists Make When Blogging
Blogging is one of the best ways to bring in new traffic to your private practice website, educate potential clients and showcase your expertise in your field. Because you know this, you run to your website and start blogging to get your own slice of internet pie in the hopes of attracting more clients.
But blogging can't be willy nilly. There are some tried and true strategies to blogging effectively.
In this blog post I'll share 5 mistakes therapists make when blogging and what you can do to fix them.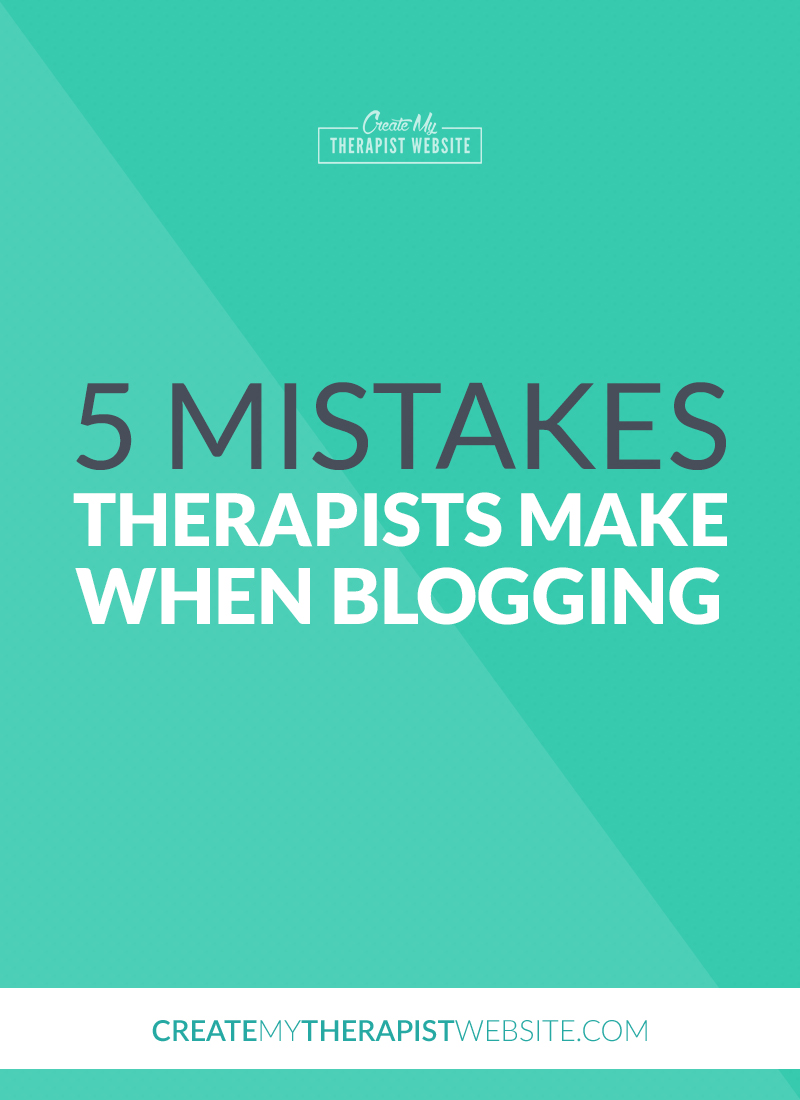 1. You're Not Blogging At All
When my wife first launched her private practice and her new website, there certainly was not a flood of clients or web traffic.
On the positive side, this meant she had more time for marketing.
So she began adding a few blog posts each month to her therapy website and, once she did that, her traffic just about doubled.
And then she began to get her first clients (and we danced!).
I believe that adding content regularly in the form of blog posts is one of the best ways to attract new traffic to your website.
If growing your web traffic is a goal of yours, then blogging is where it's at.
Plus, it has many other added benefits as well, which I discuss in this post: Does Your Therapy Website Really Need a Blog?
2. Your Blogs Are Short Without Much Value
This one may sting a little.
Do you use your blog only for the occasional announcement about an event or group you're starting?
Or maybe just post a Youtube video on your blog without much context?
You're basically treating your blog like you would a Facebook page.
But your blog should be a hub for the information and expertise you carry in your private practice.
You can and should use it as a means to answer some of the most common and challenging questions your clients may have.
I'm not saying that you should never talk about your events, groups or sharing videos you think your potential clients would like.
I'm saying give it context.
Why is the event important? What questions does the group answer. What do you know about the topic in the video you're sharing?
Without the context, you miss out on a chance to provide rich information to your clients, as well as Lord Google.
Google can't read images or videos, but it can read text.
So you want your blog post to be extremely informational, centered on a specific topic to help ensure it can be found by those searching for it.
3. You're Not Using On-Page SEO
Which brings me to the next mistake I often see.
Many times I see blog posts with titles like "My Thoughts About the Holidays".
That's extremely vague and I can guarantee that would not rank high on Google search results.
When you write blog posts, it's important to know the various places that search engines look for indicators of what the post is about.
Things like:
Having a keyword appear in the title of your blog post
Having a keyword found in the first paragraph of your post
Using images with proper file names and alt tags (learn more about how to optimize images for SEO here)
Creating simple URLs with a keyword within them
Keeping these things in mind each time you post a blog will give you a fighting chance in the world of SEO.
It also helps communicate succinctly to your readers on what the post is about.
To learn more about on-page SEO and other factors that will help your blog posts get found, click here.
4. You're Not Consistently Adding New Content
In the world of content marketing, consistency is key.
Are the last two blogs on your website separated by 3 months of time?
I know I've been there too.
It's hard to feed the ever-hungry monster that is content marketing.
But it's essential because it helps you to grow the amount of pages that Google can crawl and improves your SEO chances.
As you add blog posts over time, it lets search engines know that your website is changing and more and more content is being added regularly.
Would you rather recommend a website that hasn't changed in months? Or one that is constantly adding new and valuable information?
Google likes the latter.
Now I know it's incredibly difficult to be consistent with blogging. I struggle with it every month!
The first step is to decide when you'd like to post blogs.
Maybe your practice is full, so blogging isn't really essential or your time is short. That's fine, you don't HAVE to blog if you don't want any more clients.
But maybe you have more time on your hands right now, so posting a blog twice a month may be a good place to start.
The key is to find what works for you and stick with it.
In this blog post, I share my own strategy to stay on a consistent schedule with writing and posting blogs.
5. You Try To Be Someone You're Not
This one is extremely important.
You started your private practice because you believed that you had specific skills that can truly help transform people's lives.
No one can do what you can do in the way that you can do it.
The same is true for your blog.
A blog is one of the best ways for potential clients to get a feel for who you are, your expertise and your personality.
So be yourself, be vulnerable and that's what will truly attract people to you.
If you're not an expert on a topic, that's ok. You can link to resources that are from experts.
You don't need to be perfect, you just need to be yourself.
Conclusion
The best part about these five mistakes is that they are simple to fix.
If you haven't started blogging yet in your private practice I hope being aware of these mistakes will save you some grief as you dive into writing.
If you skipped to the bottom of this blog, here's your recap to save you from the common mistakes therapists make when blogging:
Start a blog if you haven't already
Fill your posts with valuable information (not just a video or 2 small paragraphs)
Know and use on-page SEO
Blog consistently
Be yourself
Now get out there and blog!
To help you out with your blogging, I've created a free checklist of 11 things you should do to each blog post before you publish it. Just click on the image below to access it:

https://createmytherapistwebsite.com/wp-content/uploads/2017/01/5-Mistakes-Therapists-Make-When-Blogging-feat.jpg
303
807
Daniel
https://createmytherapistwebsite.com/wp-content/uploads/2015/07/create-my-therapist-website-logo-rev1-300x124.png
Daniel
2017-03-14 06:14:46
2017-03-15 15:55:37
5 Mistakes Therapists Make When Blogging