Websites for Therapists: How to Optimize Images for SEO
Using images on your private practice website is a great way to make your site look pretty, but it's also a great chance to improve your SEO (search engine optimization). There are a few things you can do when adding images to your website to make sure they're working to help you get found in search engines.
In this post we'll go over how you can improve your SEO by optimizing your images.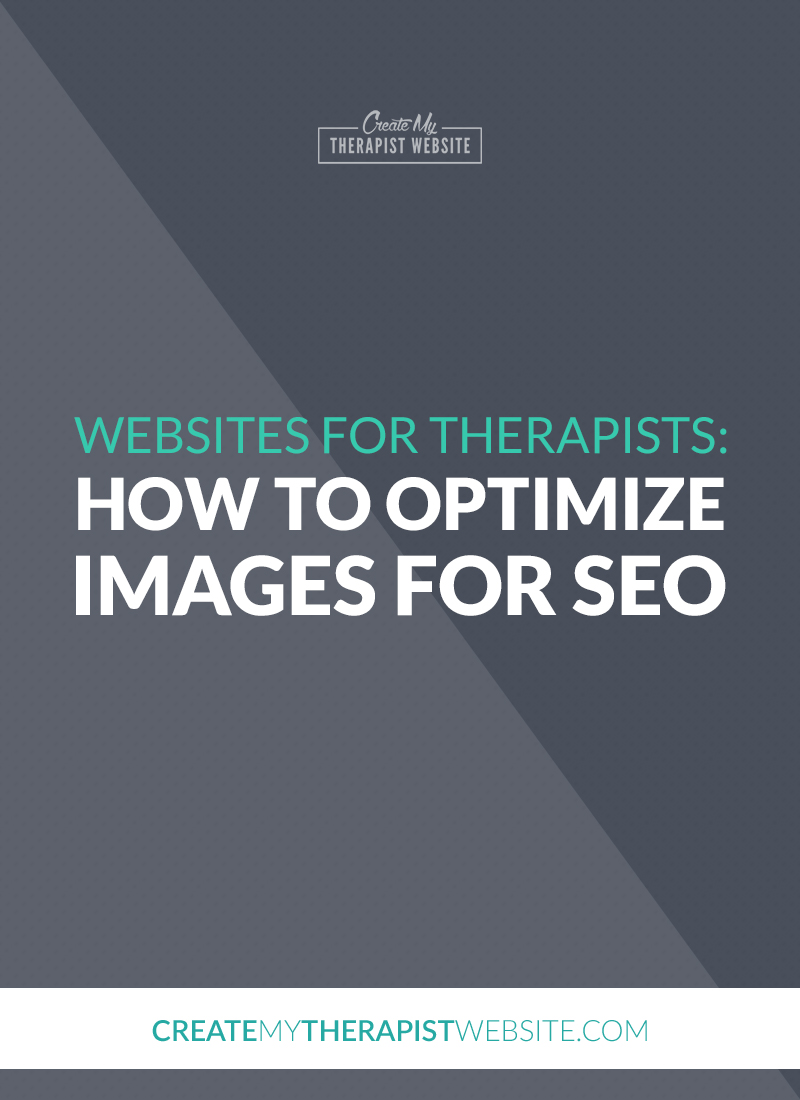 Search engine optimization has to do with specific things you can do to let Google and other search engines know your content exists and then show that content to the people who are searching for it.
SEO can be confusing and there are many different factors that affect it, but optimizing images as you add them to your therapy website or blog is a pretty simple process. Yay!
So let's get into it…
Give Your Images Descriptive File Names
When you upload an image file to your website, you should never just leave the default file name.
Whether you take a photo using your own camera or download a stock photo from the internet, you'll want to change the name of the file to reflect the content in which the image appears.
For example, an image straight from a camera may be called img_0125.jpg.
Search engines would have no clue what that image could be about or whether it fits in with your content.
So rename that image to something more descriptive and include a keyword that someone may use to find the content you're creating.
Something like, 5-ways-to-combat-anxiety.jpg.
Search engines crawl not only the words on your website, but the text associated with images on your website. They can't tell what an image is but they can get cues from the various ways you describe your images. This includes the file name.
Keep Your Image File Size Small
With about half of all website traffic coming from mobile devices these days, it's extremely important that your content load fast.
Page speed is also one of Google's hundreds of factors that affect your page rank.
So you want to make sure that your images are not unnecessarily large in file size.
For images within blog posts, I try to keep them no larger than 800 pixels wide and less than 150mb in file size.
I personally use Photoshop to adjust my images. But you can use a free service like TinyPNG.
You can quickly drag an image into TinyPNG and it will quickly compress it down to a smaller file size: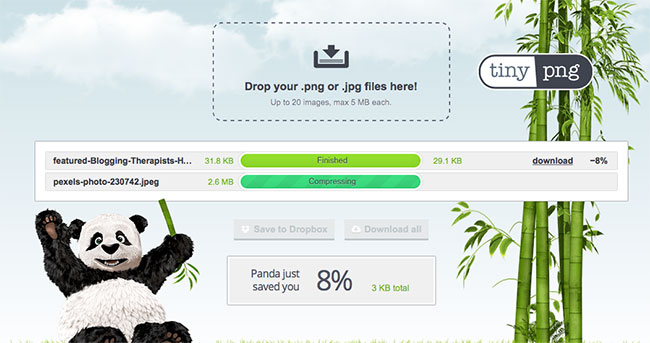 The key is to make your images as small in filesize as possible without losing a ton of quality.
To test your own site speed and see if you have any images that are driving up your load times, you can use this tool, from Pingdom.
Give Your Image a Descriptive Title Tag
Image titles are what appear when you hover over an image with your mouse.
In WordPress, when you upload an image, it will automatically use your image's file name as the title. So you'll want to edit that and give a descriptive title.
Depending on how many photos I have in a blog post, I'll just use my blog's title as the title of the image here.
Write Descriptive Alt Image Tags
Alt tags are used as an alternative description of your images if/when your images don't load.
Like your file name and image title, alt tags help let search engines know what your image is about.
You can be pretty descriptive here and let Google know exactly what the image is and include keywords where it makes sense.
Do your best to describe the photo and the content it appears in.
In WordPress, each time you upload an image, you'll see a spot for the Alt Text. Alternatively, clicking on an image in your media library will lead you to it as well: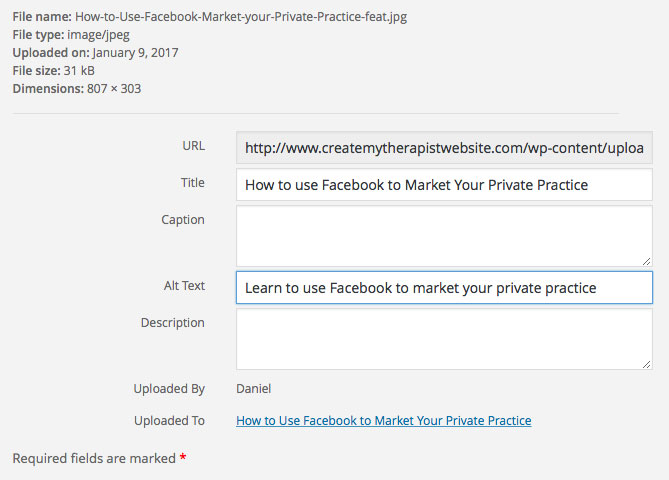 Conclusion
If you make these four steps part of your process when uploading images to your website it will make search engine optimization much easier.
Over time, it will ensure that your content contains everything it needs to let Google know what it's about and start sending you some organic traffic.
If you're curious about other ways you can optimize your content for search engines, check out this post all about on-page SEO.
https://createmytherapistwebsite.com/wp-content/uploads/2017/02/How-to-Optimize-images-for-seo-feat.jpg
303
807
Daniel
https://createmytherapistwebsite.com/wp-content/uploads/2015/07/create-my-therapist-website-logo-rev1-300x124.png
Daniel
2017-03-21 06:00:42
2018-04-27 16:27:50
Websites for Therapists: How to Optimize Images for SEO