A Sneak Peek at My New & Improved Website-Building Course
I began Create My Therapist Website in 2015 with one main goal: to help therapists get more clients by giving them the necessary resources to create a private practice website that they're not embarrassed to show potential clients – one that's beautiful, modern, and functional.
This all came out of our own story, when my wife began her private practice here in Atlanta.
Building a practice was HARD.
She was working toward her license and needed the right amount of client hours to get there.
But because she was just starting out, it was difficult to get those first clients on her caseload.
Which meant a lot of waiting… and hoping… and praying for those clients to come.
So I used my web design, online marketing and WordPress expertise to built her a website for her private practice.
And pretty soon, we began to see something amazing happen.
She began getting calls from potential clients who decided they wanted to work with her BECAUSE her website looked better than the other therapists.
Within about 9 months, she was seeing 12 – 15 clients a week.
Not long after that, she had grown to about 30 clients a week.
But chances are you are not married to a professional web designer like my wife is.
And at this stage of your business, maybe paying thousands of dollars for a designer to build your website is just not an option.
So you're left having to DIY your private practice website, like so many that have gone before you.
And just like so many, you soon realize that technology can be a real pain in the gosh-darn tushy.
There. I said it.
You end up spending hours trying to get an image uploaded to your website or Googling for the answers to what seems like simple questions.
Instead of taking hours to create a website, it ends up taking weeks and even months.
All the while you're missing out on those potential clients you KNOW you could help.
No one should have to go through that.
After seeing the impact a modern and strategically-designed website had on my wife's private practice and our life, it's become my MISSION to help others achieve the same.
So I launched my business and soon after created my first training program: the Create My Therapist Website Toolbox.
The Create My Therapist Website Toolbox is my start to finish website building program, designed to make the website-building process as easy, organized and as straightforward as possible.
I've Completely Rebuilt This Training, From The Ground Up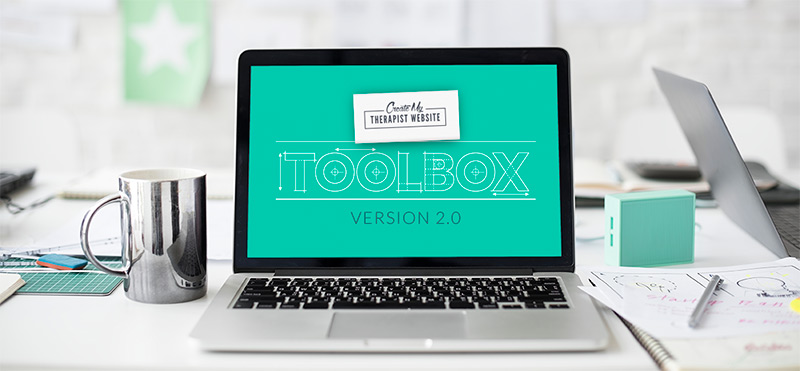 Last year I spent a boat load of time doing research into my customers' biggest pain points when it comes to building a website.
Overall, my students were getting great results.
Check out what Beth had to say:
"I finally have a website that feels more like me and introduces me and my practice to my ideal potential clients in a way that authentically connects with them. It helps develop a relationship with clients even before we've had a chance to talk.

It's worked so well I've recently had to shut down my 'Schedule An Appointment' button on the website because so many new clients are scheduling with me that I'm running out of room for my current clients!"
But there were still a few places in the website-building process that were tripping my students up.
When I asked them about this, the feedback was unanimous:
They wanted even more specifics about using a theme and designing web pages.
With so many WordPress themes out there, it's easy to get lost in a sea of options.
It's also easy to choose a theme you think will serve you well, only to find it's confusing to actually edit and build web pages.
So I began to treat this course more like a true class with even more show and tell.
I've used my own design process and how I work with clients to not only create websites that attract and convert their ideal clients but to make the process as streamlined and headache free as possible.
In order to provide the best hands on support to my students, I've decided to focus the course on using just one flexible and intuitive WordPress theme: Divi.
Now I'm able to show them EXACTLY what they will create and take them step-by-step through the process, building the most important pages on your private practice website.
And since I know Divi inside and out, I'm able to answer the specific questions that come up along the way.
A Sneak Peak At The New CMTW Toolbox Online Course
Did you skip to the end of this post, looking for the good stuff?
I like that.
Check out the video below for a behind-the-scenes look at the new and improved course.
I'm EXTREMELY excited to share this with you.
If you've been embarrassed to give your URL to potential clients, this course will help you finally create that modern, beautiful website that will help you get the clients you deserve… even while you sleep.
Enrollment will be open soon, so stay tuned.
https://createmytherapistwebsite.com/wp-content/uploads/2018/01/529907150095990.B1P6kMnuzZcO39w8BYwd_height640.png
240
640
Daniel
https://createmytherapistwebsite.com/wp-content/uploads/2015/07/create-my-therapist-website-logo-rev1-300x124.png
Daniel
2018-01-30 07:00:51
2018-01-29 20:55:58
A Sneak Peek at My New & Improved Website-Building Course