My Favorite WordPress Theme for Therapists
If you're thinking of using WordPress for your private practice website, then you've probably checked out some themes. With thousands to choose from, finding the right theme is one of the biggest hurdles I see trip people up.
In this post, I'd like to showcase my personal favorite WordPress theme, Divi, and why I use it when I build custom websites for my clients.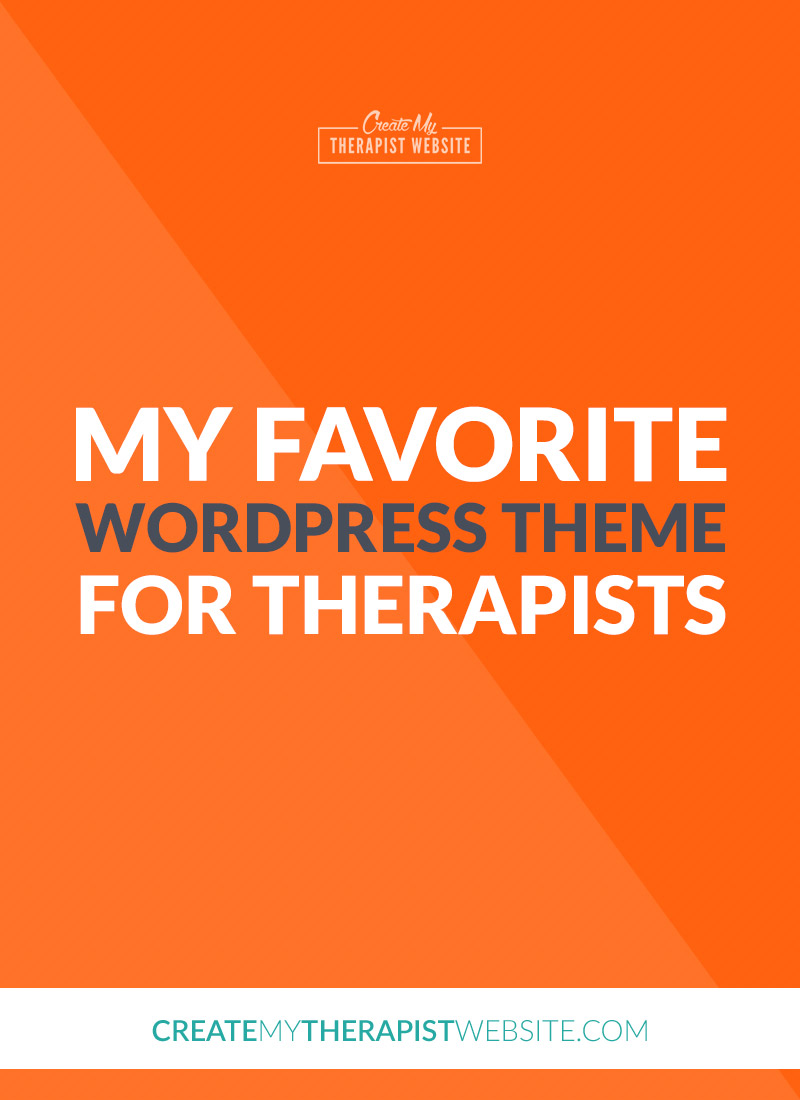 Note: Some links in this post are affiliate links. If, in the future, you decide to purchase Divi for yourself, using a link here means I'll get a small commission at no extra cost to you. I only recommend tools and resources I truly believe in.
An Introduction to the Divi WordPress theme from Elegant Themes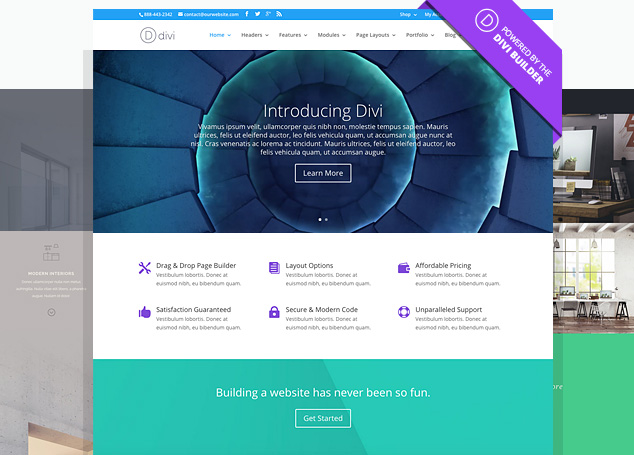 Elegant Themes is a design and web development company that specializes in WordPress themes and plugin creation.
While they currently have 87 WordPress themes in their arsenal, Divi is by far the most popular one.
It's touted as the "ultimate multi-purpose theme and fit for just about any occasion".
This means you can use Divi to build just about any type of website you could imagine, including your private practice website.
And because of the amazing level at which Divi allows you to customize your website, you can create extremely unique websites that look like no one else's.
It's all run by the Divi Page Builder, which lets you create, save and edit page layouts with extreme ease.
It's because of this that I now use this theme for all the custom therapy websites I create.
I can start from scratch and use Divi as my framework to create a fully custom website. And the easy-to-use page builder means my clients can make updates in the future easily and quickly.
Features of the Divi Theme
Easily Edit Your Website Visually (Not Just From Inside WordPress Admin)
Divi lets you use a Visual Page Builder so you can quickly see what your website design looks like as you make changes.
Many WordPress themes force you to design in the dark so to speak, where you make changes to a page in the WordPress admin, save it, then see what it looks like.
You can design whole pages visually with Divi and see exactly what it looks like: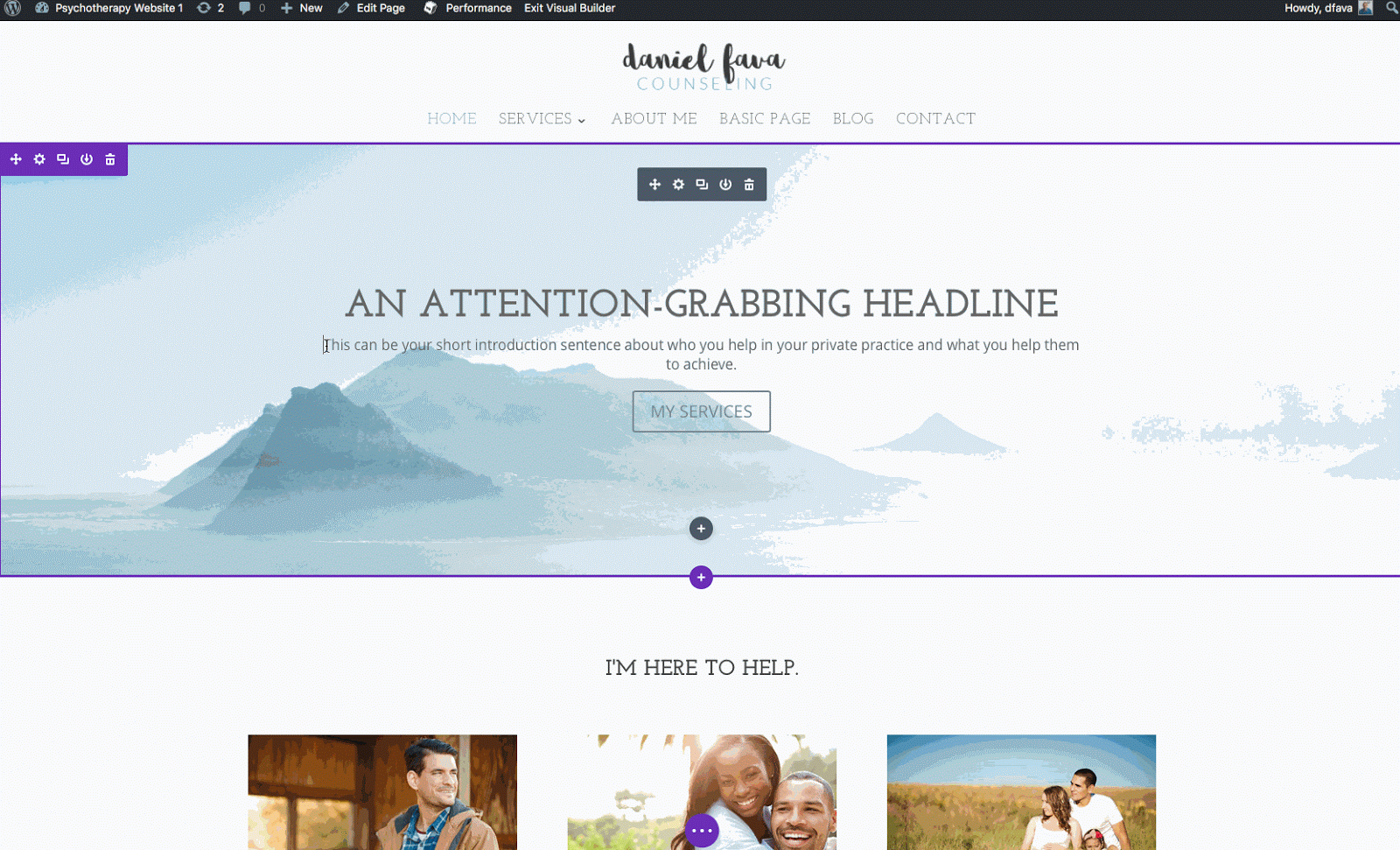 Customize (Freaking) Everything
When I first started using Divi I was blown away at the level of customization I could do.
Many themes force you to set fonts and colors for certain elements at a global level. Divi lets you do that, but with each piece of content you create, you can customize further.
This is great for stand out titles or extra-special buttons that you don't want to look like the uniform ones on your website.
It lets you get really creative and have absolute control.
When creating rows on a page, you can change the background color or image, give it more or less space around the edges and even, with one checkbox, have that row completely disappear on mobile devices.
Complete control!
Create and Save Page Layouts
As you build your own private practice website, you'll notice that there's certain elements that you'll want to use multiple times.
Using repeating elements is helpful for the users of your website, because it creates consistency and helps them find information faster and know where to look.
With Divi, you can save entire page layouts, which is extremely useful for when you want to add pages to your website.
When I work with clients, we work together to create a layout for an inner page (any page other than the homepage). Then I'll save that page's layout in Divi, and use that layout for all the other pages on the website, editing the content as I go.
This means I don't have to start from scratch with each page and every piece of content is consistent.
Divi also lets you get nitty gritty too. You can save single rows of content, or even just a single content element, such as a button or text block that you'd like to use over and over.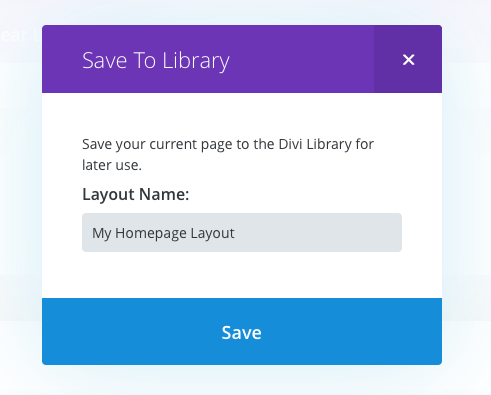 The theme even comes with over 20 page layouts you can use to kick-start your website in minutes, including options for home pages, about pages and a contact page with a form: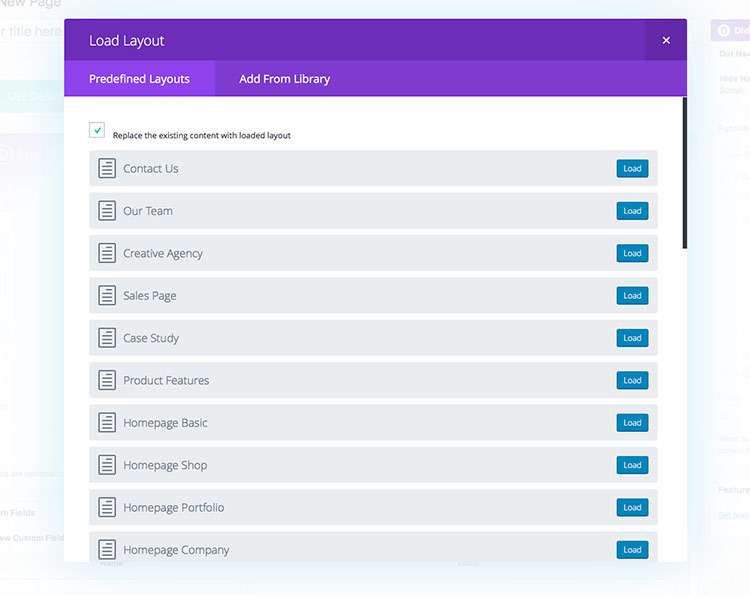 Other Features
Divi websites are fast. The code behind it is excellent and each website I've created using this theme loads extremely fast.
46 content elements to add content to your pages, like blog posts, headers, text, images, contact forms, buttons and a heck of a lot more.
You can import layouts from the Divi community and use with your website. Just install it on your website, update the content and you're good to go.
For a full list of features check out the Divi website.
Customizable Psychotherapy Divi Templates

So yeah, Divi is pretty amazing to me.
I've been using WordPress since 2007 and I'm amazed at just how much the makers of Divi thought of while creating this theme.
Each time I wish I could edit something, I click and find out, "oh, they thought of that!"
I'm excited to announce a new service I'm offering with Divi.
I've create 3 premade customizable psychotherapy websites using the Divi theme as way to serve those of you who may be starting out, wanting a beautiful modern private practice website, but are not yet ready to invest in a website built from scratch.
I've personally designed these website templates to include the essential pages and content for a psychotherapy website that attracts more of your ideal clients.
Because you get to choose the colors, fonts, photos, header layout and other features, you'll get an affordable website with all the power of WordPress that is unique to you and your private practice.
You can take a look at each website template by clicking on an image below: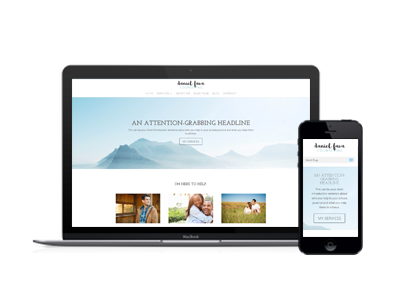 Preview Customizable Template 1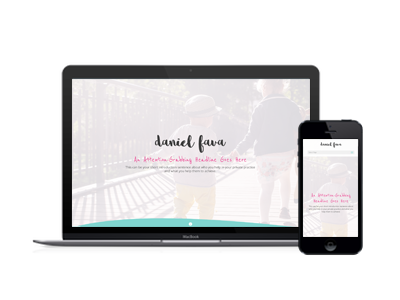 Preview Customizable Template 2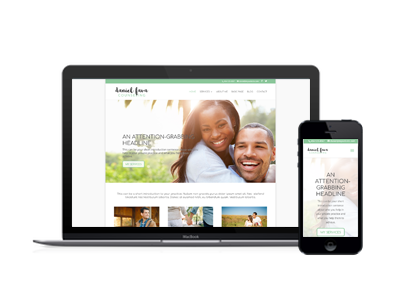 Preview Customizable Template 3
If you think you're ready to get your therapy website started or maybe just modernize your old website, I'd love to chat.
All you have to do is choose a template you like, provide me with some information on your design preferences, and I'll customize and launch your website in just a few weeks.
To find out more about these Divi customizable templates and how we can work together to create a website that attracts more clients to your practice, just click here.
When you're ready, you'll find a link on that page to fill out an inquiry form and we'll take it from there.
And if you're more of a DIY person and would like to start using Divi on your own, you could purchase Divi directly from Elegant Themes here.
OR maybe you just want to learn how to use WordPress in general, you can check out my training, A Little Course About WordPress.
https://createmytherapistwebsite.com/wp-content/uploads/2017/02/favorite-wordpress-theme-for-therapists-private-practice.jpg
303
807
Daniel
https://createmytherapistwebsite.com/wp-content/uploads/2015/07/create-my-therapist-website-logo-rev1-300x124.png
Daniel
2017-02-14 06:00:17
2018-04-27 16:27:52
My Favorite WordPress Theme for Therapists