Therapy Website Must-Haves, Designing for Potential Clients & SEO Tips
A couple of weeks ago I had the honor of talking with Clay, for the onlinecounseling.com podcast. If you're not familiar, onlinecounseling.com is an online directory for therapists, counselors, social workers, psychologists and psychiatrists that have taken their practices online and offer virtual counseling services.
While the podcast typically focuses on online counseling, it's also an amazing resource to anyone with a private practice. Clay also has a Therapist Toolbox on his website that's packed with resources to help you grow your practice and build your business.
The interview was not only a lot of fun, it's totally info-packed! We covered a lot of topics and I know you'll get a lot out of it.
We spent the most time talking about finding your voice within your therapy website and creating content that speaks to your ideal client. Because, let's face it: web design means nothing if it doesn't attract the right people to your therapy practice.
Here's just some of what you'll learn in the podcast episode:
An elaboration of my own journey into how I got started creating therapy websites and my blog
The foreign country where I met my wife (the Therapist)
What is WordPress and how popular is it?
Finding your voice and how to use your therapy website to speak to potential clients
Tips to help your SEO and attract the right clients
Some must-haves for any private practice website
Making it easier for potential clients to get to know you through your therapy website
Content marketing and why it's important
So head on over to onlinecounseling.com to access the full episode (or click the image below). I encourage you to explore Clay's website and check out his many resources as well as some of the past podcast episodes to hear from experts in the counseling community.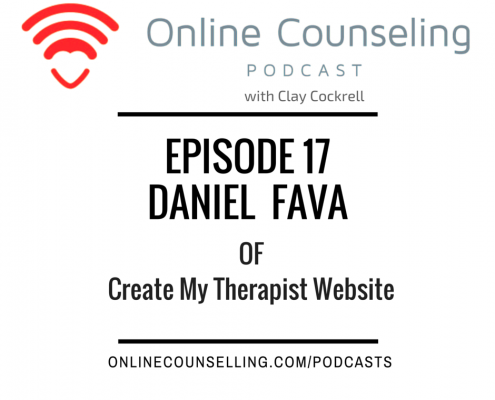 Are you a therapist thinking about creating a website but have no idea where to begin?
I created a FREE video workshop that will show you how to save time and money on the project, the simple tools you can use and important mistakes to avoid when building your website. Just click the banner below to get started!
https://createmytherapistwebsite.com/wp-content/uploads/2016/06/Therapy-Website-Must-Haves-Potential-Clients-SEO-Tips.jpg
303
807
Daniel
https://createmytherapistwebsite.com/wp-content/uploads/2015/07/create-my-therapist-website-logo-rev1-300x124.png
Daniel
2016-06-08 06:00:33
2018-04-27 16:28:05
Therapy Website Must-Haves, Designing for Potential Clients & SEO Tips