Marketing for Therapists: Top Tools to Schedule Social Media Posts
Social media can be a great way to market your private practice, reach new clients and drive traffic to your therapy website. But it can also suck a lot of your time and become an ugly monster that always seems like it needs to be fed.
In this post I'll share some tools that let you schedule your social media posts to help you save time and keep you sane.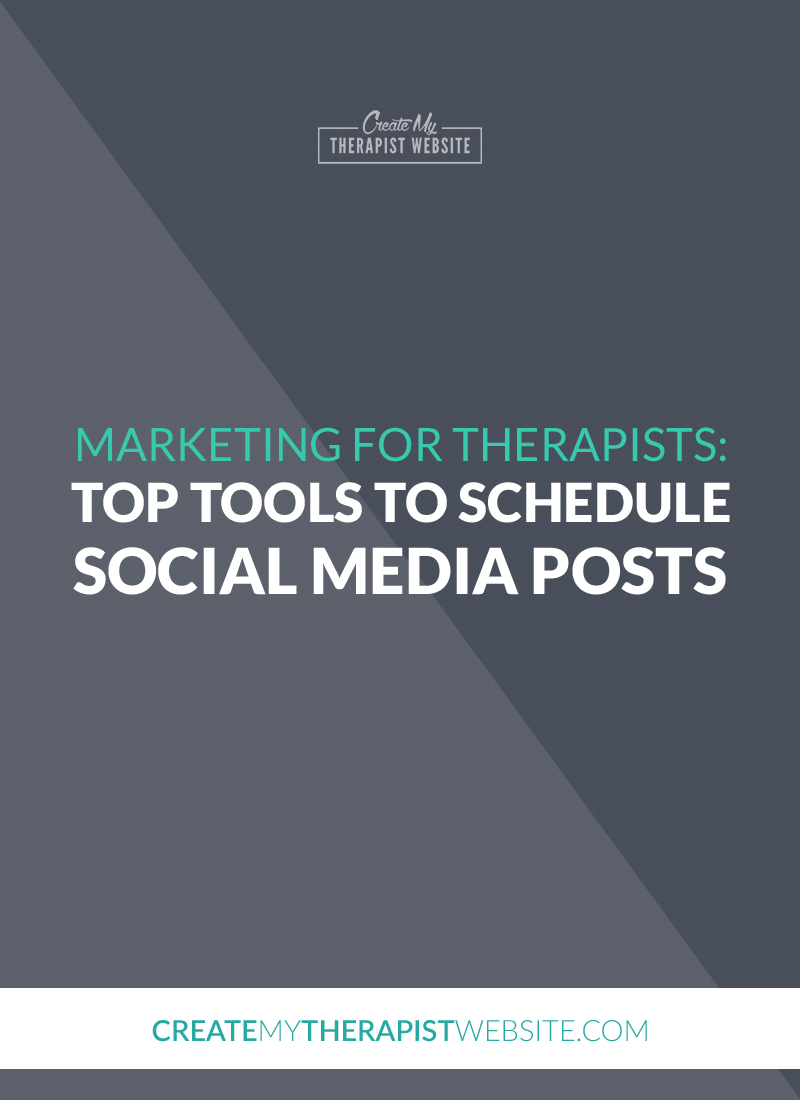 Why Scheduling Social Posts is Important
Social media is all about consistency.
In order to keep a constant place at the table of the internet, it helps to consistently be part of the conversation.
Consistency means that you are daily sharing information that resonates with you audience. It can educate or inspire, encourage or entertain.
But in order to be consistent, that means you're sharing posts on social media each and every day. That may not be too difficult but when you start to add in Facebook, Twitter, Pinterest, etc., it can take up a LOT of time to try and keep up with it all.
This is why I recommend finding a tool that will help you schedule your consistent content across all your social channels.
This doesn't mean that you don't interact with people. You'll still want to join in conversations, answer comments that come in and be present.
But setting aside an hour per week or month to load up social posts is much more efficient than being sucked into social media each day for an hour.
No more getting distracted by cat videos when you should be sharing your latest blog post!
So let's get into some tools you can use to schedule social media posts.
1.  Buffer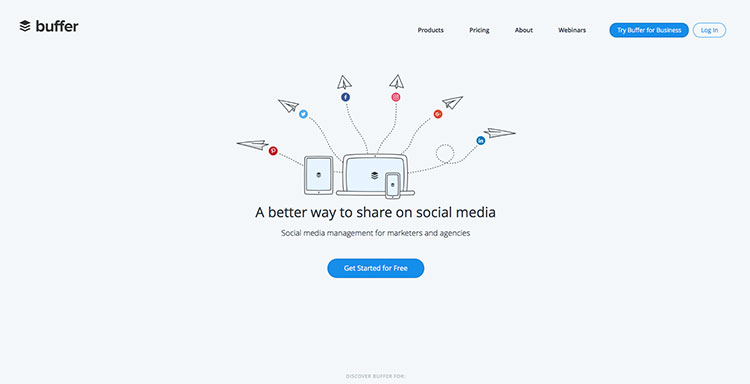 Buffer is my social media scheduler of choice. I began using their free service (limited to 10 scheduled posts per social channel) to get a feel for the app and just loved it.
It's extremely easy to get started using Buffer and sync up all your social posts.
The way it works is you set a schedule of times you want to share posts on each of your social channels.
Then you fill up your queue of posts and Buffer will automatically share them according to that schedule you set.
I like to use their browser extension to share articles I've come across or even Tweets I'd like to retweet.
Their "Power Scheduler" is great for sharing your new blog posts. It lets you create numerous social posts in just a few minutes, sharing it hours, days and weeks into the future (great for Twitter).
I also like their "Content Inbox" feature, which lets you collect links to blog posts from websites you follow and want to share with your audience. Then, with the click of a button you can add those articles to your queue.
They offer a free version to get started and learn the ropes. I've found the next tier, which is $10/month, to be well worth it.
Check out Buffer here.
2. Hootsuite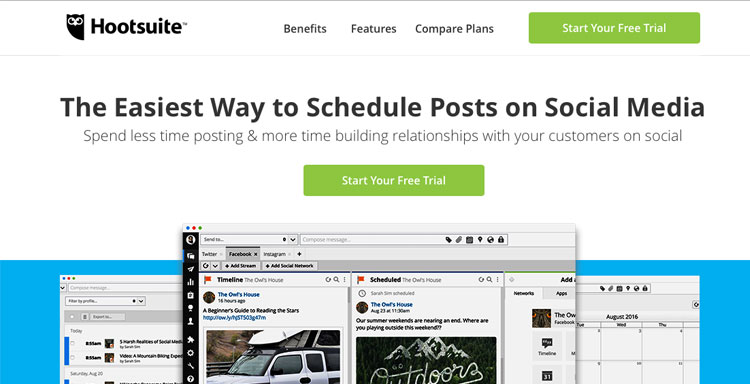 Hootsuite is one of the most popular social media management services out there. It not only lets you schedule your social posts, but it has the added feature of letting you also interact with your audience by responding to tweets and comments.
So it can be more of a social media management tool than just a tool for scheduling your posts.
You can check them out with a free 30-day trial, after which the plans start at $9.99 with unlimited scheduled messages across all your social channels.
3. Everypost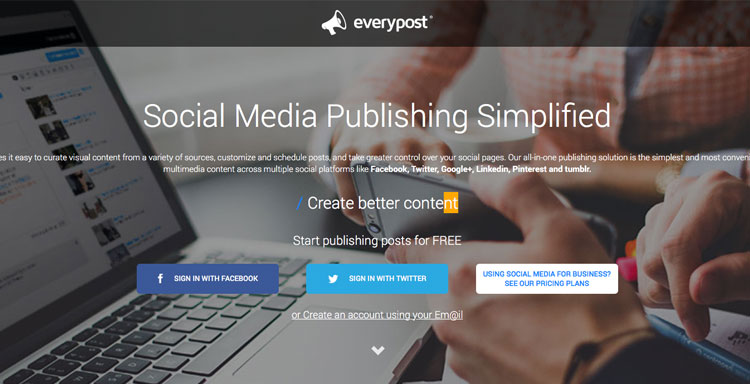 Everypost's features give you everything you need to curate content and schedule posts across multiple channels, including Facebook, Twitter, Google+, Linkedin, Pinterest and tumblr.
Their content curation features are a highlight of this service, enabling you to find engaging visual content from YouTube, Instagram, Flickr and RSS feeds and then publish it across all your social media platforms.
Their free account limits you to just one social channel and paying $10/month can up that to ten social channels.
4. SocialOomph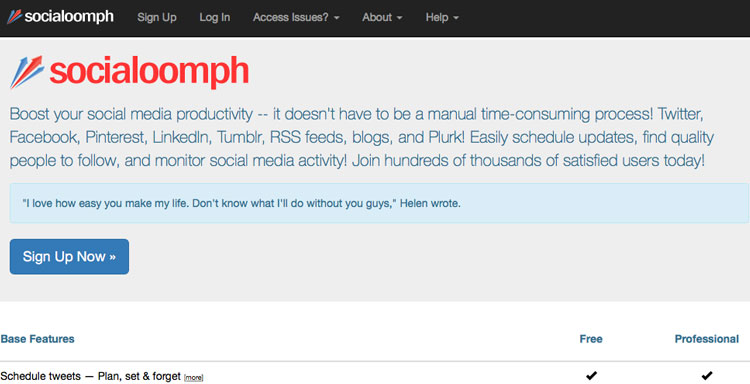 SocialOomph allows you to monitor your social activity and schedule posts into the future. Their free version gives you tools for Twitter only, so if you'd like to use their service for Facebook, Pinterest, etc., you'll have to upgrade to a paid plan.
While SocialOomph can let you publish posts to Facebook, Twitter, Pinterest, LinkedIn, tumblr and blogs, it seems like their focus is definitely their Twitter tools, of which there are many.
5. SproutSocial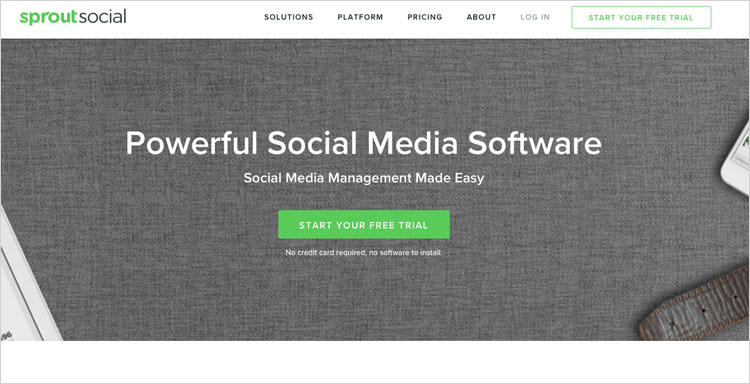 SproutSocial is for those of you that require a robust social scheduling and monitoring manager. It may be just a little too much for those of us just starting out, but their tools are pretty powerful.
Not only can you schedule posts, but you can manage the many conversations you're having across multiple social platforms, all in one place.
This bad boy starts at $99/month (after the free trial) so it's definitely an investment and only recommend it for folks who may be taking their private practice more online, selling products and really focused on social media strategy.
Conclusion
If you're losing your head trying to keep up with social media, I hope that one of these five tools will give you some peace of mind.
I recommend setting a block of time each week where you schedule social posts.
Then your time can be better spent answering questions and interacting with potential clients on social media.
Another tip? If you're starting out, start small.
Choose ONE platform to learn how to use and what works. This will keep you from getting overwhelmed trying to keep up.
https://createmytherapistwebsite.com/wp-content/uploads/2017/02/Marketing-for-Therapists-Top-Tools-to-Schedule-Social-Media-Posts-feat.jpg
303
807
Daniel
https://createmytherapistwebsite.com/wp-content/uploads/2015/07/create-my-therapist-website-logo-rev1-300x124.png
Daniel
2017-02-21 06:00:47
2018-04-27 16:27:51
Marketing for Therapists: Top Tools to Schedule Social Media Posts