What To Expect When Working With a Website Designer: Part III
This is the final article in our series on what to expect when working with a website designer to build a website for your private practice.
Here is a recap of our series:
In this article, I'll share what you can expect after your website has been launched and how you can make the most out of this new marketing asset of yours.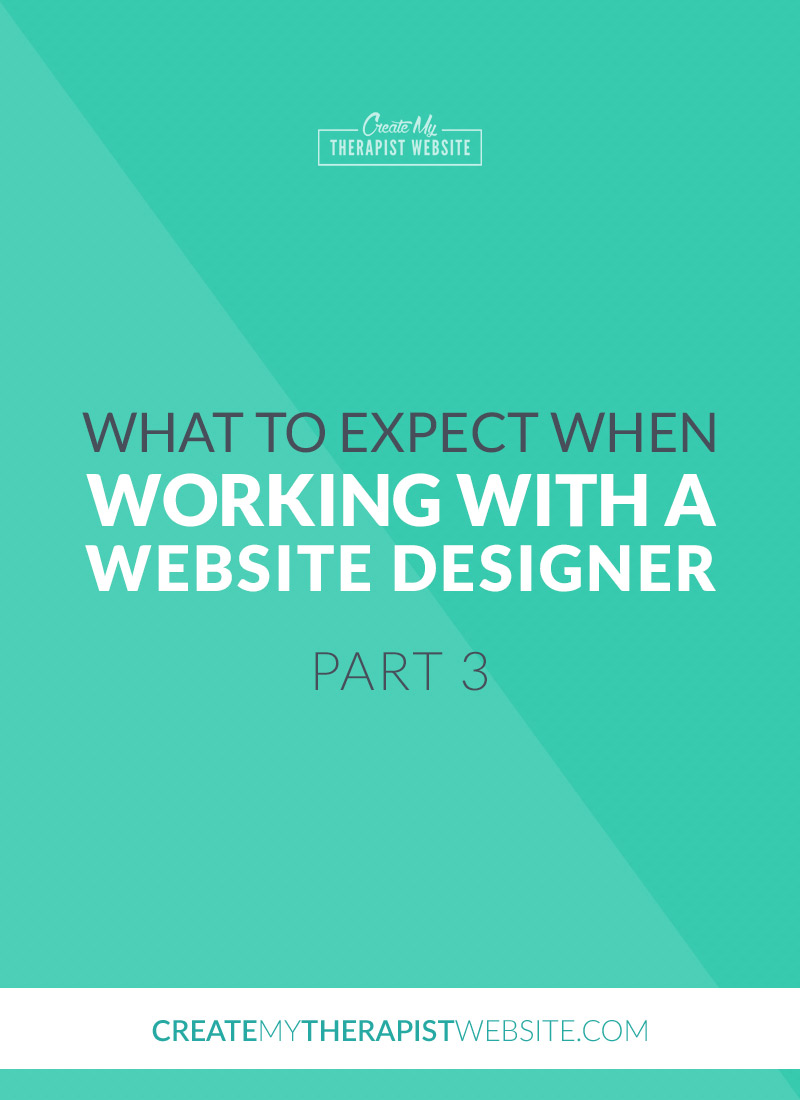 This isn't really the "end" of your website project… the fun has really just begun.
Because if you JUST build it, no one will JUST come.
There's work to be done to make sure that this investment into your marketing truly pays off.
The Designer Prepares for Handing Over the Keys
As your project nears the end of this phase, your designer may begin to gather some resources for you smoothly hand off your website and equip you to use your website.
Because I use the  Divi WordPress theme to create all my client's websites, I can save page layouts for my clients to use in the future.
Now that the website has been launched, I'll save the latest versions of the page layouts.
This means that when my client wants to create a new page on their website, they can load a layout from a library of pre-designed pages with the click of a button, update the content for the new page and publish it: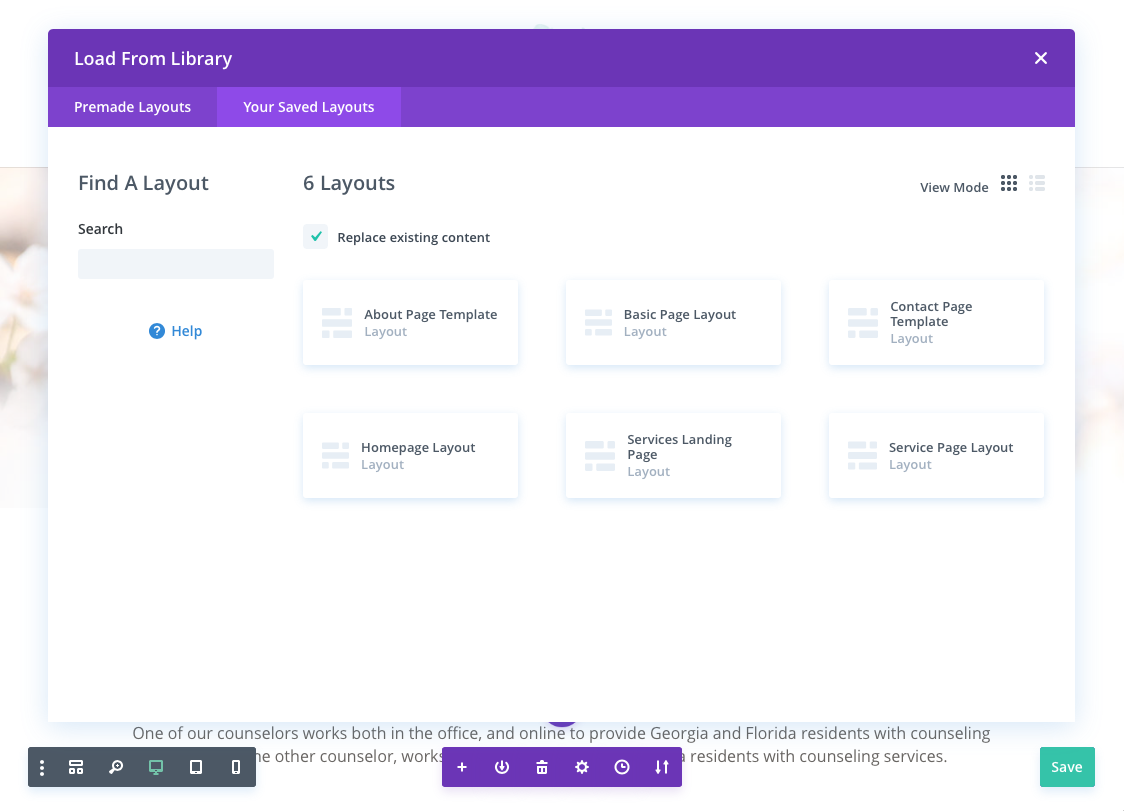 Now they'll be able to add new pages, with a consistent design, all on their own.
Another thing I like to do for my clients is create a PDF resource with information about using their new website.
Inside, I'll include their WordPress login credentials, the color palette used on the website should they want to use them in other marketing materials, a link to their personal training video for making updates to the website, other tutorials and other helpful resources.
It looks like this: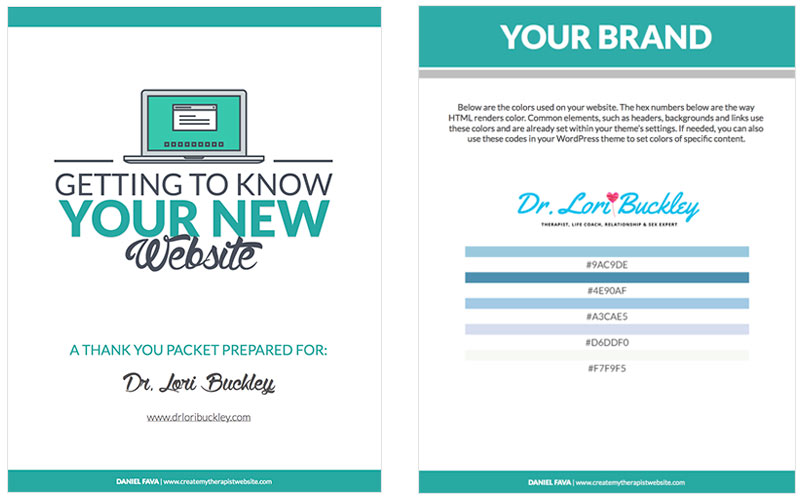 This is a helpful PDF that my clients can refer to in the future as a reference for using their website.
Personal Training: Learning To Use Your New Website
Your website should be an ever-changing marketing asset to your business.
Adding new content over time is a sure-fire way to improve your traffic and help your website rank on Google for various keywords.
In order to add content, you're going to have to know how to make updates to your website.
When I work with my clients to build their websites, each project culminates in a 1-hour video training session.
I'll share my screen with them via a Zoom meeting and walk them through the process of editing existing content and adding new pages and blog posts.
I'll record this video and include the link in their PDF Thank You packet I mentioned above.
For those clients who are not familiar with WordPress, I'll include free access to A Little Course About WordPress, my beginner WordPress course, to help them get familiar with how their new website is built and where to go to edit their website.
At this time, the baton has been passed and you can begin to explore your new private practice website and make changes to the content.
I always encourage folks to create a new web page and just have fun playing with the Divi builder to change images and content.
Once they get a feel for adding new content, they can begin to create more pages and add blog posts to their website.
Maintaining & Updating Your Website
One of the biggest differences between website-builders like Squarespace and WordPress, is that with WordPress, you are responsible for keeping your website files updated and secure.
Not performing regular updates to your WordPress files is one of the main ways hackers can gain control of your website and leave you empty handed.
There's really three main reasons to update your WordPress, theme and plugin files:
Updates Apply Security Patches
Updates Can Fix Bugs
Updates Add New Features & Functionality
To make sure the shiny new website you invested in stays secure and working properly, you'll want to apply updates at least every few weeks.
At Create My Therapist Website, we include 2 months of our maintenance service completely free after your website is launched, so you don't even have to worry about it.
To learn more about the importance of keeping your WordPress website updated and how to do it, check out this post here.
Growing Your Traffic To Gain More Clients
The final step in working with a designer to build a great private practice website that will actually impact your business is to get traffic to show up to your website.
The more traffic that comes to your website, the greater the chances of clients reaching out to you for help with their challenges.
The more people that reach out, the more can become paying clients.
You get it.
This step in the process is an ongoing one and involves a little understanding about what you enjoy doing when it comes to marketing your private practice.
Will you write blog posts to help boost your search engine optimization (SEO) and showcase your expertise?
Will you hire someone to create cornerstone content that's optimized for search engines?
Maybe you'll start a podcast and publish the episodes on your website.
There's also a number of things you can do OFF of your website in order to drive traffic, such as writing guest articles for other websites (with a link back to your own), posting content on social media channels, or using Google and Facebook ads.
Try not to to overwhelm yourself with all these options, but try a couple, see what you enjoy and then make it a consistent practice in order to boost your traffic.
For more articles about increasing your website traffic, visit this page here.
Conclusion
I hope you enjoyed our series on what to expect when working with a website designer to create a private practice website.
Hiring someone can seem like a scary thing to do, especially when you don't know what to expect.
But hiring a professional is truly the best way to get a website you love that actually converts into paying clients.
It also saves you a lot of time, frustration and takes the guesswork out of building an effective website.
If you'd like to chat about how a new website could help improve your business, I'd love to chat. I offer a free 30-minute consultation. Learn more about custom website design.
https://createmytherapistwebsite.com/wp-content/uploads/2018/04/P3.jpg
303
807
Daniel
https://createmytherapistwebsite.com/wp-content/uploads/2015/07/create-my-therapist-website-logo-rev1-300x124.png
Daniel
2018-05-02 10:00:33
2019-04-03 20:13:55
What To Expect When Working With a Website Designer: Part III