Building A Private Practice: The Best Websites to Help Grow Your Business

Chances are you went to grad school to become a therapist, not a business guru or online marketer. But lucky for you, there are a ton of amazing folks out there serving the psychotherapy community by teaching the principles of building a successful private practice.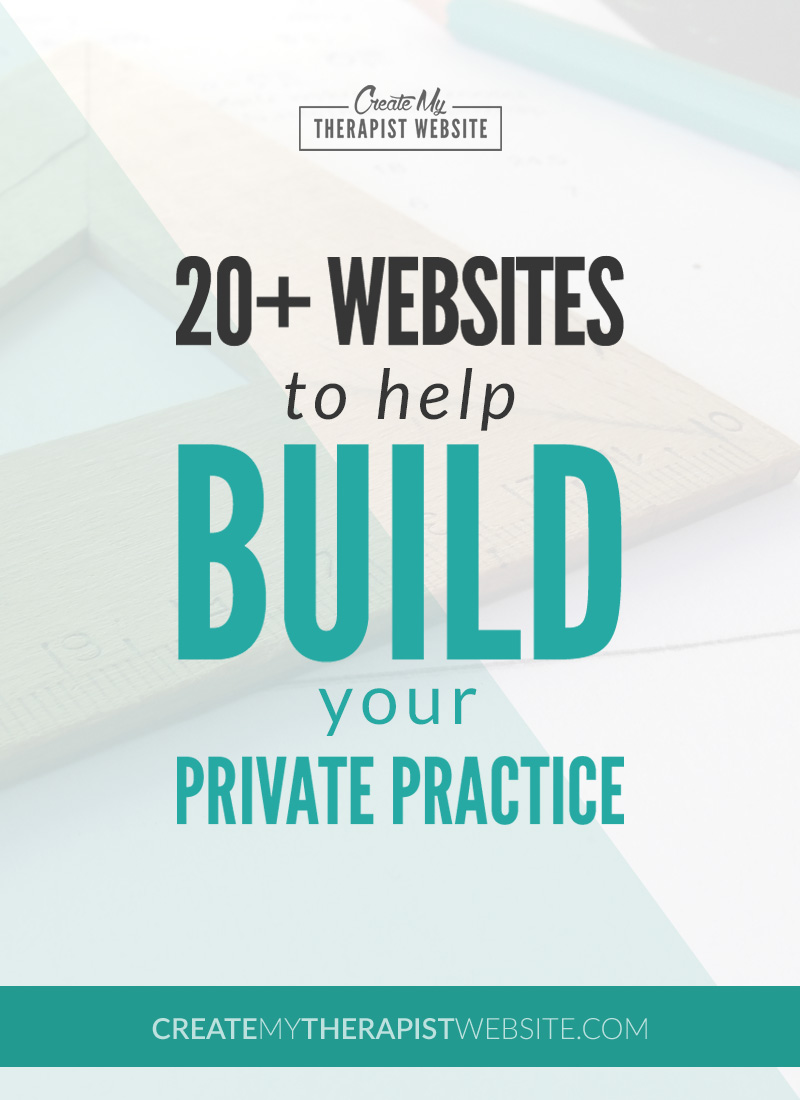 Online marketing, creating a website, getting referrals, what to do about taking insurance, SEO, client forms… When it comes to starting and building a private practice, the list of questions you have may be overwhelming.
So, below I've compiled a list of over 20 websites to help you in your journey to build a thriving private practice.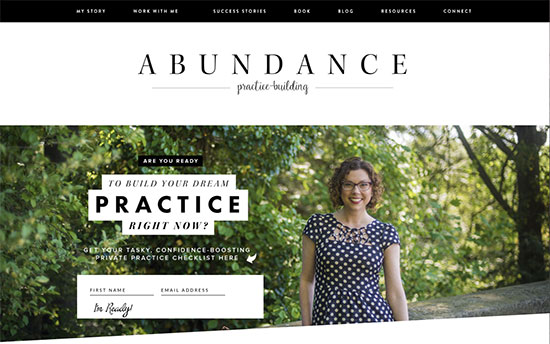 I love this website! Abundance Practice-Building is Allison Puryear's colorful home of private practice awesome-ness. When I first checked out her website, I was looking to see what resources she offered, but instead got sucked in by the beautiful design and color. If you want some inspiration on how to add your personality to your own website, look no further. You should especially check out her about page for a great example… and her amazing story.
Allison has a great blog with in-depth articles on all things private practice, an upcoming book, as well as consultation services for individuals and groups.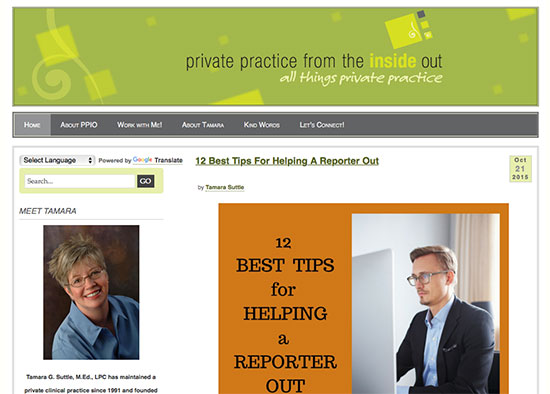 This website is home to Tamara G. Suttle, M.Ed., LPC. Tamara has  worked in private practice for over 20 years, and in  2003 she founded Private Practice From the Inside Out in order to share her knowledge of marketing strategies with health care professionals.
One glance at the list of topics on her website will let you know that her website really is ALL things private practice. Whatever challenge you're currently facing, I'm confident you'll get great advice from Tamara and the range of guest bloggers on her site. Not only will you find articles devoted to growing your private practice and advertising, but detailed tips on things like how to deal with insurance, referrals and writing.
I really appreciate how Tamara works to create a community of readers to connect with and work together to build their own private practices. Check out her Let's Connect page to join her.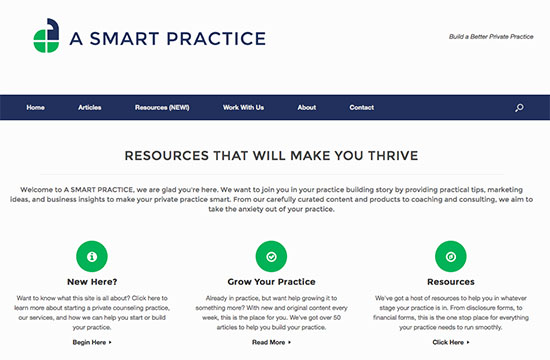 Aiming to "take the anxiety out of your practice," A Smart Practice is a website filled with resources to help you grow your private practice. Here you'll find a slew of articles on topics like Accounting & Finances, Marketing & Strategy, and Client Care. I'm particularly a fan of the amount of guest posts you'll see on their website, giving you a glimpse at how other practitioners have built their practices and the lessons they've learned. They also offer a number of downloadable resources like client worksheets and client call logs to make your life much easier.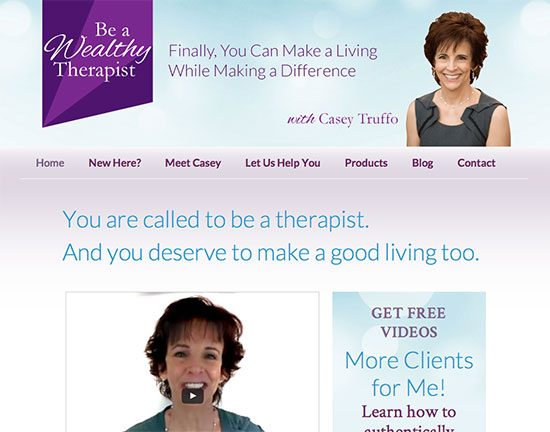 What an awesome name for a website! Casey Truffo recognizes the challenge that most counselors in private practice face: you want to help people but you also have bills to pay. After struggling with the challenges of building a private practice she eventually built a 6-figure practice with a waiting list. Now Casey is passing on her knowledge to you.
Be A Wealthy Therapist has a number of products covering all aspects of marketing and how to build a successful private practice. Aside from a great counseling business blog, she offers a once-a-month free 30-minute call where you can join other therapists to learn more about building a strong, sustainable private practice. Pretty cool and pretty darn generous!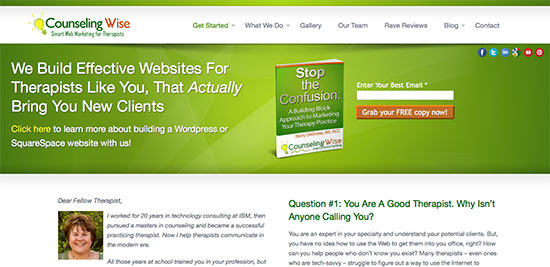 Holy crap, Counseling Wise has a lot of info on their blog! You could seriously spend a lot of time on this website getting a lot of your online marketing questions answered. Started by Becky DeGrossa, Counseling Wise combines her technical, marketing and psychology backgrounds to serve the mental-health community. Just look at the What We Do section and you'll see Becky and her team have you covered on all your web marketing needs.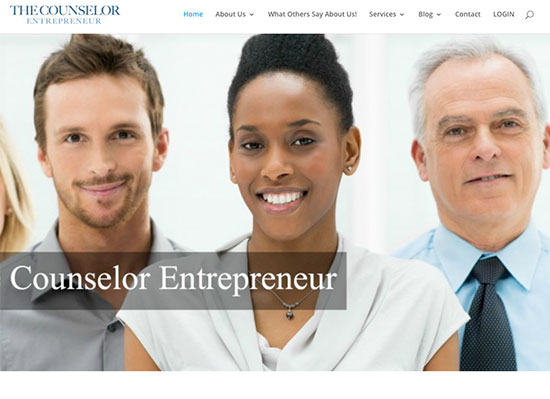 The Counselor Entrepreneur offers one-on-one business strategy sessions as well as business consultation groups. All can be done in person, by phone or via Skype.
Camille McDaniel, LPC provides mentorship on private practice development, networking and marketing, and marketing through writing and blogging. Check out her blog for lots of great articles about marketing for counselors and ways to pick her brain about private practice.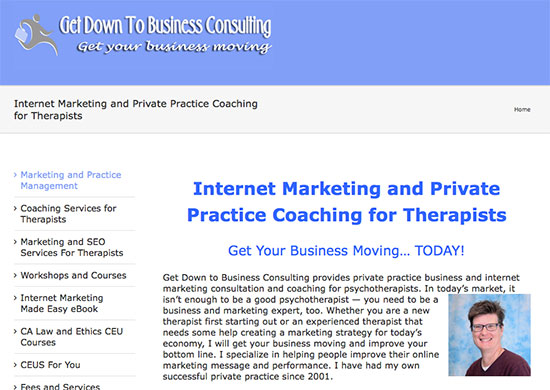 Get Down to Business Consulting, with Cathy Hanville, LCSW, provides business and internet marketing consultation and coaching for psychotherapists. On her website, you'll find a great blog that focuses on both the marketing and business side of private practice. Resources include a blog, info about SEO, an Internet Marketing for Therapists Made Easy eBook as well as the chance to get CEUs through lessons Cathy offers. She also offers consultations on your current online marketing efforts to help you craft a plan to grow your web presence.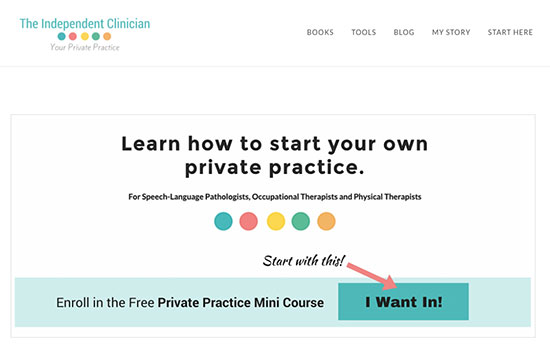 The Independent Clinician focuses on speech-language pathologists, occupational therapists and physical therapists to help them build successful private practices. Created by Jena H. Casbon, MS CCC-SLP, you'll find many tools and resources to help you succeed. There's a free mini course to help you start your private practice, ebooks, a great blog and more.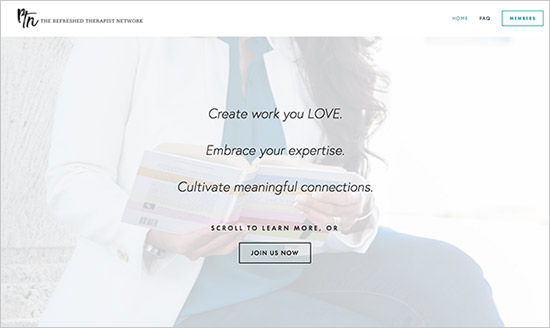 The Refreshed Therapist Network
fills a gap for therapists interested in growing a business, with its focus on guiding you to think beyond private practice by building a platform for your expertise. RTN invites you to re-imagine your business ideas and take action, within a supportive community of colleagues.
The network is founded by Ili R. Walter, PhD, LMFT. Ili inspires therapists to blend their training with their passion in order to create a business that will fuel their desired lifestyle. By providing mentoring, networking, and strategies that simplify business and balance, RTN promotes the refreshed therapist life.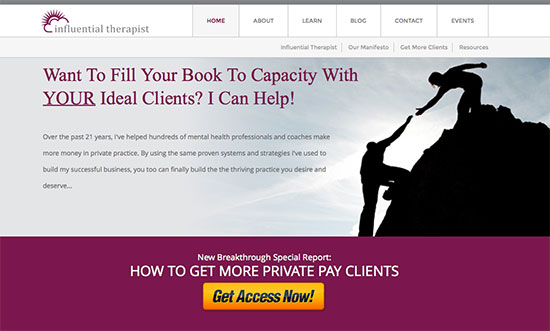 Deborah Legge, PhD CRC LMHC has been helping mental health professionals build their private practices for over 20 years.  On her website she shares her knowledge through a host of self-study training programs to help teach you how to create the business of your dreams. She also offers advanced mentoring for folks who need that one-on-one approach to growth.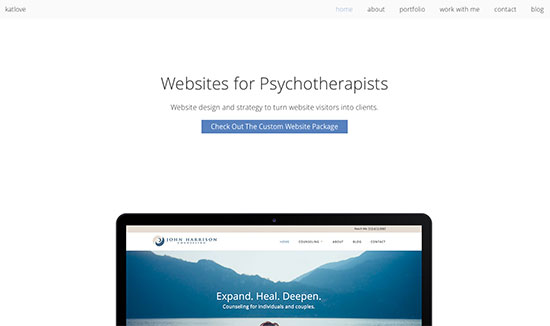 In her own words, Kat Love helps "psychotherapists turn their next website visitor into their next client through empathy-based, compassionate website design." She's a web designer who understands that a successful psychotherapy website is one that is client-focused AND converts. And not to mention beautifully designed. Kat is also an advocate for the positive change therapy can have on one's life and uses her design talent to help therapists create successful websites so that more people can benefit from counseling.
On her website you'll get lots of great articles all about marketing your website to potential clients. She also offers website design and consultation services.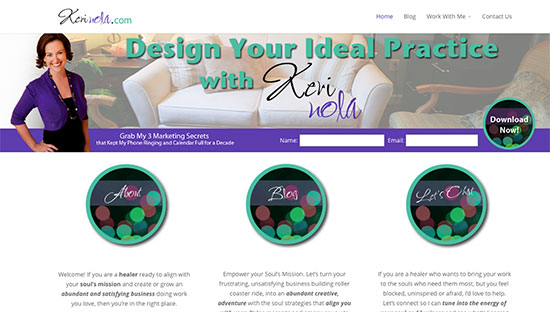 Keri Nola is a licensed psychotherapist and Founder of the Conscious Coaching Academy. Her website provides practice building resources for healers who have been frustrated when it comes to attracting clients. Coaching and mentoring, a Practice Building eCourse and free webinars for therapists are just a few of the great resources you'll find on Keri's website.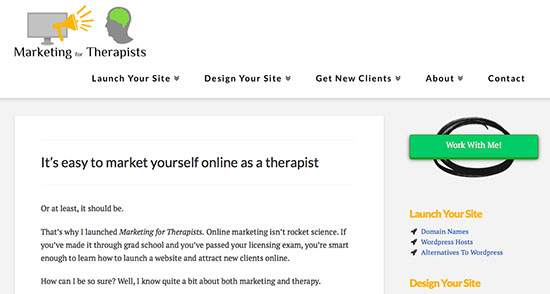 Built by an online marketer, Daniel Wendler, Marketing for Therapists is a straight-forward website that teaches you how to launch your website, design your website and get new clients. There's not a ton of content on his site but some of the articles have very in-depth info and tips if your working on a website for your private practice. He also offers consulting services on things like Adwords, SEO, and WordPress, to name a few.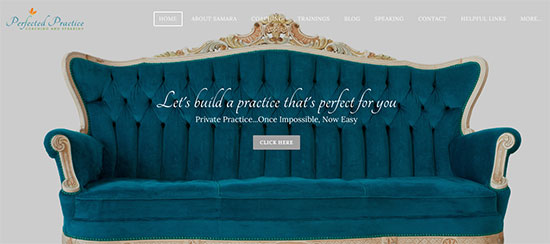 Samara Stone LCSW-C provides coaching and training to help you build a new private practice or grow your current one. In her words, "Perfected Practice was built with the aspiring behavioral health entrepreneur in mind." Samara understands the positive impact business coaching can have on your private practice, saving you time and money and helping you achieve your goals.
Samara offers a few great trainings (some provide CEUs) and business coaching to help take your private practice to the next level.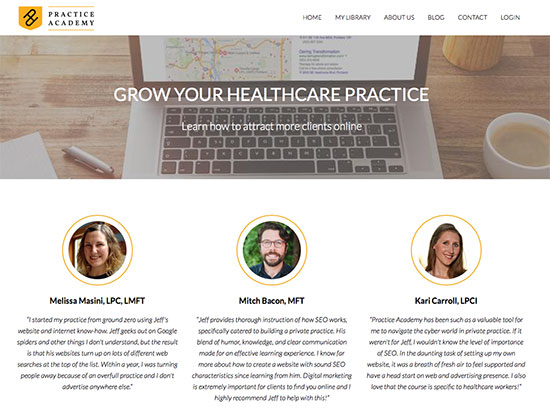 Jeff Guenther has over 10 years of successful private practice experience and he's been teaching healthcare workers how to acquire more clients using digital assets since 2005. He's teamed up with a communication specialist to share their expertise at Practice Academy. On their blog you'll find tips and free resources to help you strengthen the content on your therapy website and specific actions you can take to boost your SEO.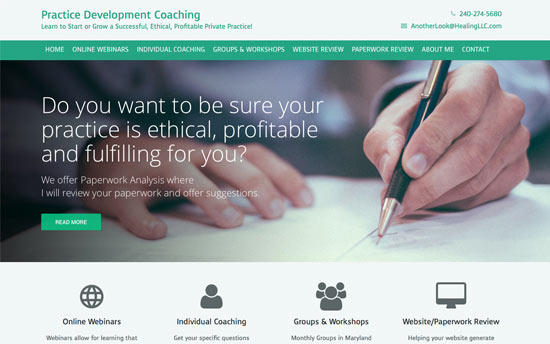 Shortly after starting her practice in 2008, Amy Hooper began mentoring and coaching providers who wanted to start private practices or to attract more clients and grow in their current practices. Amy LOVES helping clinicians learn everything from how to limit liability, to how to set fees, create a website, stay HIPPA compliant, to how to add associates, build multiple streams of income to how to generate more ideal clients with a business and marketing plan and more! Check out her website and resources at practicedevelopmentcoaching.com.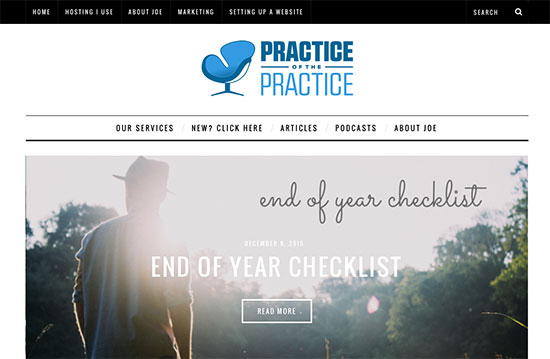 Home to Joseph R. Sanok, MA, LLP, LPC, NCC, a counselor with the mind of a business marketer. He's got a clean website with a ton of great information for counselors in private practice.
A unique feature of Joe's website is his monthly income report, where he shares the different ways he's making money in and around his private practice. Taking a look at these reports may expand your thinking about the ways you can market your services and grow your business. You may also want to check out his Practice of the Practice Podcast, where he interviews successful people in the counseling field and beyond, and shares his own tips and insights to grow your business.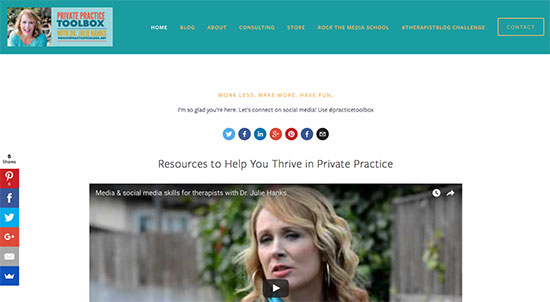 Dr. Julie Hanks has over 20 years of experience in the mental health field. She was named #1 Online Influencer for depression and the #2 social health maker for mental health by Sharecare. When it comes to online marketing and practice building, it's clear from her experience that she knows what she's doing – and wants to help you succeed.
Besides being a colorful and well designed website, Dr. Hanks' site offers many ways to help you grow your private practice. Business consulting, webinar trainings and a hand-picked Media Mastermind Course for therapists are a few things you can leverage. And of course, her blog is pretty awesome too and features a wide range of topics as well as podcast interviews.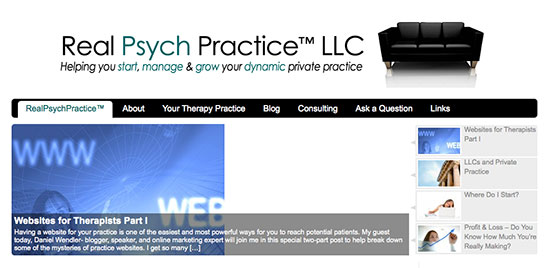 Heather Hill-Spaine has been helping therapists build and grow their psychotherapy practices since 2004. On her blog, you'll find a ton of info to help you start, grow, manage and market your practice. What's my favorite part of her website? Why, it's the Ask A Question section, where you can ask her about something your stumped on and she'll either reply or answer it on the blog. Pretty cool stuff!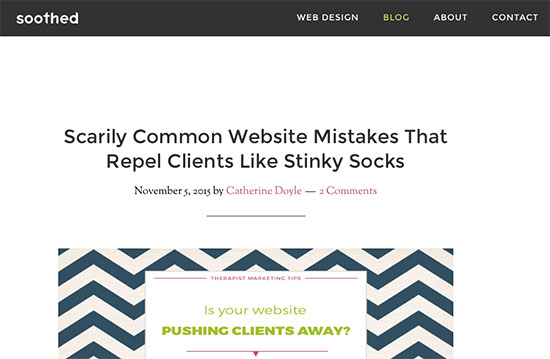 Soothed is the website of Catherine Doyle, a web developer who's been creating websites since 1998 and now focuses on website design for natural therapists. She offers web design packages to help you get your private practice up and running online. She's also got a great blog where she discusses aspects of successful therapy websites, online marketing and practice-building.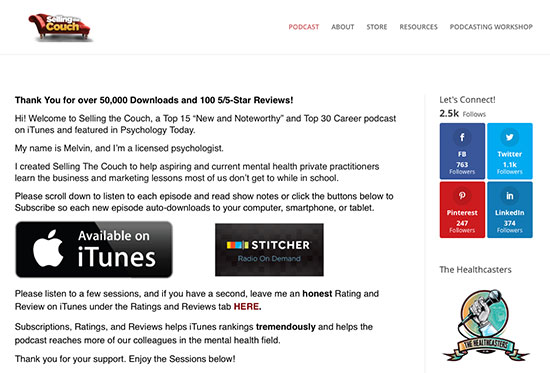 Selling the Couch is a podcast and blog created by Melvin Varghese PhD as a way to help current and aspiring mental health private practitioners learn the ins and outs of business and marketing. On the podcast you'll learn from seasoned mental health professionals all about how they grew their private practice as well as marketing professionals on how to market your private practice. What's more, Dr. Melvin shares about the things that are working for him when it comes to online marketing.
You could also join Healthcasters, his Podcasting Workshop, which is a course designed for mind/body health and wellness experts who want to learn how to start their own podcast.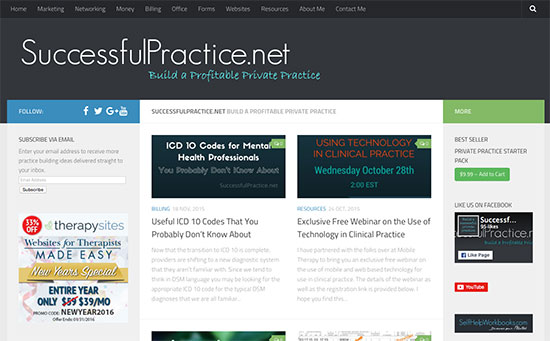 SuccessfulPractice.net is the website of Dr. Dennis Given, a licensed psycholigist, who teaches other mental health professionals what he's learned about building a profitable private practice. The website is mainly made up of articles in a range of categories, such as marketing, networking and billing.
The resources section of SuccessfulPractice.net is pretty chock full of good stuff, so make sure you check it out.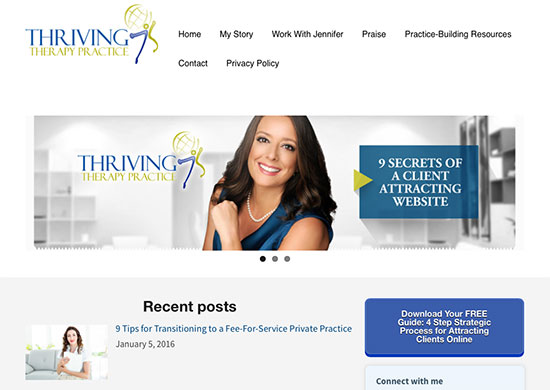 Jennifer Sneeden is a business consultant turned marriage and family therapist turned private practice business consultant. After getting tired and frustrated over the stresses of practice-building and finding clients, she began to apply her 10 years of business consulting knowledge to her psychotherapy practice, and began to see great success.
She's developed a system for growing and maintaining a thriving private practice and is passionate to see others "fill their schedules with clients they love, without having to stress over where their next clients are coming from."  Besides consultation services, Jennifer puts on workshops and conferences and has a great blog and podcast with great tips for practice-building and marketing for psychotherapists.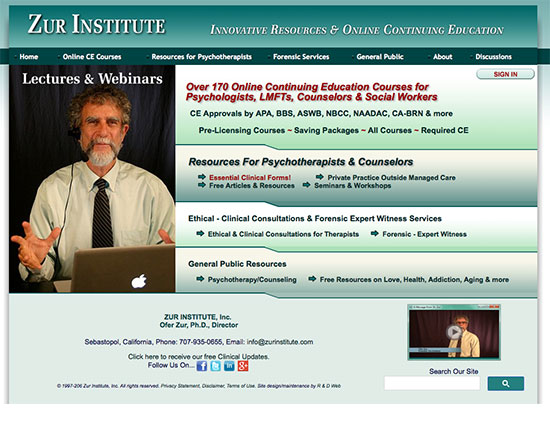 The Zur Institute is a website jam-packed with resources, articles, clinical forms and online continuing education courses. Founded by Dr. Ofer Zur, the institute's mission is "To provide quality continuing education, training and free information for psychotherapists and other health-care professionals." No matter what aspect of private practice you find yourself in, this website will be a great asset to you.
While many of the ebooks and resources found on the Zur Institute website come at a cost there is also a wealth of free information to be found there. Check out the Free Articles section for information on things like Online Marketing for Psychotherapists, Key Ingredients for Thriving Private Practice, and How to Avoid Therapists' Burnout.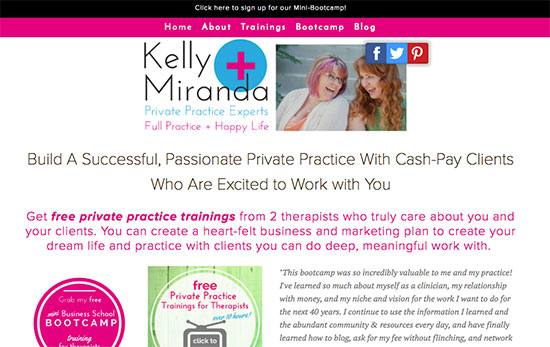 Miranda Palmer, LMFT, and Kelly Higdon, LMFT are two ladies seeking to help and empower as many therapists as possible. Just read their about page and you can tell they're the real deal with hearts of gold. They say, "We adore taking therapists from lost and unsure to focused and confident."
They do just that through their free private practice trainings for therapists, as well as their Business School Bootcamp Training. I'm amazed at the breadth of free resources you can get your hands on on their website. If you're just starting out you definitely need to check them out. Their blog also covers a ton of topics and includes many interviews with successful therapists, giving you a glimpse at the challenges and victories of private practice.
Did I Miss Any Practice-Building Websites?
So there you have it! I hope you'll use this resource to help you start your private practice or to grow your current one into an even more thriving business.
If there are any other websites you refer to often to help you in your therapy business ventures, please let me know in the comments below and I'll add them to the list.
SaveSave
https://createmytherapistwebsite.com/wp-content/uploads/2016/01/websites-for-building-a-private-practice.jpg
303
807
Daniel
https://createmytherapistwebsite.com/wp-content/uploads/2015/07/create-my-therapist-website-logo-rev1-300x124.png
Daniel
2016-01-12 12:03:02
2018-11-05 06:55:46
Building A Private Practice: The Best Websites to Help Grow Your Business