Video Blogging Vs Written Blogging for Your Private Practice
Publishing videos on your blog regularly can be a great way to connect with potential clients. But is there a benefit or drawback to vlogging (video blogging)?
In this article we'll explore the pros and cons of vlogging and help you discover if video marketing is right for you.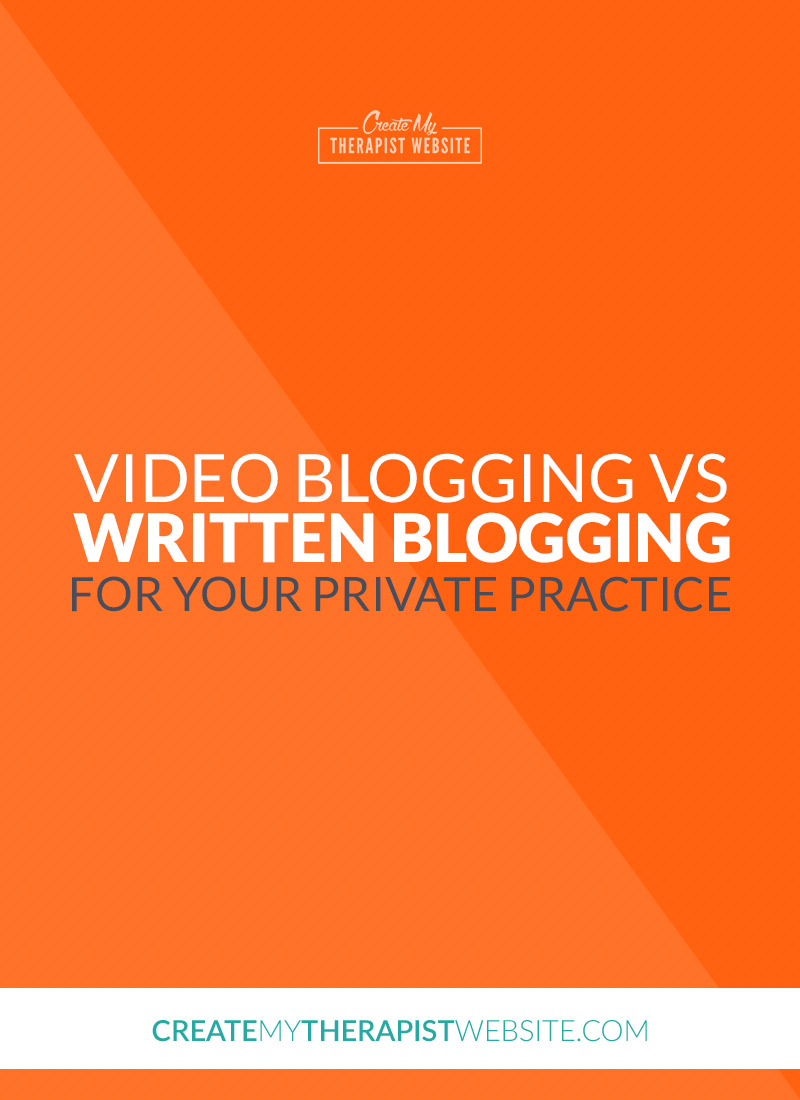 The Benefits of Video Blogging
The main benefits of vlogging all come down to building that "know, like and trust" factor with your audience.
When someone feels like they know you, like you and trust you, they'll be much easier to convert into a paying client.
Know
There's just something about video that allows you to connect with people.
They get to see your face, look into your eyes and hear your voice.
If you're consistently creating video content for your blog, over time, your viewers will begin to feel like they know you.
You can even share short stories from your own life that relate to the topic you're discussing, or just share a little about what's going on in your world.
This is much easier in a video format versus a written format, where people would probably just skip over such details.
By the time your potential client reaches out to schedule an appointment, they'll already feel like they know you, making it much easier to transition into a clinical relationship.
Like
It's kinda hard to hide your personality on video.
Yeah, it may be very uncomfortable when you first start doing videos.
Which may make it difficult to let your personality come through.
But as time goes on, the anxiety will fall and your personality will begin to rise.
At least that's what's happened to me as I continue doing Facebook Live videos.
And as your true self begins to shine through, there will be those folks who relate to your personality.
They'll just like you!
And let's be honest, therapy is so much better when you like your therapist.
Trust
I believe that trust is built through consistency.
Consistently show your audience that you care about them and provide them with valuable content and they will trust you over time.
Video can be a great medium to deliver that valuable content.
You can share meaningful stories, teach potential clients coping exercises or record a training video for them.
Over time you'll be seen by your clients as an expert and someone worth trusting with the challenges they are facing.
The Biggest Con to Vlogging: Google Can't Read Video
Video blogging has one major downfall: Google cannot index videos.
This means that just posting a video in a blog post is not enough to rank your content in search engines.
Luckily, there is a simple work around.
Always post your video with written, search engine optimized content to give the post context and allow Google to crawl through it.
You can write a summary of your video and make sure you include your keywords for SEO.
Another thing you can do is use a service like rev.com to create a written transcript of your video.
It may sound redundant, but this allows Google to crawl even more words and also provides text for folks who don't want to watch the video.
So, Should You Start Vlogging?
Whether you should or shouldn't start vlogging is really a personal preference.
It's a great way to connect with your audience and the only downside (no SEO juice) can easily be overcome by providing text along with your videos.
But you have to do what makes the most sense for your personality and your business.
At the moment, I'm using video in the CMTW Facebook Community only and NOT on my blog.
If I didn't have that Facebook group to connect with my audience via video, then yes, I'd probably be doing more video here on the blog.
For many, video is a scary thing and requires you to "put yourself out there" much more than writing.
I say give video a shot and see how you like it and what response you get.
You can always go back to old-fashioned blogging if it's not working for you and your private practice.
https://createmytherapistwebsite.com/wp-content/uploads/2018/01/520336296746163.RzV2XqCiOLHlZmbhbGqt_height640.png
240
640
Daniel
https://createmytherapistwebsite.com/wp-content/uploads/2015/07/create-my-therapist-website-logo-rev1-300x124.png
Daniel
2018-01-17 07:00:11
2018-03-26 07:42:54
Video Blogging Vs Written Blogging for Your Private Practice