The Ultimate List of Podcasts for Building Your Private Practice
In recent years, the popularity of podcasts has simply exploded. If there is a subject that you want to learn more about, chances are, there's a podcast for it. This includes podcasts about building your private practice.
In this article, we'll round up some of the most popular podcasts for building and marketing a private practice.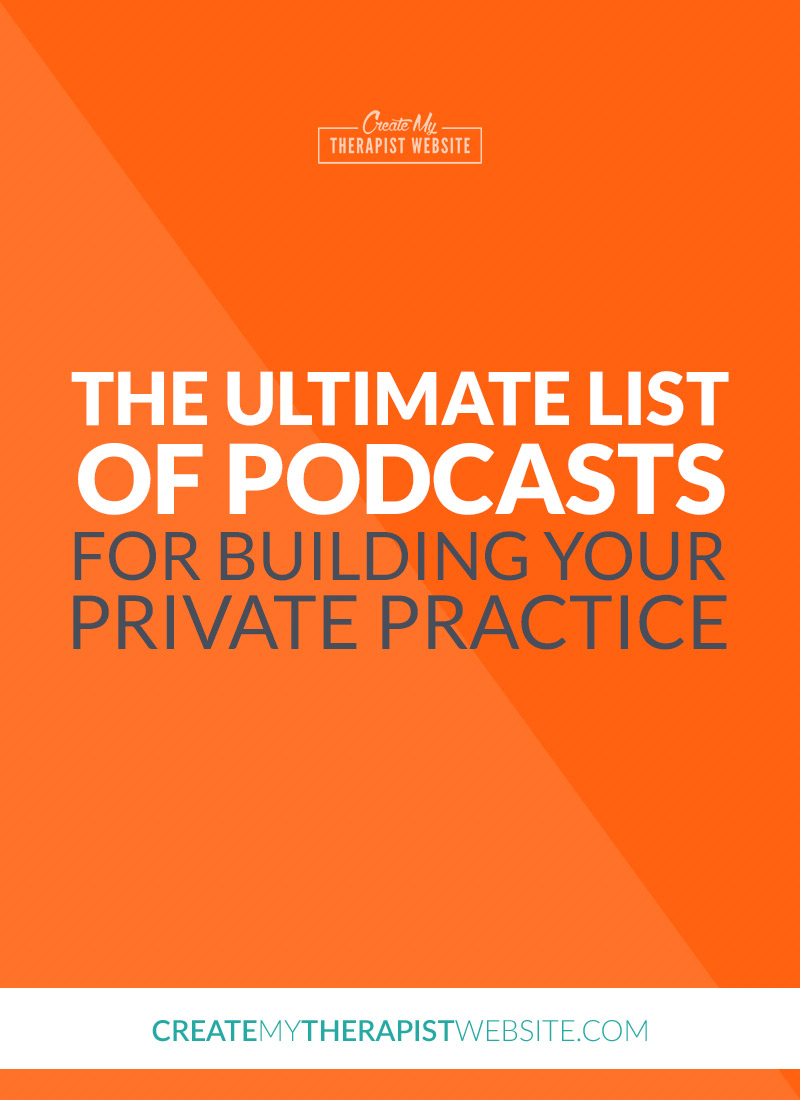 How Podcasts Can Help You Build Your Private Practice
A few years back, before I decided to help therapists with their websites full time, I found myself commuting 1 hour each way to downtown Atlanta.
I had big dreams of being an entrepreneur and stepping out (and NOT fighting traffic every day).
While many days I found myself exhausted from the commute, I was determine to use this time to my advantage.
So I found a handful of podcasts, all about online marketing, entrepreneurship and being a great leader… and I devoured them.
It's like I was going to school.
Every day I got to learn something new from experts I felt drawn to and trusted.
So much of what I learned in that stressful time I'm now applying to my business today.
You may not have an hour-long commute, but you may have some time during your day where you can listen to a podcast.
Podcasts give you access to experts who have gone before you so you don't have to make the same mistakes they did when building your own private practice.
Often, communities form around podcasts where you can connect with colleagues in a similar stage of business as yourself and get support for your own private practice journey.
When it comes to running your own business, it's so easy to feel like you're alone and the struggles you face are unique to you.
But I know from experience that listening to podcasts, especially the ones with interviews with people like myself, have helped me realize that I'm not alone.
So, if you're feeling like you need some support for your private practice, some fresh ideas on marketing or new inspiration for your business… check out some of the podcasts below!
Podcasts For Building Your Private Practice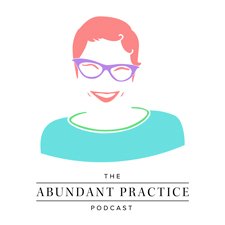 In The Host's Words:
"Practical advice for counselors starting and building a private practice.
On "Consult Mondays" Allison Puryear of Abundance Practice-Building will consult with a therapist who needs help building their practice.
On "What I WIsh I'd Said Wednesdays" she'll chat with another consultant about the therapist's conundrum to get more support for them.
On Follow Through Fridays" Allison will provide clear homework for anyone else struggling with the same problem."

In The Hosts' Words:
"Claims, copays, clearinghouses, oh my! Join Sage, a Billing Specialist from TheraNest, as she explains the insurance billing cycle and covers a wide range of topics related to medical billing in the mental health industry. If you are a therapist, mental health practice manager, or medical biller who's ever had questions about insurance billing, this is the podcast for you."

In The Hosts' Words:
"The Ask Juliet & Clinton Show is a marketing podcast for therapists and natural health businesses. Each Tuesday an audio version of the show is published here where we answer questions related to marketing. Video versions of the show can also be viewed at www.askjulietandclinton.com.
Therapists and health business owners can submit questions that they would like answered at www.askjulietandclinton.com/ask-questions Any question related to marketing a therapy practice or holistic health business can be submitted to the show. Both beginner and advanced questions are welcome."
In The Host's Words:
"The Online Counselling Podcast explores the world of online counseling and therapy and those that practice tele-medicine. By interviewing those who have taken their practice to a global virtual audience, we have created a rich resource for therapists, counselors, social workers, psychologists and psychiatrists. Thinking of taking your practice online?
Learn from those that have gone before you as we explore the benefits and challenges of online counseling."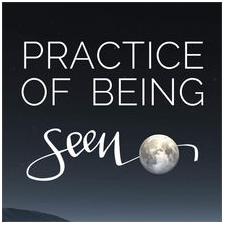 In The Hosts' Words:
"Everyone is driven by the basic human need to be seen, heard, and understood. What does it means to really see ourselves and the people and events around us? How does that influence how we show us and how we ask to be seen?
Teaming up as a relationship therapist and a storytelling coach, we'll be diving into how our stories shape our relationships and how our relationships shape our stories. Through interviews and solo sessions, we will be opening a space for discovery and healing."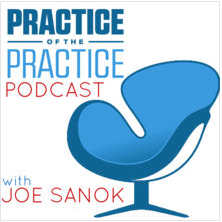 In The Host's Words:
"Joe Sanok from the www.PracticeofthePractice.com blog covers everything it takes to make your service-based private practice more awesome. It's what you wish you had learned in graduate school.
Learn killer ways to grow your referrals, save tons of money, and have some fun along the way.
Joe has been featured on the Huffington Post, Yahoo Health, ZynnyMe, PsychCentral, and Sirus Radio.
Joe has an extensive background in several clinical settings including foster care, residential, home-based, college counseling, and private practice. As the owner of Mental Wellness Counseling in Traverse City, MI he has grown his practice and taught others to do the same. As an expert in the field of growing counseling private practices, Joe exposes all he knows to help you with marketing, branding, consulting, and a deeper level of awesomeness.
Joe knows that we've all been there, we dream of our small business taking off and we know that it should…but it doesn't. We want more referrals and the independence that comes from a small business.
Through marketing, website developments, and other business-focused tips, Joe helps you to grow. There are simple changes that you can make that will ensure your grow as a professional, expert and as a small business owner. Joe engages and encourages listeners through real-life examples of failure and success.
These discussions are for the 21st century counselor who wants to be on the edge of technology, marketing, and expanding their private practice or small business! Plus, there is super sweet music throughout the podcast. http://www.practiceofthepractice.com"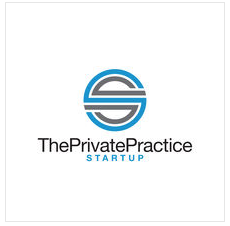 In The Hosts' Words:
"The Private Practice Startup is owned by Kate Campbell, PhD, LMFT & Katie Lemieux, LMFT, two therapists who built their 6-figure private practices from the ground up.
We're passionate about inspiring mental health professionals on their private practice journey from startup to mastery!
On our podcast, we interview entrepreneurs, experts in the mental health and business arenas and successful private practitioners to provide a wealth of information for our listeners!
We LOVE interviewing all of our guests and most importantly we have fun doing it. We hand pick everyone we interview as we know each and every person will bring value to you and your business assisting you in reaching your goals and dreams!
We also offer webinars, online courses, in person trainings, attorney approved private practice paperwork, and are CEU providers in the state of Florida."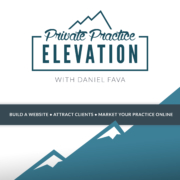 Daniel Fava from Create My Therapist Website is on a quest to uncover the best website and online marketing strategies so you can grow a successful private practice and do the work you love.
Discover how you can build an effective website for your therapy practice, attract the right clients through content marketing and blogging tips, develop passive streams of income and attract more of your ideal clients just by being your amazing self.
Other topics for discussion include SEO (search engine optimization) for private practice, finding your niche, therapist website design, conversion tactics, outsourcing and more to help you create an impact and grow your income with your therapy, counseling, healing or physical therapy business.
In The Host's Words: "Help for creating a happy and full private practice for mental health professionals."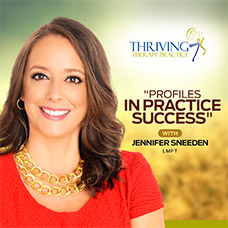 In The Host's Words:
"Profiles in Practice Success showcases the most successful and innovative professionals in practice today."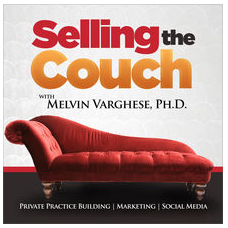 In The Host's Words:
"Selling the Couch is the #1 podcast for aspiring, new, and current mental health private practitioners.
Psychologist Melvin Varghese interviews successful therapists about the business side of private practice (e.g., how they get referrals, their best tips and strategies, and their daily habits, etc.) as well as the world's top business, marketing, and social media experts.
What you get are bite sized and highly actionable tips to guide your private practice and entrepreneurial journey."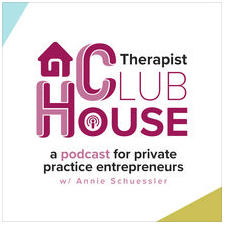 In The Host's Words:
"Therapist Clubhouse is the podcast where you'll get support in being a private practice entrepreneur. I'm Annie Schuessler, therapist and business consultant for therapists. In each episode, I talk to a therapist who's built a business only they could create.
You'll hear about how they figured out stuff like online marketing, networking, identifying their niche, setting their fees, creating new services, and developing an entrepreneurial mindset. We'll get real and talk about what it takes to create a unique and profitable private practice.
Get the inspiration and information you need to make your private practice better, starting now."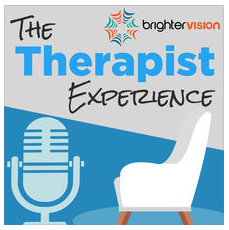 In The Host's Words:
"The Therapist Experience Podcast is the podcast where we interview successful therapists about what it's really like growing a private practice.
The Therapist Experience provides you with a full MBA in private practice building, and it's everything you wish you had learned in grad school but they never taught you.
We discuss everything from private practice marketing, the entrepreneurial journey, income streams, the importance of niching down, what to charge per session, how to use technology to grow your practice, and the roller coaster of being a business owner. Learn from other mental health professionals about what worked for them in marketing their private practice and their overall entrepreneurial journey, so you can grow a thriving private practice yourself!"
Conclusion
The thing I love the most about this list is that as you get to know the hosts and their guests, you'll start to see how connected this amazing community is.
Each host brings their own stories and perspectives on growing a private practice and they all want to see you succeed in your business.
I hope this list leads you to some fresh inspiration for marketing your own private practice!
Facebook Group
SaveSave
SaveSave
https://createmytherapistwebsite.com/wp-content/uploads/2017/09/Podcasts-to-Help-Build-Your-Private-Practice-blog.jpg
303
807
Daniel
https://createmytherapistwebsite.com/wp-content/uploads/2015/07/create-my-therapist-website-logo-rev1-300x124.png
Daniel
2017-09-12 07:13:41
2019-07-24 19:49:01
The Ultimate List of Podcasts for Building Your Private Practice