12 Ways to Grow Your Therapy Practice with User Experience Design
Have you ever visited an ugly, hard-to-use website, leaving you with a poor perception of that business or service? In today's post, we'll talk about user experience design and what it means for you, your therapy website and growing your private practice.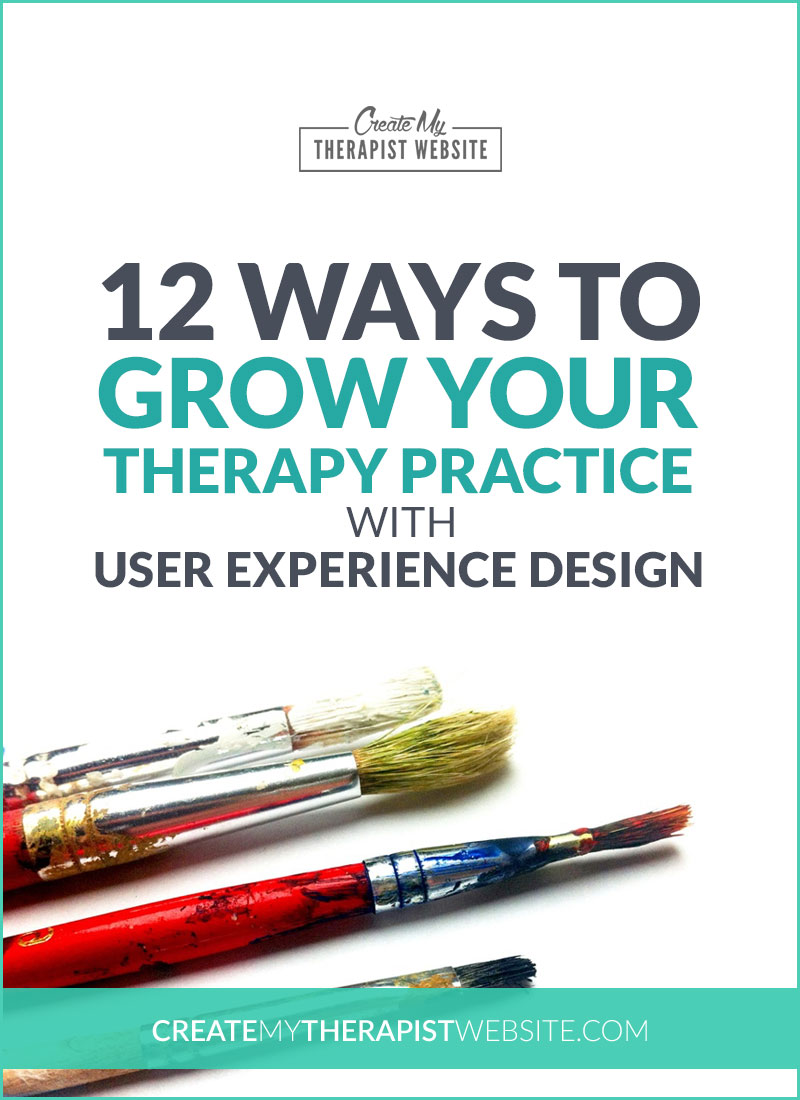 I've got a problem. I'm not sure if it's in the DSM-5, but maybe I'll find it in the next version. We'll see. My problem is that if I'm looking for a place to eat and a restaurant has a poorly designed website, I just can't bring myself to go.
I've got a story I think you'll appreciate (and will, of course, explain where I'm going with this)
Can You Relate to This Scenario?
My wife and I LOVE finding new restaurants and new culinary experiences.
Here in Atlanta, the foodie game is STRONG. There's never a shortage of outstanding, non-chain places to excite the pallet and offer you an amazing date-night experience.
I remember one occasion where we exhausted our list of new places that friends have recommended and we were faced with a blank slate for an upcoming date night.
Being only a couple months in our new home, we didn't know the area too well. So, after deciding we were in the mood for sushi, I resorted to what any man searching for his next meal would do: using Google maps.
Searching for nearby Sushi places presented me with about 10 options in our vicinity.
So, how does one decide between all the many choices surrounding them?
I began opening up each restaurant's website.
And the funny thing is, I don't really care what the food looks like. I want to know what the restaurant looks like. What's the atmosphere? What feeling do I get by looking at the photos of the place? Is this a place I can bring my bride and enjoy the ambiance as well as delicious culinary experiences?
Many of the websites I found were just awkward. Un-professionally shot close ups of raw fish carelessly placed on a table. Pictures of the front of the strip mall where the restaurant sat that tell me nothing of what I'd find inside.
Finally I stumbled up on the one.
They had a modern, professional-looking website that looked good on my phone. They provided plenty of pictures of what the place looked like inside. I could picture Liz and I enjoying a date here.
Subconsciously, I thought, "if the website and photos look this good, how bad could the sushi be?"
What is User Experience Design?
So what is user experience design and what the heck does it mean for your therapy website?
I love the definition of UX design (as the nerdy folks like myself like to call it) given by Joshua Porter in this article from UserTesting:
"[User experience design is] design with an awareness of every touchpoint that makes up the overall experience with your product or service."
I love that because it implies the emotion of the potential client that is interacting with you and your practice from start to finish.
How do they feel when they call you? How do they feel when they go to your website? How do they feel when they show up to your office?
Think of some of your own experiences with a service or brand that really made you feel great. I bet the company intended that.
While a website may have played a part in that experience, I'm sure there were many other points in which you interacted with the brand or service that made you feel comfortable doing business with them.
That's user experience design!
Spend some time thinking about the many ways that potential clients interact with you and the entire process they go through from first glance at your website to leaving your office after their first session.
Think about intentional things you can do to enhance that experience and you're officially a user experience designer.
Way to go!
Potential Clients Will Judge You By Your Website
Whether we realize it or not, we tend to place a higher value on things that we perceive as aesthetically pleasing.
According to this article by Digital Information World, "3 in every 4 of online users admit they decide on a company's credibility based on its website design. And that, 17—50 milliseconds is the time it takes for a person to decide whether he or she finds your website appealing."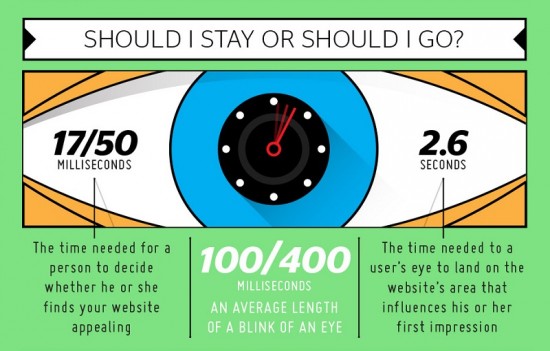 Image Credit: Digital Information World
A beautifully-designed website that it's easy to use evokes a very different feeling than a website you can't navigate on your phone and is filled with distracting elements and bad photography.
Your therapy website will most likely be a potential client's first interaction with you.
It is your first opportunity to let them know that you have the answer to the problems they're facing.
But if your website is unusable, cluttered or distracting, they may be turned off and never know what you can offer them.
Some of those sushi restaurants may have been amazing, but I may never know because I wasn't just looking for food. I was looking for an experience. I wanted to drive there in confidence, knowing that my wife and I would enjoy spending an hour at their restaurant.
Having an easy to use website can help give your potential clients the confidence they need to step foot in your counseling office, knowing exactly what to expect.
Simple Ways to Design Your Potential Client's Experience
If you've stuck with me this far, I applaud you! I also want to give you some simple things to walk away with from my little sushi story.
Here are some things you can do today be intentional about designing a great experience for your potential clients:
Create a "Your First Visit" landing page on your website and explain the entire process your client will go through, from first call to leaving your office after their first visit
Include high-quality photos of your office on your website to give them a glimpse into the environment they'll be in during therapy
Ask current clients about their experience and take notes of constructive feedback to help you improve
Get honest feedback of your website. This post explains how you can get strangers to review the usability of your therapy website for free
Craft your about page in such a way that it speaks directly to your ideal clients and the problems they are facing
Include a professional headshot of yourself on your about page
Shoot a welcome video for your about page and share a little about yourself, who you help and why
Make sure it is easy for potential clients to contact you when they're ready by including multiple options for contacting you throughout your website
Simplify your homepage if it has too much going on, focusing on one action you'd like your users to take
Brainstorm some ways you can improve the offline experience for your clients, like serving them tea, making your office more comfortable, etc.
If you're using an outdated WordPress theme, think about finding something more up to date. You can check out my post on choosing a WordPress theme for your therapy practice to learn more
If your website is reeeeally old, ugly and doesn't look good on mobile, consider hiring a designer/developer to get you up to date
So, the next time you're searching for the perfect restaurant, or researching a business or product, think about the experience you go through. Good or bad, they can help you improve the way you interact with your clients and help you grow your private practice.
If you need any help improving the experience your potential clients have with your website, I'd love to lend a hand. Head on over to the Work With Me section to learn more about the services I offer.
https://createmytherapistwebsite.com/wp-content/uploads/2016/06/grow-therapy-practice-with-user-experience-design.jpg
303
807
Daniel
https://createmytherapistwebsite.com/wp-content/uploads/2015/07/create-my-therapist-website-logo-rev1-300x124.png
Daniel
2016-06-15 06:51:09
2018-04-27 16:28:05
12 Ways to Grow Your Therapy Practice with User Experience Design