Therapist Webite Design: Anatomy of the Perfect Sidebar
If you read my last post, you should be familiar with how to create and edit your sidebar in WordPress. But what types of content should you put in your sidebar on your therapy website? In this post I'll go over some tips to help you choose the best content for your sidebar to help your website visitors get a better picture of you and your private practice.

What Is the Purpose of a Sidebar?
So, why should you even have a sidebar on your therapy website? What's the point?
Well, to be honest, you don't NEED a sidebar. Your website can and will survive without one.
But, in my opinion, having a sidebar on your blog posts is a quick way to give a passing website visitor a chance to get to know you more and learn more about your private practice.
If you blog consistently, chances are a potential client may see one of your posts on social media or in Google's search results. If they then land on a blog post, without knowing anything about you, a sidebar can easily lead them into more of your content on your therapy website, should they want to explore it.
It's also for that reason that I recommend you only have a sidebar on your blog, and not on every page on your website. Your blog can be a great way to hook new traffic, but your about page, services pages and other pages can do without the distraction of sidebars.
Focus those pages on what you want to say to your potential client and what you want them to learn and leave the sidebar out of it.
Ok, now that I'm off my soapbox, let's talk about the types of content you may want to include in your therapy website's sidebar.
A Very Short Bio to Say Hello
It has become somewhat of an expectation – in the land of Pinterest and blog posts – to see the face of the author at the top of the sidebar.
I love this approach because it lets your web visitors know who this person is and what they're all about. It creates connection and that's what we're after with your private practice website.
I recommend using a photo of yourself, combined with a very short (one or two sentences) about who you are and who you help. Do you have an elevator pitch for your private practice? Now is the time to use it!
For more details on how to make a widget with a bio in WordPress, check out this post about creating sidebars.
A Search Bar
If you have more than a handful of blogs on your website, it's helpful to add a search bar so that potential clients can search for specific topics.
WordPress comes with a search widget right out of the box. Visit Appearance > Widgets to grab the search widget and add it to your sidebar.

Links to Your Private Practice's Social Media Profiles
Since your sidebar is a way for web visitors and potential clients to further connect with you, it's a great place to link to the social profiles you've created for your private practice.
You want to make it as easy as possible for your readers to connect with you, and having icons that link to your social profiles is a great way to do that. It has become quite standard and most people expect to see those icons in the sidebar.
Many WordPress themes come with customizable widgets containing your social media icons. If yours doesn't, don't worry, there are tons of social media plugins to choose from.
Another way to get your readers to connect with you on social media is to embed your Facebook page or Pinterest profile. If you look to the right, you can see that's exactly what I did in my sidebar.
The benefit of this is that your readers can like and follow you without even leaving your blog.
Again, there are many plugins that can do this. Or you can grab the code right from Facebook or Pinterest and place it within a Text widget.
Showcase Your Blog Posts
Another bit of content you'll want to feature in your website's sidebar are your blog posts.
This is another one of those "standard practice" type of things that we've come to expect to see when visiting blogs.
You can easily show your latest blog posts by using WordPress's default Recent Posts widget: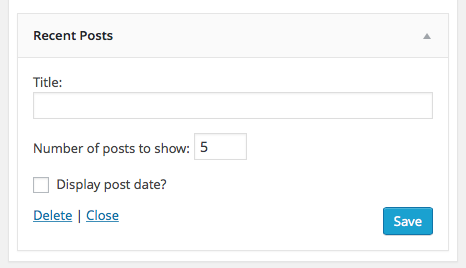 Just drag that bad boy into your sidebar and give it a title (i.e. Latest Posts) and tell it how many links to show and you're good to go.
Many WordPress themes include an advanced version of the Recent Posts widget that you may like to use instead.
Here's an advanced tip: If you have Google Analytics installed on your private practice website, find your most popular blog posts and create links in your sidebar for those.
If you know what's popular and what's working on your website, why not give them what they want?
To find this info, log into your Google Analytics. Click on Behavior in the left navigation, and then Site Content. Finally click on All Pages and you'll see the stats for the most visited content on your website.
I highly recommend staying away from displaying a running list of your Blog Archives. It's pretty ugly and quite overwhelming when you see that long list of links. This was something that was popular when blogging was fresh, but today it just becomes clutter and can make your blog look a bit dated.
Email or Newsletter Opt In
Do you have a newsletter that you send out weekly or monthly to your blog readers?
Your sidebar is definitely one place where you should advertise how folks can join your list.
Try creating a helpful PDF resource and include that in the welcome email they'll receive when they join your mailing list. Giving something useful away is a great way to add people to your list, because let's face it, people don't need just another newsletter.
Keep It Simple and Keep Testing
I change my sidebar often as I have new ideas and new things I want my readers to know about.
So have fun with yours and keep trying new things.
But remember: Keep it simple!
Think about what's most important to your potential clients and the actions you want them to take (like calling you for an initial consultation). Having too many options in the sidebar can be overwhelming and cause readers to ignore it all together.
We don't want that.
So be intentional and keep it simple!
https://createmytherapistwebsite.com/wp-content/uploads/2016/07/therapist-website-design-perfect-sidebar.jpg
303
807
Daniel
https://createmytherapistwebsite.com/wp-content/uploads/2015/07/create-my-therapist-website-logo-rev1-300x124.png
Daniel
2016-07-13 06:00:14
2018-04-27 16:28:04
Therapist Webite Design: Anatomy of the Perfect Sidebar