Your logo is the identity of your business and one of the first things clients may notice when landing on your website. The time has come to design a logo for your private practice if you don't have one.
In this post we'll discuss your options for creating a logo to give your therapy practice a sense of identity and make you proud to flash your business cards any chance you get.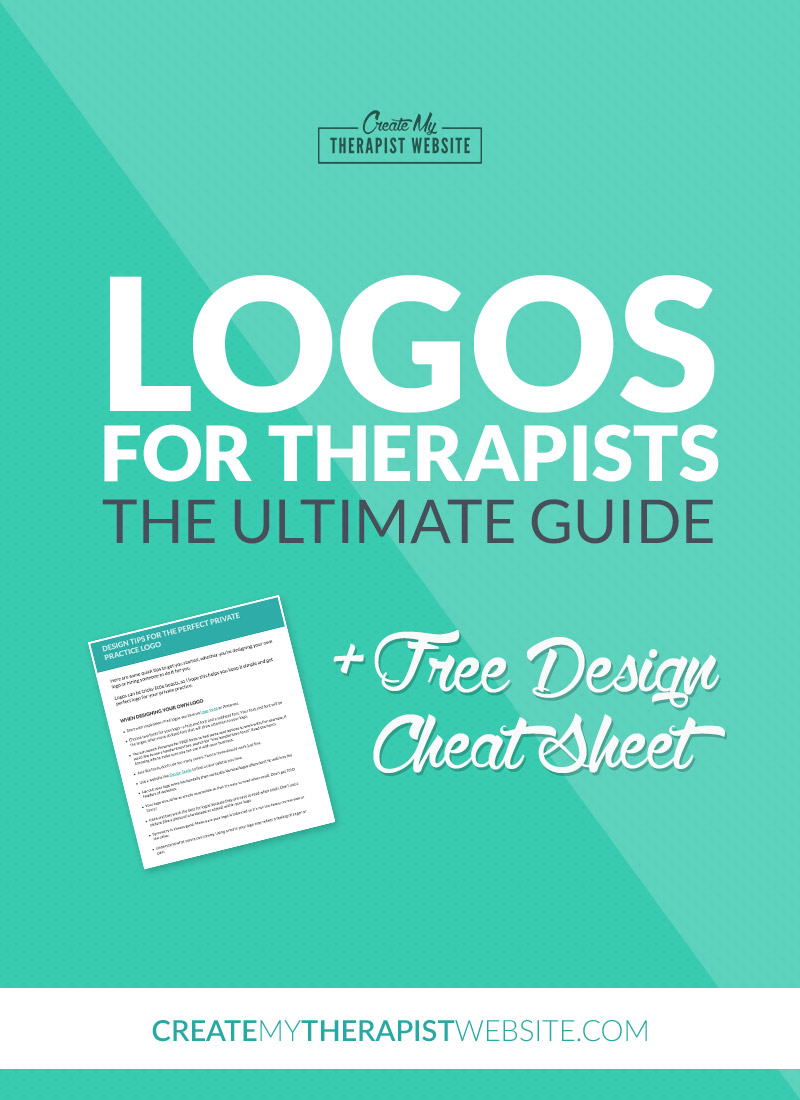 Where To Begin
A blank canvas can be daunting and you may not even know what you want your private practice logo to look and feel like.
So, this is where I always start: inspiration.
Start collecting logos you love. Logos that make you feel how you want your clients to feel when they come across your business.
One of my favorite resources for logo design inspiration is a website called Logopond.
I'm blown away by the creativity of the designer-submitted logos on that website.
You could even start a Pinterest board just for the logos you find inspiring.
Here's a board I created to get your creative juices flowing:
After you collect a good number of logos that you love, start to describe WHY you love them.
Write it out on a piece of paper or save it in a Word doc for later.
Whether you create a logo yourself (I'll explain how in a moment) or hire a designer to do it, this description will guarantee you end up with a logo you love.
This is especially important when working with a designer, where it's up to YOU to communicate what you desire your logo to look and feel like.
Now, there are two ways to get a professional looking logo for your therapy practice: you could design the logo yourself or hire someone to do it.
Let's talk about each of these approaches and things to consider for each.

Designing Your Own Logo
You don't have to have 4 years of design school experience to create a great logo for your private practice.
One of the reasons I recommend that you start with collecting examples of logos you love is that it helps you see the patterns, the balance and the layout of good logo design.
You can choose a logo you love, then mimic the feeling of it with your own logo.
Using Canva to Design Your Therapy Practice Logo
Canva.com is an awesome design website and app that allows you to create beautiful graphics for pretty much all your business design needs.
They've made it really easy to create backgrounds, add text and design elements and save those images to your computer.
1. To get started with Canva, go to canva.com and create your free account: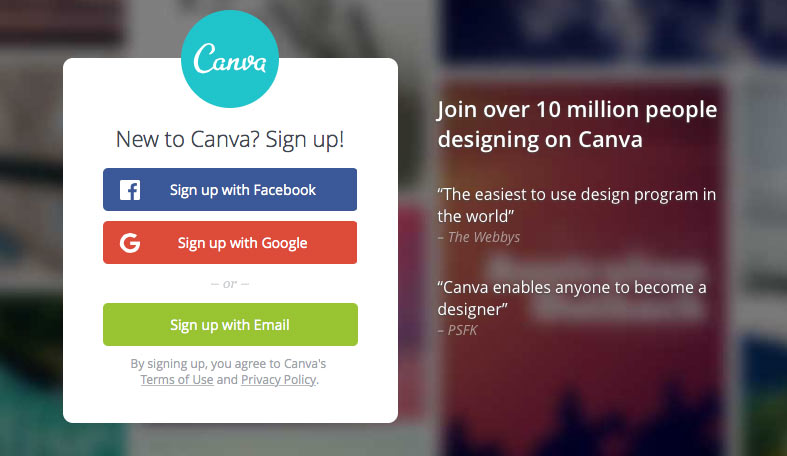 2. Start a new, blank design by clicking the "Use Custom Dimensions" button on the top right:

3. Enter the dimensions you want to use to create your logo:

The size you choose depends on how you're going to use it. If you're using it on your website, you may have to try a few different sizes depending on your website's theme. You can always make it smaller later, but making it bigger once your logo is complete may lead to reduced quality in the image.
4. Start in the "Text" section of the Canva interface to begin designing your logo: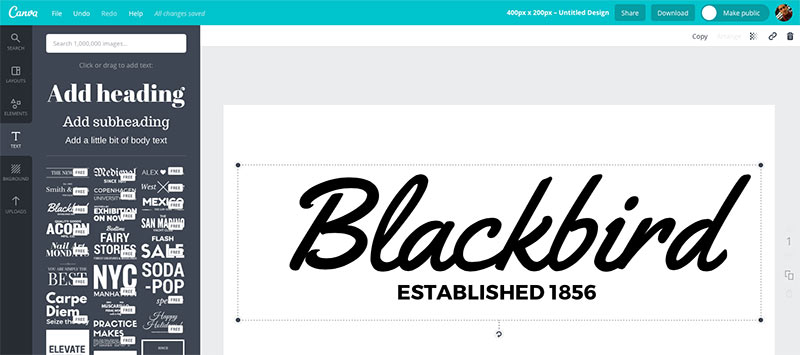 You can drag and drop headings and subheadings onto your canvas, or you can choose from pre-existing free text layouts.
In the screenshot above, I chose one of the pre-existing layouts with a header and subheader.
5. Update the text with your info: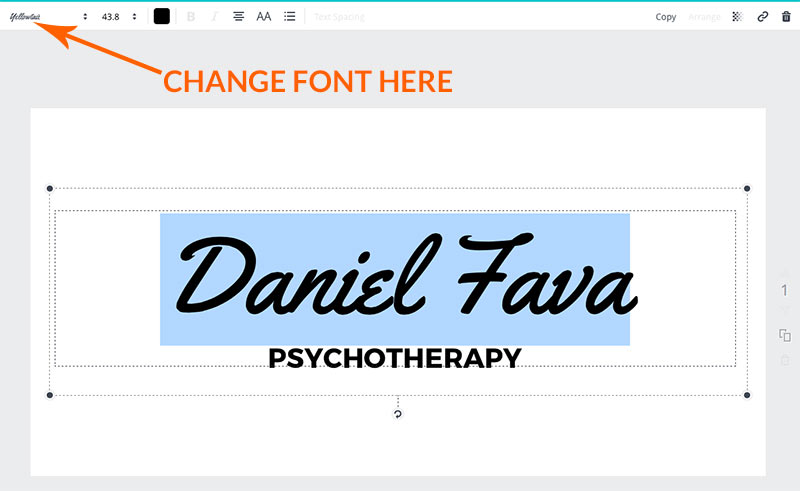 You can click on the text, highlight and then make changes. Use the toolbar across the top to make changes to the size, color or font.
6. When finished, download your private practice logo:

7. Click the final "download" button and let it do its thing: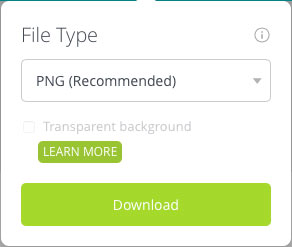 That's it!
You can get as fancy as you want using Canva. It's really all up to you and your imagination and patience.
You could take a look at the "Elements" section within Canva to add shapes, lines and more to your logos.
One thing to note: The free version of Canva does not let you download your logo with a transparent background.
A transparent background could be useful if you were giving you logo to a designer to use it in various ways, laying your logo on top of different color backgrounds.
But it's a great free option for a simple logo when you need something done, like when you're about launch a new website.
Using Photoshop to Design a Logo for your Private Practice
A more advanced option for designing your logo is to use the graphic design application, Photoshop.
Photoshop is not free, however, you can download a 30-day trial version of it at adobe.com.
I include this option for those of you who are already using Photoshop to some degree to create design materials for your private practice.
The process of creating a logo is pretty similar to using Canva, however you have more flexibility with the many tools that Photoshop comes with.
Using Photoshop means you can use any font that's on your computer.
Oftentimes, having a great font that you love is half the battle of designing your logo.
You can do a search for fonts using Pinterest and you'll find a plethora to choose from.
Because of the advanced nature of Photoshop, I don't recommend this route if you're unfamiliar with the program.
Unless you have a strong desire to learn it, the learning curve could end up sucking a lot of your time up.
For that reason, I won't get into the steps you'd take within Photoshop.
I did, however create a free Photoshop template for a private practice logo if you're a little familiar with the application and want to get started.
Here's a couple examples for what you can make with the template: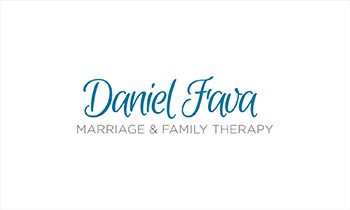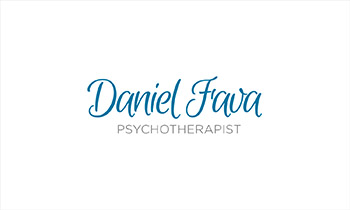 Click here to download the free photoshop logo template.
I included instructions within the template to edit the text, as well as the fonts I used.
If all this design-talk just makes you want to run and hide, then it's probably time for you to hire someone to create a logo for your private practice.
So let's talk more about that…
Hiring a Designer to Create a Logo for your Private Practice
Sometimes it just pays to hire someone to create something you'll truly be proud of.
Since your logo will be the identity of your therapy practice, this is one of those cases where it can be a great idea to get a professional to design it.
You have plenty of resources when it comes to hiring a designer for your logo, from inexpensive to expensive.
Here are some places to for designers…
Fiverr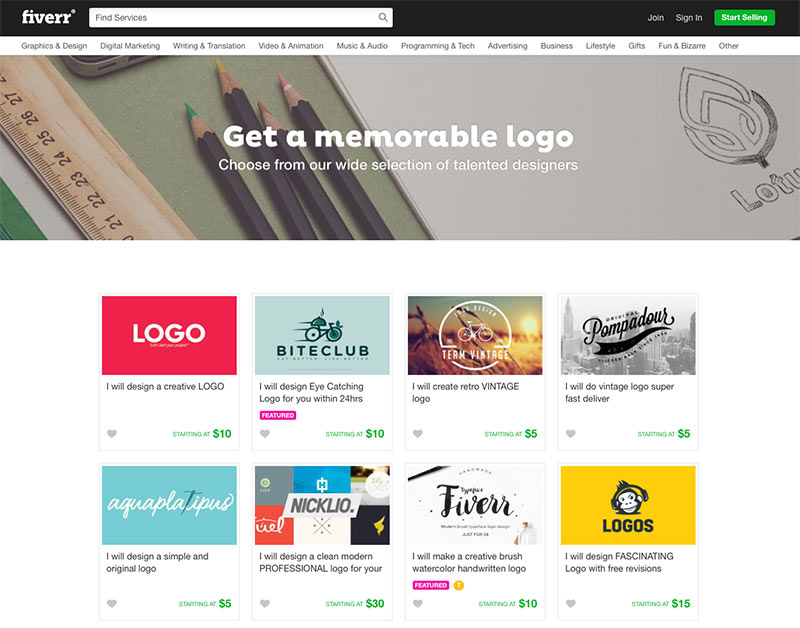 Fiverr.com is an online directory of freelancers you can hire small projects in your business.
From blog posts, to social media help to logo design, you can find it on Fiverr.
It's a great inexpensive place to find someone to help you with your private practice logo.
You can start by searching for logo designers here.
When you click into a designer's logo "gig", you'll see the various packages that they offer.
Some have more advanced options – like two logo concepts instead of just one – that you may be interested in.
Do your best to read the various reviews of each designer you're interested in to help you decide who to work with.
99Designs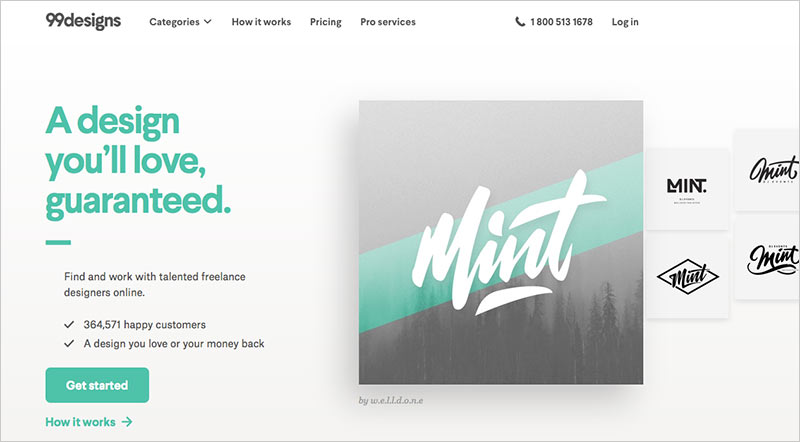 I love the concept of 99designs.com (afilliate link).
99Designs let's you run "contests" by crowd-sourcing designs from their network of over 1 million designers.
You create a design contest by entering some info about what you're looking for (in this case, a logo) and some of your design preferences.
99Designs then finds designers to create your logo and submit them to you.
You then have a bunch of options to choose from and can even have your friends vote on the ones they like too!
The best part is that if you don't like ANY options, you don't have to pay.
Click here to check out 99Designs.
Upwork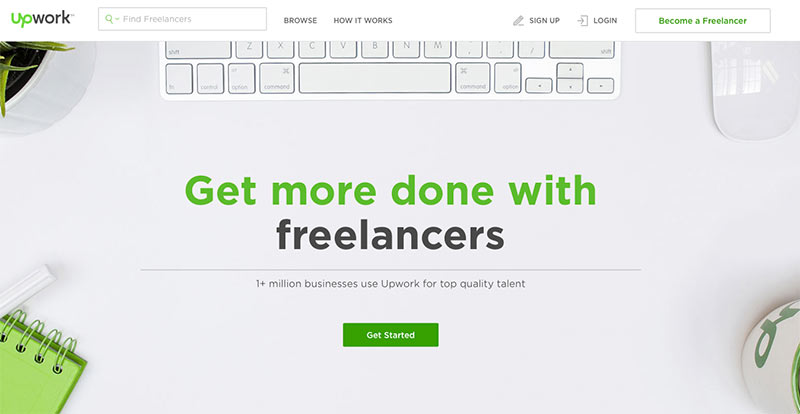 Upwork is a website where you can either find a freelancer or offer your freelance services.
It's a great directory where you can search for a logo designer from all around the world and for various prices.
All you have to do is post your project description, provide details about what you're looking for and freelance designers will send you proposals.
This allows you to find a designer that will fit your budget and timeline.
Click here to get started with Upwork.
Ask For a Referral in a Facebook Group
I've always found that the best people to hire are those referred to me by others I know.
My last recommendation for finding a designer for your private practice logo is to ask for a recommendation.
If you work in a group practice or know a few colleagues, try reaching out to them to find out who designed their logos.
Another great place to get a ton of recommendations quickly are the various Facebook groups out there for folks in private practice.
If you're not in any, I highly recommend jumping in today. The support for your business in these groups can be amazing.
You can try the Abundance Practice Builders or Selling the Couch Facebook groups, just to name a couple.
Get the FREE Cheatsheet for Private Practice Logo Design
There are so many great options for creating your private practice logo.
Whether you create one yourself or hire someone, there are still many design choices to make and things to consider.
How to choose colors, how to find fonts, etc.
That's why I created this FREE cheatsheet, to help you get going and quickly get the perfect logo for your private practice.
Just click on the banner below to download your free cheatsheet.

https://createmytherapistwebsite.com/wp-content/uploads/2016/09/logos-for-therapists-featured.jpg
303
807
Daniel
https://createmytherapistwebsite.com/wp-content/uploads/2015/07/create-my-therapist-website-logo-rev1-300x124.png
Daniel
2016-09-21 08:00:38
2016-09-21 12:47:40
Logos for Therapists: The Ultimate Guide to Designing a Logo for Your Private Practice