Disclosure: This article contains affiliate links, and at no additional cost to you, I will earn a commission if you decide to join Simple Practice. Please understand that I only recommend Simple Practice because my wife uses it and we've seen how their platform has truly simplified her processes. Please only purchase them if you truly feel that they will help you achieve your goals.
Coordinating your schedule with your clients schedule can often be a headache. It often involves a lot of back and forth and wasted time communicating. But with the rise many online scheduling systems have helped many a therapist simplify their process.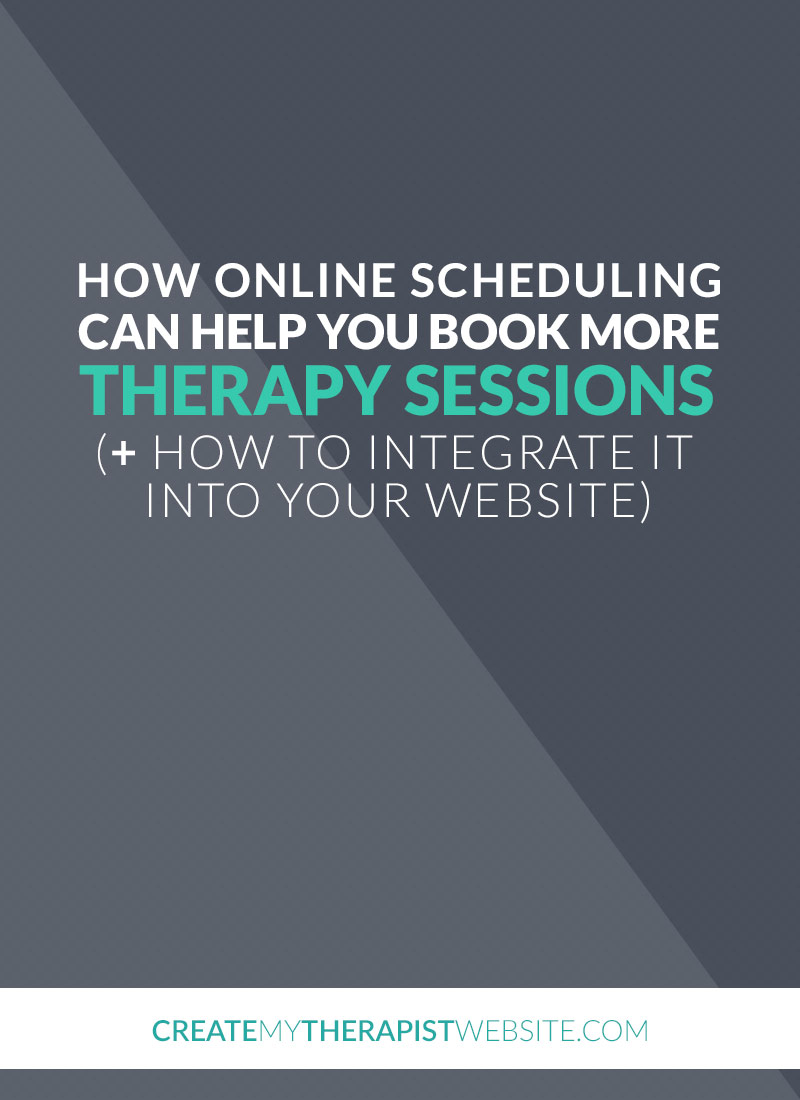 In this article I'll share a glimpse into my wife's journey with Simple Practice and how online booking has helped simplify her process and book more clients.
Why My Wife Chose To Go With Simple Practice
There's nothing like owning your own business AND being a mom to cause you to really identify what's not efficient in your life.
For my wife, she was getting increasingly frustrated with back-and-forth emailing or texting with clients to figure out time slots for them to book sessions.
Another time-suck in her practice was the note-writing process. Since she was not on an electronic, HIPAA compliant system, she had to write each therapy note, print it, delete it from her computer and then file the hard copy.
Talk about a process!
Because of these time-sucking tasks and the fact that the world is moving to electronic records anyway, she knew she had to find a system that would work for her well into the future.
After looking into a few electronic client management systems, she decided that the features and, well, the simplicity of Simple Practice would best suit her needs.
While the process of switching her current clients at the time over to electronic records took some time and could probably fill its own blog post, getting her forms and schedule integrated in the system was rather easy.
One feature we were eager to get her using was the online booking functionality.
We're both obsessed with efficiency and we knew this would help her save a ton of time and possibly even help her book more sessions.

Integrating Online Booking With Her Website
Simple Practice offers two ways you could integrate online booking into any website:
Link directly to a client portal mini-site
Or use their booking widget and have the booking feature popup on your website
Linking Directly to The Client Portal
A client portal is a link that you can send any current or potential client to.
It's their ground-zero for interacting with your process and doing business with you. They can book appointments, fill out intake forms or access their current information if they are already a client.
It looks like this: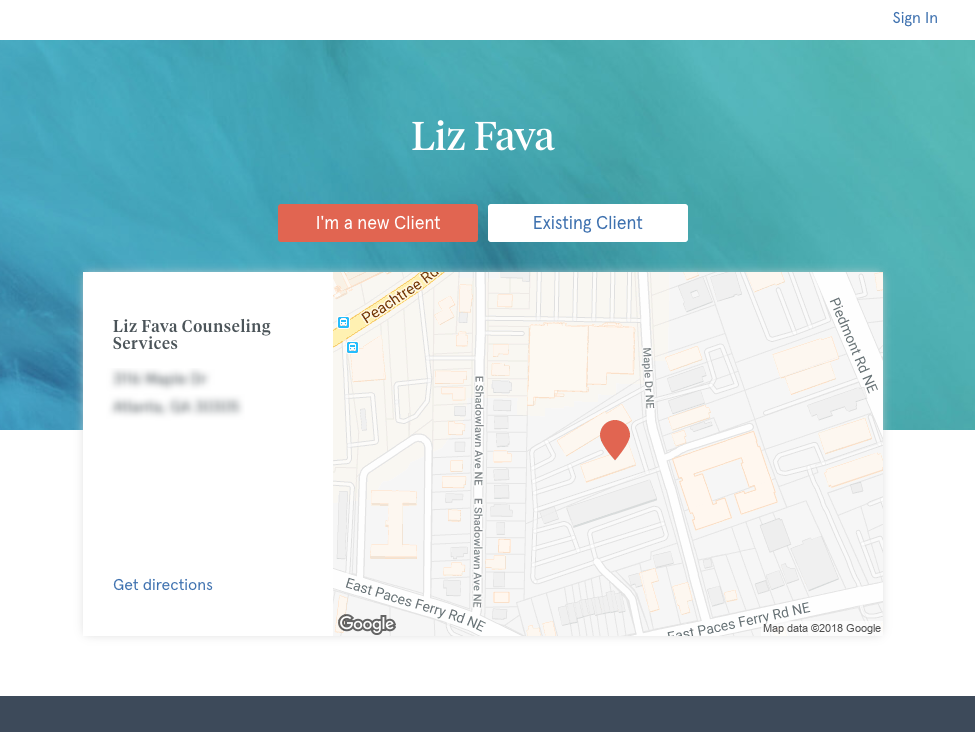 Once you've turned on your client portal and activated online booking for your services, the feature will be part of your portal.
You can set it do only existing clients can schedule with you, or allow new clients to schedule appointments as well.
Simple Practice lets you customize part of the URL for your client portal and once you do that, this will be the link that you can then use on your website or send to clients in an email or text.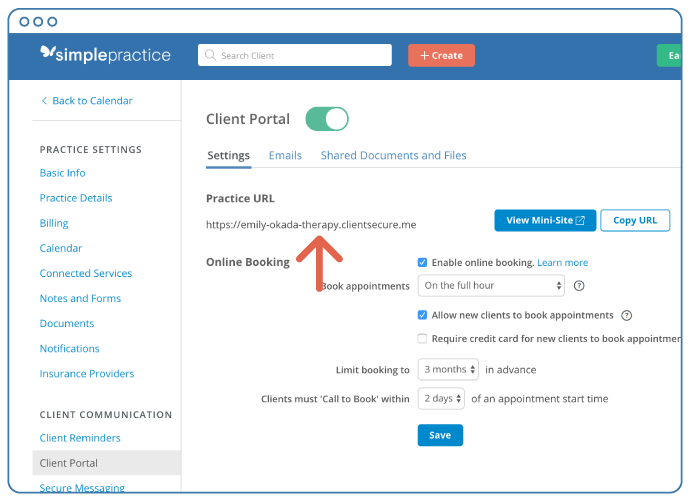 To connect your client portal and give your website visitors access to it, you can simple use that link throughout your website.
You could create a button in a call to action section that says "Schedule An Appointment" and send people over to your client portal.
Or include the link in your website's menu so it appears in the same spot on each page and users can easily navigate to it.
Using Simple Practice's Booking Widget
The other option that Simple Practice gives you to integrate online booking on your website is what they call the "Booking Widget".
What this is is a piece of HTML code that you can copy and then paste into the code on your website.
What your visitors will see is a button like this:

And when they click said button, a popup appears with your services to allow clients to book: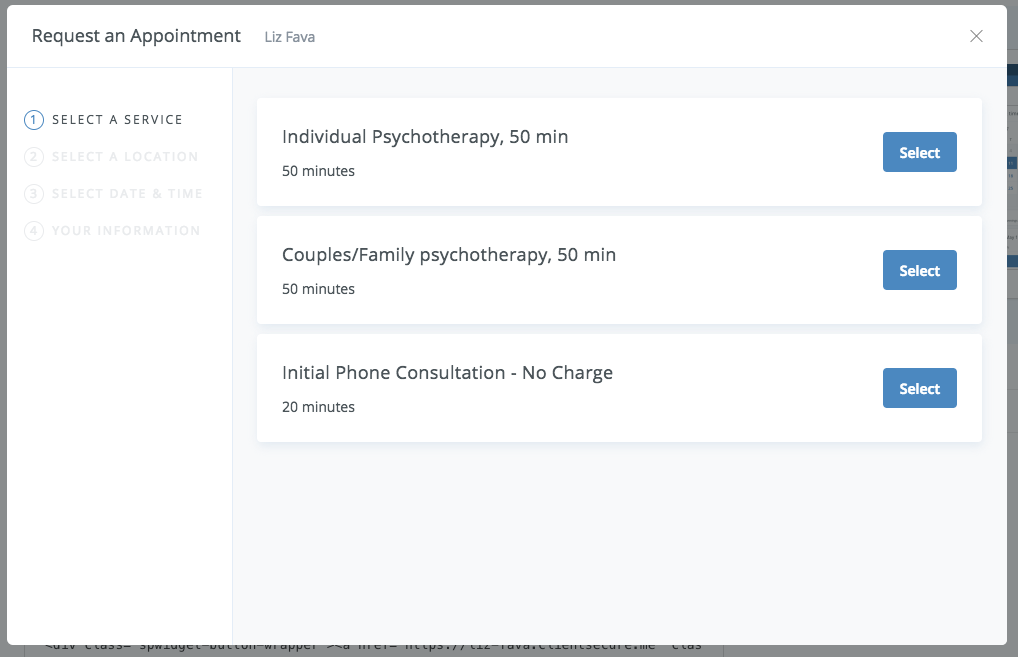 This option works great for those who don't want their website visitor to leave their website but be able to stay right there and book an appointment.
While copying and pasting the code into your website is mostly straightforward (Simple Practice gives you instructions in their support documentation) it does get a bit more complicated when you want to customize the button's color to match your website.
So some basic knowledge of HTML or having someone help you is ideal to make sure it works and looks good.
Which Option Worked Best for My Wife's Practice?
When my wife and I looked into integrating online booking into her website, we tested out which way would work best: sending visitors to the online portal, or having using the booking widget that pops up on her website.
We decided that just sending people to the portal was the best way to do it.
The reason we went with this approach was because we liked how, when a user goes to the client portal link, they are first asked whether they are an existing client or new client.
My wife prefers to talk to people on the phone before their first session, so she offers a free phone consultation.
When a user chooses "I'm a new client", the online booking will default to that initial phone consultation so they can book a time to have their phone call.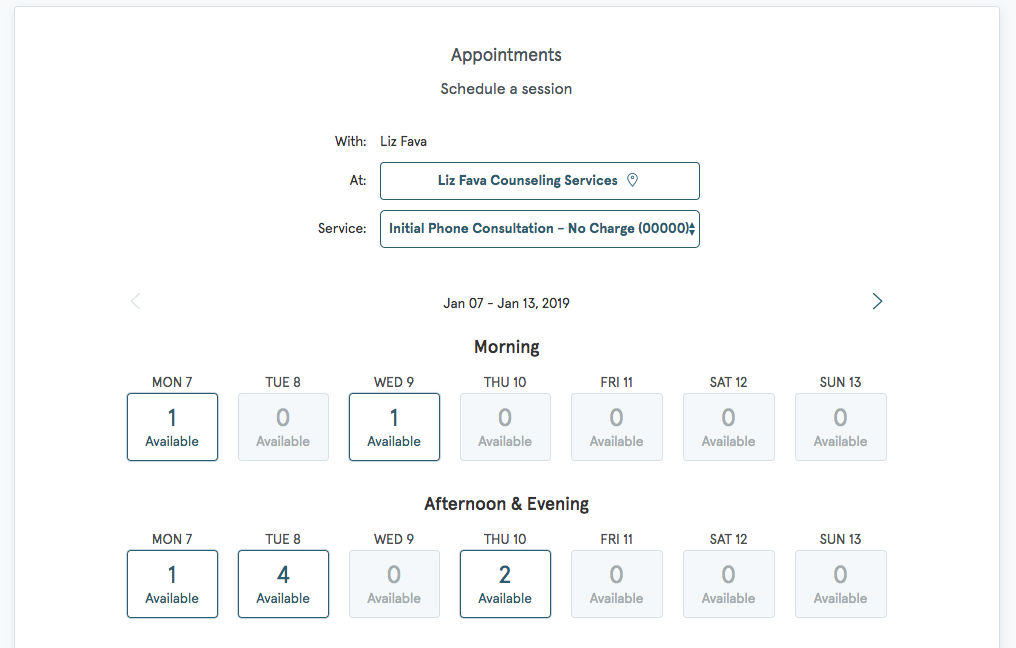 People can still book an appointment without ever talking to my wife, which does happen, but she prefers to have the first connection.
If they're an existing client, they'll sign in and they can schedule their appointment.
When using the Booking Widget popup however, there is nothing to indicate whether the user is a new or existing client, so the widget defaults to a standard counseling session.
If a new client sees the popup, they'd have to know to click the dropdown and find that initial consultation call option and choose it.
Knowing that she converts well on those phone consults meant that we didn't want to lose potential clients to this extra step.
So, sending people to her client portal link made the most sense to my wife and how she operates.
So you'll want to think through your own onboarding process and decide what makes the most sense to you.
How Online Booking Has Helped My Wife Save Time and Book More Clients
Using Simple Practice's online booking has been a game changer for my wife.
Before, she'd have to email each new or existing client to work out a date and time for them to work together.
Now, it's as simple as saying "go to my website and find a time that works for you."
It's helped provide a better service to her clients because it saves them time as well and eliminates all the back and forth communication.
Now, because her clients have the power to schedule whenever they like, my wife has been able to book more sessions.
She's had many clients want to see her before their next scheduled session as things come up in her life.
So they'll just go to her website and book away!
It's been exciting for my wife to see more sessions get booked on her calendar without having to do any extra work.
Conclusion
Online booking may not work for everyone.
It really comes down to how you like to communicate with your existing clients and how you onboard new ones.
For my wife, her move to Simple Practice has been wonderful.
While it took some time to switch everything over, it now saves her tons of time and has allowed her to book more sessions and keep track of everything going on her practice.
Online booking has been one of the many benefits of using Simple Practice.
If you're curious how Simple Practice's online booking and other tools can help you streamline your entire business, they offer a free 30-day trial that you can check out here.

https://createmytherapistwebsite.com/wp-content/uploads/2019/03/How-Online-Scheduling_Feat.jpg
303
807
Daniel
https://createmytherapistwebsite.com/wp-content/uploads/2015/07/create-my-therapist-website-logo-rev1-300x124.png
Daniel
2019-03-12 13:59:25
2019-03-12 13:59:27
How Online Scheduling Can Help You Book More Therapy Sessions (+ How To Integrate it Into Your Website)