What A Simple Facelift Can Do For Your Private Practice Website
I never get tired of seeing a new website come to life for my clients.
It brings me so much joy to take their ideas, their content, and their creative input and then turn that into a website that reflects both their personality as well as the vision they have for their private practice.
Recently, I had the pleasure of working with Rebekka Ouer, LCSW from Dallas Rainbow Counseling.
At the time she reached out to me, she had such a clear vision for her practice; being a beacon of hope for the LGBT community in Dallas, TX.
But she didn't feel like her website at the time was reflecting that vision and doing a great job to make her stand out the way she wanted to.
She was seeing great success in her practice, but her WordPress website needed a facelift.
She wanted a fresh, modern website that was more inviting to her ideal clients. She also wanted a website that was easy to update in the future.
You can see from this screenshot below what her homepage looked like before Rebekka and I worked together: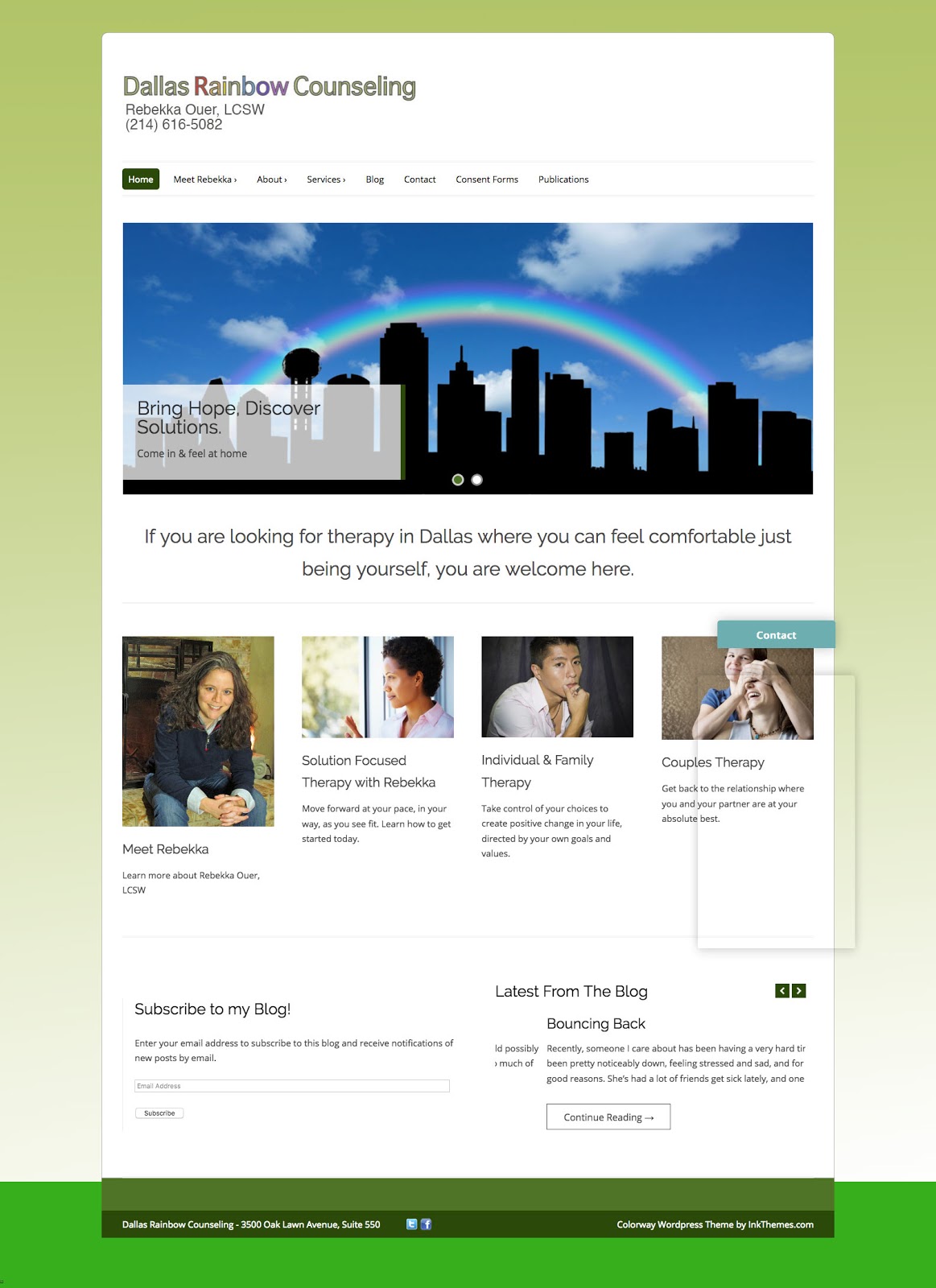 Her private practice website was simple, which I always love, but it lacked a little life and felt a little outdated.
The dark green was not giving the website that light, hopeful feeling that Rebekka wanted her new clients to feel when they landed on her homepage.
And her logo and homepage banner just needed a little love to make it feel more modern.
Giving Her Private Practice Website A Facelift
Because Rebekka had some great content, and the structure of her website worked well for her, we decided that the perfect way to breathe new life into her website was with one of the customizable Divi templates I've designed.
Rebekka chose the layout she liked the most from the three templates available.
Then, I got to work collecting all I need to know from Rebekka about her personal preferences for her website.
Through a questionnaire I give all my clients, I gathered info to help me customize the website to her tastes. Things like:
A color pallette she loved
The fonts she liked best for headers and body copy
What vibe did she want her website to give off to her potential clients (ie bold, calm, fun, natural)?
How did she want her header navigation laid out?
What websites inspired her?
Armed with the answers to the above and the great content she had currently on her private practice website, I went to work customizing her Divi WordPress template.
I was also able to bring over some of the functionality she had on her old WordPress website, such as scheduling options through vCita and a way to subscribe to her blog.
Rebekka also did a fantastic job finding some great photos to reflect both the Dallas area where she practices, as well as the community she serves.
I had a ton of fun updating her homepage image of the Dallas skyline to something a bit more modern, which you'll see in the screenshot below.
The Final Product
After getting all her content, photos, colors and fonts in place, her new website came to life.
The colors and white space really gave the website that light and calming presence Rebekka wanted to share with her potential clients, who may be reaching out for her services in a time of pain, anxiety or trauma.
The image of the rainbow over the Dallas skyline became that beacon of hope to the community that Rebekka serves.
The Divi WordPress theme also added that modern touch to her website, making it both easy to use and look beautiful on all devices.
So, here's the new Dallas Rainbow Counseling website: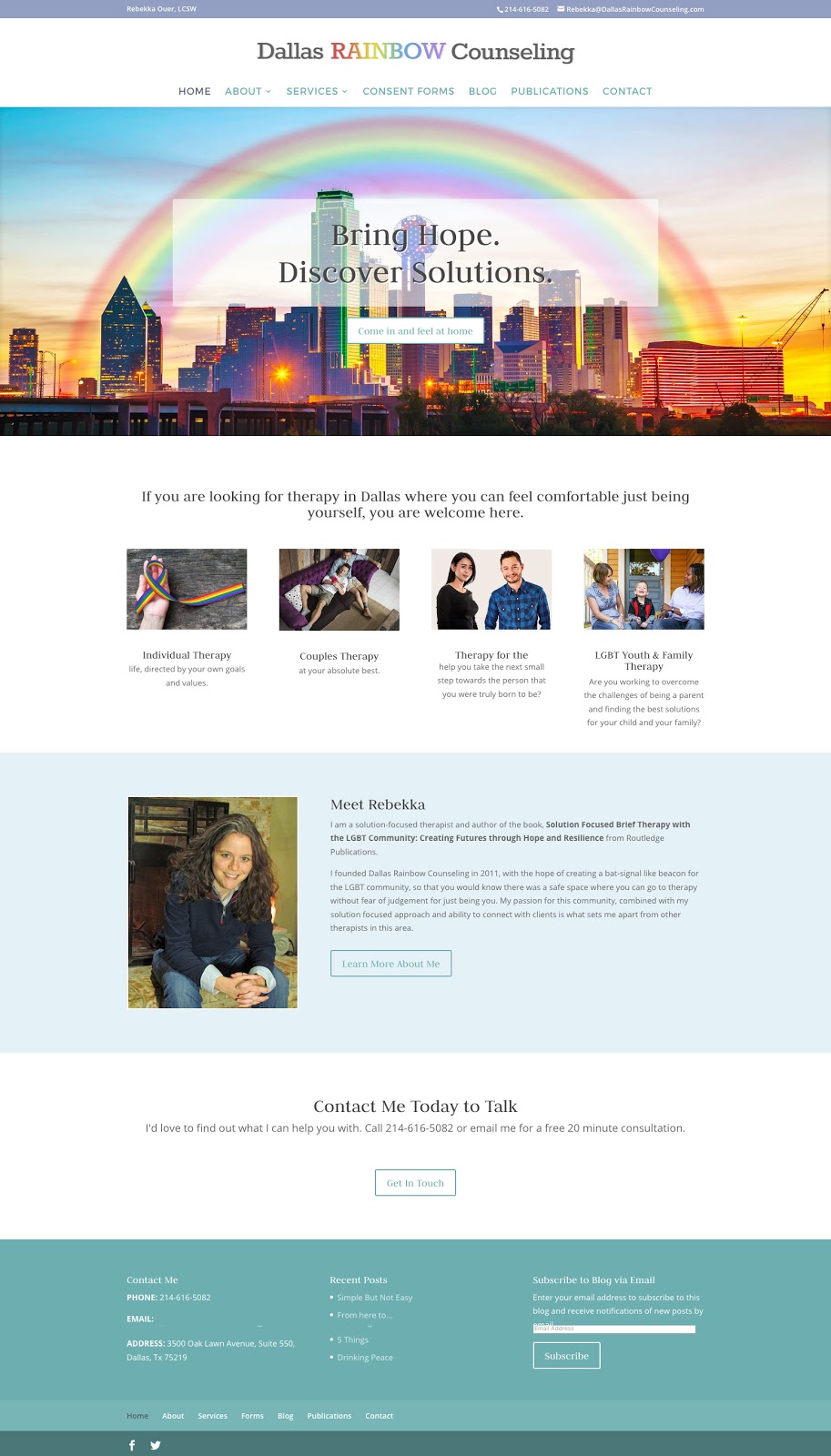 There's just something special about seeing a new website come to life, and I'm really happy with how Rebekka's website turned out.
Here's what Rebekka had to say about the project:
Daniel did great work for me, on time, (early actually) and with great communication throughout about what he needed and how to go about moving forward. My website looks amazing and I'm incredibly happy with his work. And his price was more than reasonable, which is a huge plus in this industry.
Does Your Private Practice Website Need a Facelift?
You may be in a similar boat as Rebekka was in before her project began.
Maybe your private practice website hasn't had a design touch in years and you may want to breathe some new life into it to reflect who you are and where you're taking your private practice.
I'd love to help you do just that and attract more clients with a brand spankin' new website.
Please feel free to check out my website design packages here, and reach out for more information about what we can do together to create a new website for you and your practice.
https://createmytherapistwebsite.com/wp-content/uploads/2017/05/private-practice-website-facelift-featured.jpg
303
807
Daniel
https://createmytherapistwebsite.com/wp-content/uploads/2015/07/create-my-therapist-website-logo-rev1-300x124.png
Daniel
2017-05-23 06:00:55
2019-04-03 20:20:20
What A Simple Facelift Can Do For Your Private Practice Website