Why Your Private Practice NEEDS To Be On Pinterest
Pinterest isn't just for recipes, workout plans, and dream weddings. It's actually a great way to drive traffic to your private practice's website.
Did you know that Pinterest is the second largest driver of traffic, second only to Facebook?
So, if you've been weary about trying a new social media platform, below are 5 reasons why you need to be using Pinterest to your advantage.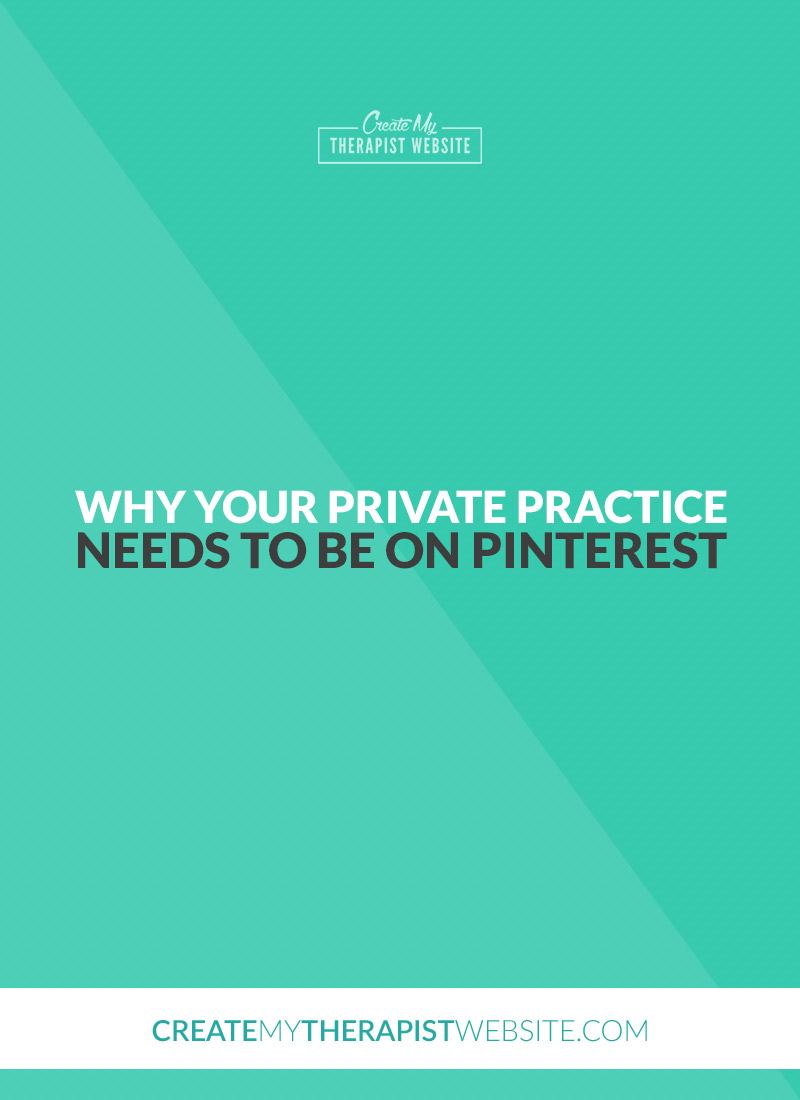 Reason #1: Pinterest has over 150 million users (and growing) who are providing details about their psychographics.
Whether they're looking for inspirational quotes or have a board dedicated completely to self-care tips, your ideal clients are identifying themselves daily.
Using attractive graphics and optimizing your captions with keywords specific to your niche will draw your future clients directly to your site.
Your potential clients are using Pinterest already, so use it as an opportunity to attract them with content relevant to your private practice and expertise.
Reason #2: Your clients are open and receptive to your message.
In fact, they're looking for it.
By being consistent with the design of your pin images and consistently providing content that will serve your ideal client, you can stand out as an expert in your field.
And as they become receptive to your helpful content, your target audience may be more likely to contact you, set up an appointment, and become a regular client.
I can't promise this is going to happen overnight, but as traffic increases over time it does increase the likelihood of converting visitors to clients.
Reason #3: Pinterest can increase traffic to your therapy website exponentially.
When someone pins a post, it's shared to their friends and followers. This means an entire network of individuals will be seeing your content.
The best part is that this can work exponentially in your favor to bring you loads of traffic.
For example, if you pin an image that links to your blog post and you only have 400 followers, it has the potential of being seen by those 400 individuals.
But if one of those 400 individuals REPINS your content and THEY have 4,000 followers, well you have the potential getting your pin (and clicks to your website) in front of 4,000 more people.
And on and on it goes.
So, more eyes means more traffic. More traffic means more prospective clients.
Reason #4: Your audience is looking for the inspiration and content that you can provide.
Since 66% of people on Pinterest are using the platform for that purpose, give them what they're looking for.
You see, Pinterest is really a search engine… NOT a social media website.
Pinterest is a place where people go to find answers and it's a great place to provide answers by pinning your blog posts there regularly.
Ensure your messaging is both inspirational and actionable, giving your future clients a roadmap to follow that ultimately leads directly to you.
Whether they're numbered lists or how to's, providing the right content to the right audience on the right platform could be a game changer for your private practice.
Reason #5: Pinterest can help with your SEO
One thing that search engines pay attention to is something called "social signals."
Social signals do play a role in organic and local search engine optimization. Search engines want to show their users the most relevant and engaging content.
As people interact with your pins and traffic increases over time, it can cause a positive impact on your local search engine rankings.
So when potential, local clients search for services related to your practice, Google will be more likely to show them your website, as it sees that Pinterest is sending many other engaged users to your content.
And beyond local search, your pins can (and probably will) pop up from time to time in Google search results, eventually leading traffic back to your website.
Is Your Private Practice on Pinterest Yet? If not, read on…
Personally, Pinterest is my FAVORITE way to drive traffic to any website.
It currently accounts for more than 90% of all traffic to this here site… and all without having to pay for my content to be seen (like you have to do on Facebook).
In fact, using Pinterest led to a 15x increase in traffic to my own website… in just 6 months.
It required a little bit of strategy (but ANYONE can do it)
I'd like to share this Pinterest strategy with you inside this challenge…
Because what I've learned is that it's not rocket science, so anyone can follow this system to see an uptick in their own website traffic.
Ready to use Pinterest to explode your traffic, grow your audience and attract more of your ideal clients? Join the free 10-day Kickstart Your Blog Traffic Challenge by clicking the banner below:
https://createmytherapistwebsite.com/wp-content/uploads/2017/06/Why-Your-Private-Practice-NEEDS-To-Be-On-Pinterest-BLog.jpg
303
807
Daniel
https://createmytherapistwebsite.com/wp-content/uploads/2015/07/create-my-therapist-website-logo-rev1-300x124.png
Daniel
2017-06-21 07:00:06
2017-11-03 12:21:22
Why Your Private Practice NEEDS To Be On Pinterest