How to Tell Website Visitors What You Do in One Sentence

What's one of the quickest ways to encourage a website visitor to leave your private practice website? Make it hard for them to understand who you help and what you do…
In this article I'll share with you some tips to create a clear and concise sentence that will let your potential clients know they're in the right place.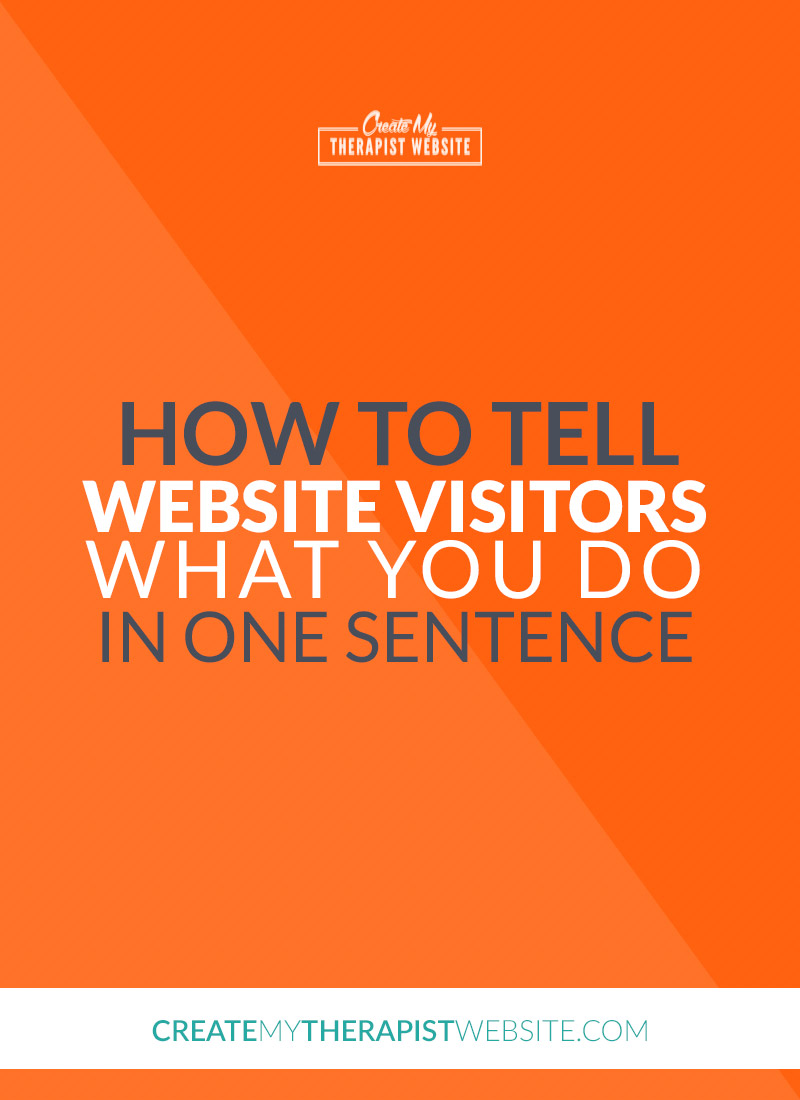 Content Clarity Wins the Day
Far too many private websites fall short of their mission to get more clients because there's a lack of clarity when visitors arrive.
I see this all the time…
When landing on a homepage, I often have to struggle to understand what the therapist does and who they help.
And if I'm having trouble finding that information … well, then so are your potential clients.
One of the quickest ways you can correct this is by writing a clear and concise sentence, or "one-liner."
When website visitors arrive, a one-liner that explains your private practice or any of your services can be extremely helpful in the marketing of your business.
Why?
Because it lets your potential clients know they're in the right place.
Marketing expert, Donald Miller, explains in his book Building A Story Brand (affiliate link) that your one-liner should contain the following elements:
The Character: Who you help
The Problem: What you help them overcome
The Plan: Can you include HOW you help them overcome the problem?
The Success: What does success look like?
Here's an example of a one-liner someone may have on the top of their homepage:
"I help new moms cope with depression and overwhelm so they can be the mom they always dreamed they'd be."
You can see how quickly this can get the attention of a website visitor if they were a new mom looking to find help with depression.
It gives them a chance to say, "That's me! I dream of being a great mom!"
You can do this on your homepage, your about page and certainly on all your landing pages for specific services you offer in your practice.
Write a Headline for Those Most Likely to Work With You
There will always be that small percentage of potential clients who are totally on board with your service.
And it's good it's a small percentage! That's exactly who you want to reach.
Remember, you can't make everyone happy. The best copywriters know this, so they write headlines and content for those who are most likely to favor the service they're writing about.
Know your clients and gain insights from the people you work with in your private practice.
Trying to write for 100% of the people will hamper your conversion rate.
Listen to how your clients describe their challenges and write it down in a notebook to use as inspiration for your one-liners.
Write 20 Headline Options and Let Your Creativity Flow
I know, it's a challenge, but it releases your own creativity. Don't delete as you go. Allow creativity to take over. Play around with shortening and lengthening your one-liner.
Try elevating the benefit to increase intrigue with potential clients visiting your website.
Twenty variations should be enough for you to turn your ideas into the ultimate headline.
Open up and don't be afraid of any variations that fall flat. You'll end up with your share of good ones.
You can start by focusing on a one-liner for your homepage that encompasses your private practice.
From there, you can do this for each of your service pages.
Trim the Fat from Your Content
This is the stage where you trim the fat and delete any obvious junk content. Like any endeavor in the world, there's always a lot you can learn from your mistakes.
Don't be hard on yourself for having to toss out junk. It's all part of the process.
Your ideas that fell short can serve as a springboard for new ideas.
Remember, your physical therapy or mental health practice is about solving problems and providing solutions for them. It's not about you.
Related Article: Your About Page is Not About You
What The Rest of Your Private Practice Website Copy Should Contain
In addition to that amazing one-liner on the front page of your website, there are other critical elements that your site should contain.
1. Homepage
This is where you want that main one-liner to live. Quickly tell your clients what your private practice is all about. You know the old saying about "first impressions."
Your homepage is the first impression, and likely the greatest impression, that a potential patient will receive. So make sure you convey that your business has the answers they're looking for.
A visitor's attention span will be around eight seconds. Attention spans are growing shorter and shorter.
Make their first impression count. Get right to the point and don't give the reader too much information or require them to make too many choices.
Focus on the one major thing you want visitors to know, and don't deviate from your theme.
Also, include an action that you want them to take.
Related Article: 5 Homepage Mistakes Therapists Make & How to Avoid Them
2. About Page
This page should address your ideal client or patient. It doesn't have to be a mind-blowing page. Just make sure that it has relevant information about your practice.
Write content as if you're talking directly to your clients. It's not a bad idea to offer up a glimpse of your life outside of your practice.
Keep it simple and focused on the ideal client you're trying to reach and think about where they're at when looking for your services.
3. Services Page
This page is the one where you introduce your services.
Break it down into the categories that your practice addresses. Be specific and informative.
When we design websites for clients, we like to make this page "your practice at a glance."
You can provide some short introductions to all your services so a visitor can quickly scroll through and see what you offer.
Introduce the service, then link over to a page for each one.
4. A Page for Each Service Offered
These pages expound on each service you have listed on the Services Page.
This is where your content can go into greater detail about each service. This is also where you get to elaborate on your expertise.
You can create a one-liner to go on the top of each of these pages to quickly grab the attention of your ideal clients.
5. Blog
Your blog is where you can really show your expertise on very specific topics.
Google's algorithm also likes the idea of refreshed and relevant content on websites. So try and write consistently, even it's just one blog post a month.
It will definitely help your traffic!
Conclusion
It might be difficult at first, but you'll get used to writing your private practice website copy as time goes on.
Practicing crafting your one-liner can be a great exercise that can help you simplify how you speak about your services and how clear and concise your copy currently is (or isn't).
Got an idea for a one-liner for your private practice but need some feedback?
Head over to the CMTW Facebook group and post it there. We've got a bunch of your colleagues in there who would love to help you out.
And for more tips on writing simple and effective marketing copy for your private practice, check out the book Building A Story Brand or read my review here.
https://createmytherapistwebsite.com/wp-content/uploads/2018/08/how_to_tell_visitors_what_you_do_feat.jpg
303
807
Daniel
https://createmytherapistwebsite.com/wp-content/uploads/2015/07/create-my-therapist-website-logo-rev1-300x124.png
Daniel
2018-08-15 10:00:28
2019-02-11 17:01:28
How to Tell Website Visitors What You Do in One Sentence