Stop Lying to Yourself (and Start Getting Your Full Fee as a Private Practice Therapist)!
A guest post written by Liz Miller, LPC, LMHC, NCC
You did it! You hung out your shingle and started your private practice counseling business. And at first, it's great just to start seeing your new clients. A private practice! You're doing this thing!
Except that your list of "reduced fee" clients is growing, or your full fee was never exactly that "full" a fee to begin with. Why? Because deep down you're afraid that if you charge what you're worth, the phone will stop ringing. Or worse, you don't know what you're worth as a therapist.
In this article I'll share with you 3 questions to help you value your private practice and get paid your full fee.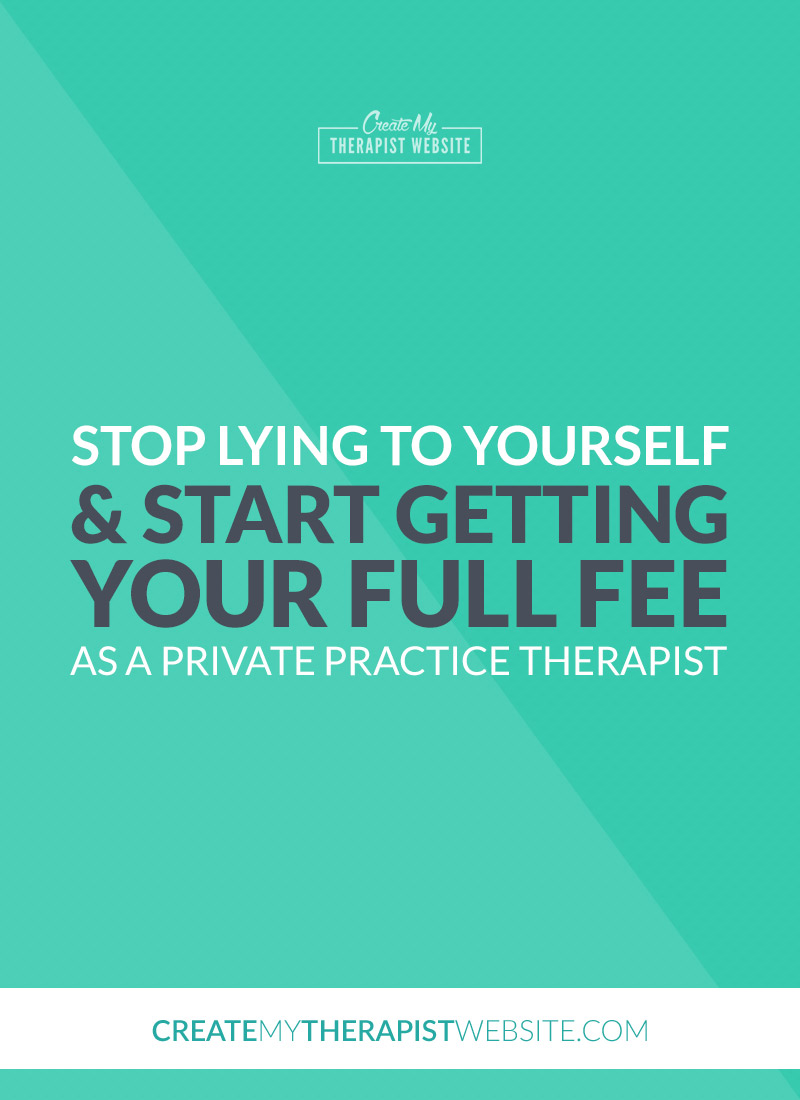 Fear of failure leads new private practice clinicians to devalue their services, creating a vicious cycle.
When you ask for lower fees, you get them. Then you struggle and the fear of failure increases.
As a clinician, you're used to helping clients realize that we "teach people how to treat us." But, the same is true of you as a business owner! The problem is that you don't realize what therapy is worth to your clients, so you set low fees based on faulty assumptions and create self-fulfilling prophecies.
What if you challenged your own assumptions the way you ask clients to challenge theirs?
When you work with clients who don't see their own worth and aren't getting what they want out of life—in their jobs, in their marriages—you teach them to challenge their self-limiting or distorted beliefs and assumptions, don't you?
What if you did the same thing for yourself in your business?
You have razor sharp CBT skills as a therapist. Use them!
What are the self-limiting—and business-limiting—beliefs that cause you to undervalue your work?
First, brainstorm all the reasons you tell yourself you can't raise your rates or ask your clients to pay them.
If I raise my rates or require full fees:
Clients won't be able to afford therapy.
Other therapists will believe I'm greedy or only profit-driven.
I'll be violating my own desire to help people.
The phone will stop ringing, clients won't come, and my business will fail.
Next, ask yourself some tried-and-true CBT questions as if your own therapist was asking them, and get brutally honest with yourself as you answer:
Am I examining all the evidence, or only what reinforces my belief?
While some clients might struggle to pay the fee I need to create a successful practice, it's also true that many self-pay therapists have thriving businesses, so there is evidence that many clients can pay full fee.
Could my belief be an exaggeration of what's true?
It's true that a few individuals could look down on me for creating an abundant lifestyle through my full-fee private practice, but many more will understand that my successful business will allow me to give generously within my community.
Would others have different perspectives on this situation? What are they?
Many business owners in other fields—from law and architecture to plumbing and home building—understand that a successful business allows them to extend pro bono services to more people, not fewer. And, a successful business helps them employ others, too.
Is this thought black and white, or is it more complicated?
If others have created successful private pay practices, could my reluctance to charge well for my services be about more than a simple marketing analysis? For example, if I'm assuming no one in my smaller community will pay my full fee, and I find that other private pay therapists in small communities are charging more than I am, what are they doing that makes it work for some, but not other therapists?
Did someone else impress me with this belief, and if so, are there others I respect who would challenge it?
Where did I get my own money stories, anyway? Are my doubts and fears really my own, or have I willingly adopted someone else's narrative?
Finally, get crystal clear on what you are really providing for your clients.
When you're talking to a prospective client, and the lump in your throat is threatening your ability to state your full fee with confidence, remember:
You are NOT charging your full fee for one hour of psychotherapy. (Please repeat that!)
You are giving the human being on the other end of the line the skills and self-knowledge to:
Recover from the addiction that's been ravaging their life for years so that they can restore their family and live to see their children get married.
Restore a loving, life-giving, fruitful bond with their spouse, which is empirically proven to increase longevity, health, well-being, and even financial security for themselves and their children.
Exchange anxiety or depression for a confident and joyful life, with all the implications that holds for their careers, families, and ability to serve their communities.
You are providing the opportunity for nothing less than a changed, restored life. This is what your full fee covers.
Are these outcomes worth the price of a semester of college, a weeklong trip to Disneyworld, or selling something on Craigslist while cutting their cable service for a few months?
Are these outcomes worth it to your reduced fee clients who are able to access your services because your thriving full-fee practice supports them? What about all the other outcomes that result from your philanthropic giving as a successful entrepreneur?
Take these 3 steps to change your perspective and start earning your full fee:
Put on your CFO hat and get serious about understanding your finances. There are lots of resources available to help you understand what your gross income—and fee—needs to be to support the life you want, based on the expenses and needs of your business.
Once you know the fee you need to charge, get ruthless about focusing on the evidence that supports your goals, not just your fears. Interview other therapists, get peer support in an online forum, and find out what successful full-fee therapists do to create a thriving practice.
Finally, practice stating your full fee with confidence, reviewing first what your fee really provides both you and your family, and your clients.
Remember:
It's as scary to face a struggling practice every day as it is to take a deep breath and state your full fee with confidence.
If you're going to be out of your comfort zone whichever way you go, why not go for it? You might just get the practice of your dreams!
About Liz Miller
Liz Miller, LPC, LMHC, NCC is a private practice therapist in Moscow, Idaho, who is passionate about helping committed couples repair painful marriages, and helping individuals heal from trauma and create courage, meaning, and freedom in their lives. When she's not working, she can be found walking her dog, playing guitar, or camped next to a river.  She is happiest outdoors in places where she can see the Milky Way.
Visit Liz at lizmillercounseling.com
https://createmytherapistwebsite.com/wp-content/uploads/2017/10/441046012767039.BIweMOM9Yg0VLyJMYu2n_height640.png
240
640
Daniel
https://createmytherapistwebsite.com/wp-content/uploads/2015/07/create-my-therapist-website-logo-rev1-300x124.png
Daniel
2017-10-03 07:00:22
2017-10-04 10:11:04
Stop Lying to Yourself (and Start Getting Your Full Fee as a Private Practice Therapist)!