Client Spotlight: Lisa Kendall
I'm super excited to introduce you to another amazing counselor, Lisa Kendall. I had the pleasure of working with Lisa to breathe new life into her private practice website in order to support her growing counseling and consulting business.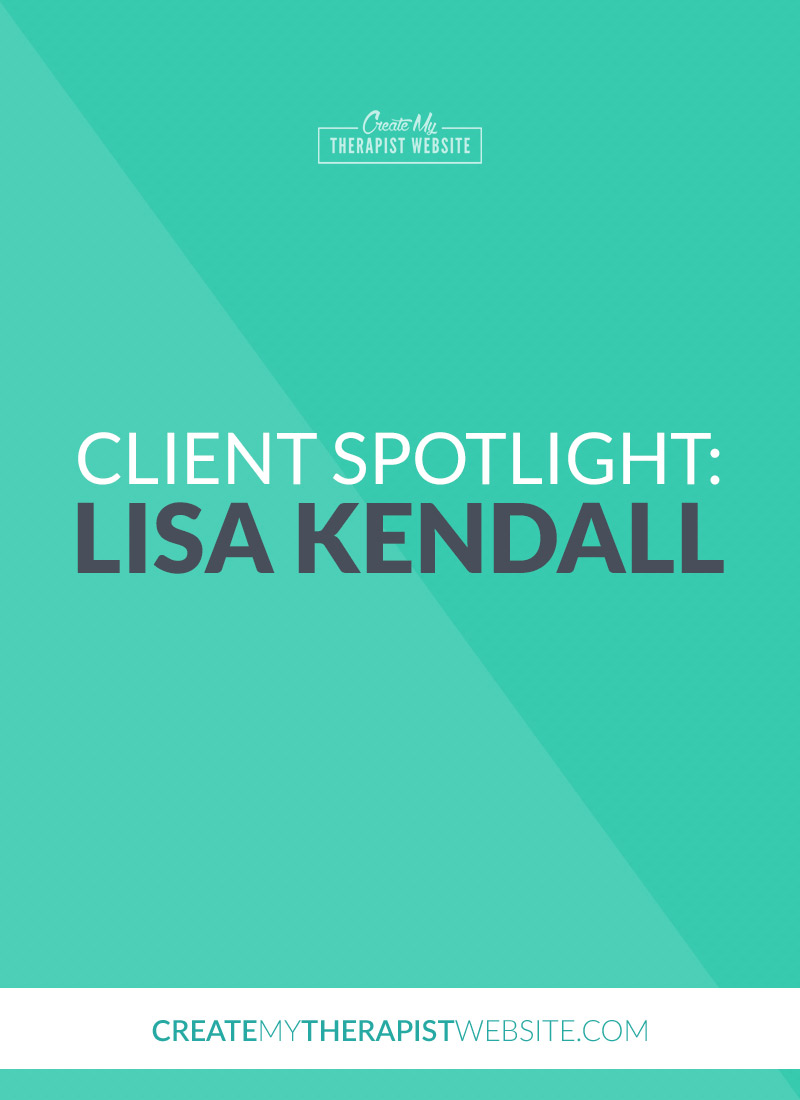 Before Her Website Project Began
Lisa is a social work psychotherapist and gerontologist.
Her passion is for working with elders and their care partners to create balance in their lives and cope with the challenges that may come from aging.
I instantly admired Lisa because it was so clear how much she cared for the population she served.
When we first chatted about what a new website could look like for her practice, Lisa had a clear vision for growth in both her business and her impact.
With a growing community, coaching services and educational/speaking opportunities, she needed a website that would help her stand out, establish her as an expert in gerontology and attract new clients and opportunities.
But her business had outgrown her old website. Here's what it looked like: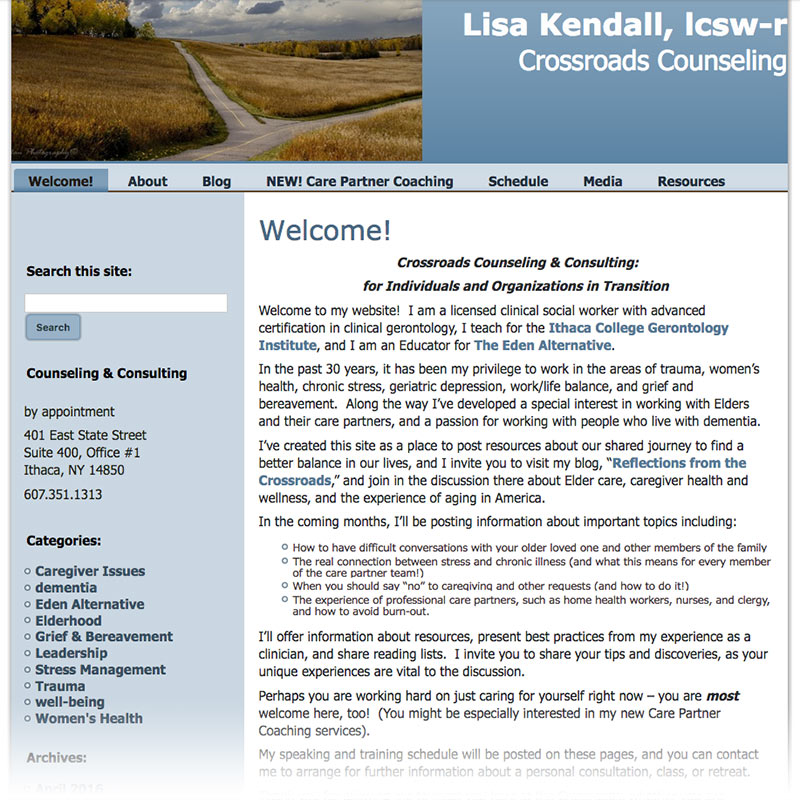 Her website looked more like an old-school blog, rather than a website for a counselor, coach and speaker.
One thing Lisa did have?
Great content and a warm and inviting tone to her copy.
Because she knows who she wants to attract to her website (elders and their caregivers) she can write copy that speaks directly to their concerns, creating trust and warmth.
So our challenge was to create a website that was more modern and let that warmth and personality come across.
Her current website felt a bit cold and didn't allow for much connection.
So we went to work.
Creating A Private Practice Website That Let Lisa's Personality Shine
So we had a few requirements for the new website and the business goals it needed to achieve:
Attract more of Lisa's target audience (elders and their caregivers) so that she can increase the number of clients
Showcase her speaking and educational work in order to establish herself as an expert and grow this part of her business
Allow users to easily opt into an email list so that she could grow an audience and market to them in the future
Create a responsive website so that no matter what device a user was on, they'd be able to get to Lisa's great content
Make it super simple for users to contact her so that Lisa could have more conversations with potential clients
We decided to start with one of my pre-designed Divi WordPress templates as a foundation for her website.
Doing this helped save on the cost of her website and also gave us a great starting point that addressed some of the goals above.
As with all my clients, I had Lisa complete a questionnaire prior to our work together.
In the questionnaire, she was able to share with me the websites that inspire her, the feeling she wanted to evoke to her website visitors and specific preferences such as fonts, colors and the way she wanted her header to appear.
I was able to take all that info, along with her content and get to work putting all the pieces of Lisa's brand and content together into a new website.
Launching Lisa's Website
Lisa was truly a delight to work with and a model client!
She was extremely responsive, uploading all her content to our shared Dropbox before the project began and providing all necessary feedback to me along the way.
Because she was so readily available, we were able to complete the website rather quickly and launch it to the world.
Here's a few shots of the final website: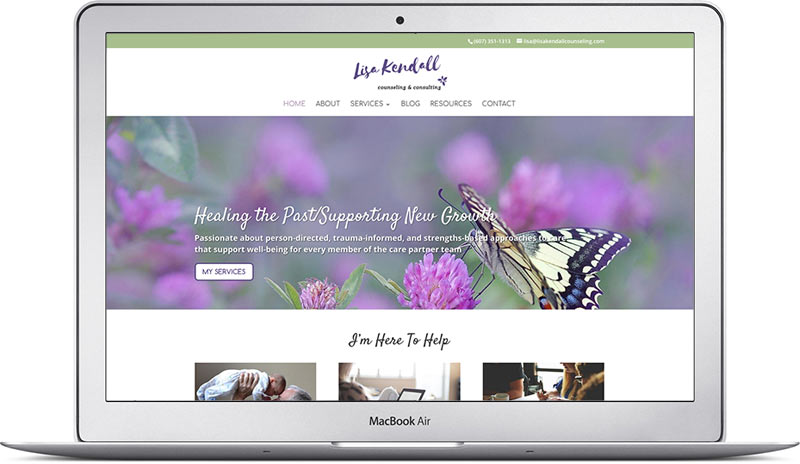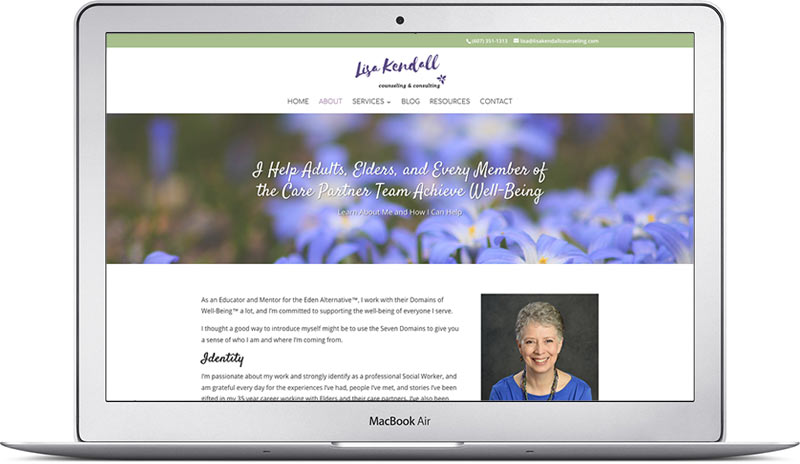 As you can see, Lisa's new website is much cleaner and fully branded.
The logo, fonts and imagery all work together to create a brand for Lisa that evokes feelings of peace, rest and balance – exactly what she brings to her clients.
The white space makes it easier for readers to digest her great content and learn more about who Lisa is and grow to trust her as an expert as well as a warm person.
You can check out Lisa Kendall's new website by clicking here.
Here's what Lisa had to say about her new website:
My new website really reflects my personality, and is ready to take me and my professional services to the nextlevel!
It's really beautiful, easy to navigate, and I believe I've already seen an increase in followers as a result.
I would enthusiastically encourage colleagues to look at my website and to talk with Daniel and to trust in the fact that he's a good listener, phenomenally well organized and well-prepared to walk people through what could be a painful process.
He made it a joyful, collaborative, and creative experience.
I am very grateful, and would recommend Daniel and his services without hesitation!
Is It Time to Update Your Private Practice Website?
One thing I love about my work is that I get to create change in a person's life and business.
And I'm not just talking about creating a new website.
A website is nothing unless it is working for you and your private practice goals.
It was an honor to help Lisa redesign her website into something that truly reflects her personality and lets her warmth shine.
If you think your website is lacking in personality and isn't helping you grow your practice, let's have a chat.
I offer a free 30-minute consultation where we can discuss your private practice goals, current challenges and how a new website could help move your business forward.
Click here to learn more about how we can work together and to schedule your free 30-minute consultation.
https://createmytherapistwebsite.com/wp-content/uploads/2018/04/Lisa-Kendall.jpg
303
807
Daniel
https://createmytherapistwebsite.com/wp-content/uploads/2015/07/create-my-therapist-website-logo-rev1-300x124.png
Daniel
2018-04-04 10:00:31
2019-04-03 20:16:14
Client Spotlight: Lisa Kendall