Blogging for Therapists: How to Find Your Niche
When you begin to create a blog for your private practice, your first question may be "What on earth should I write about?" quickly followed by "Where do I begin?"
But when it comes to blogging, there is another question that's an even more powerful place to begin.
Who are you writing for?
Once you know the answer to THIS question, the rest falls into place.
In this post I'll share with you some simple steps you can take to help you get clear on who your ideal client and blogging audience is to make writing blog posts easier.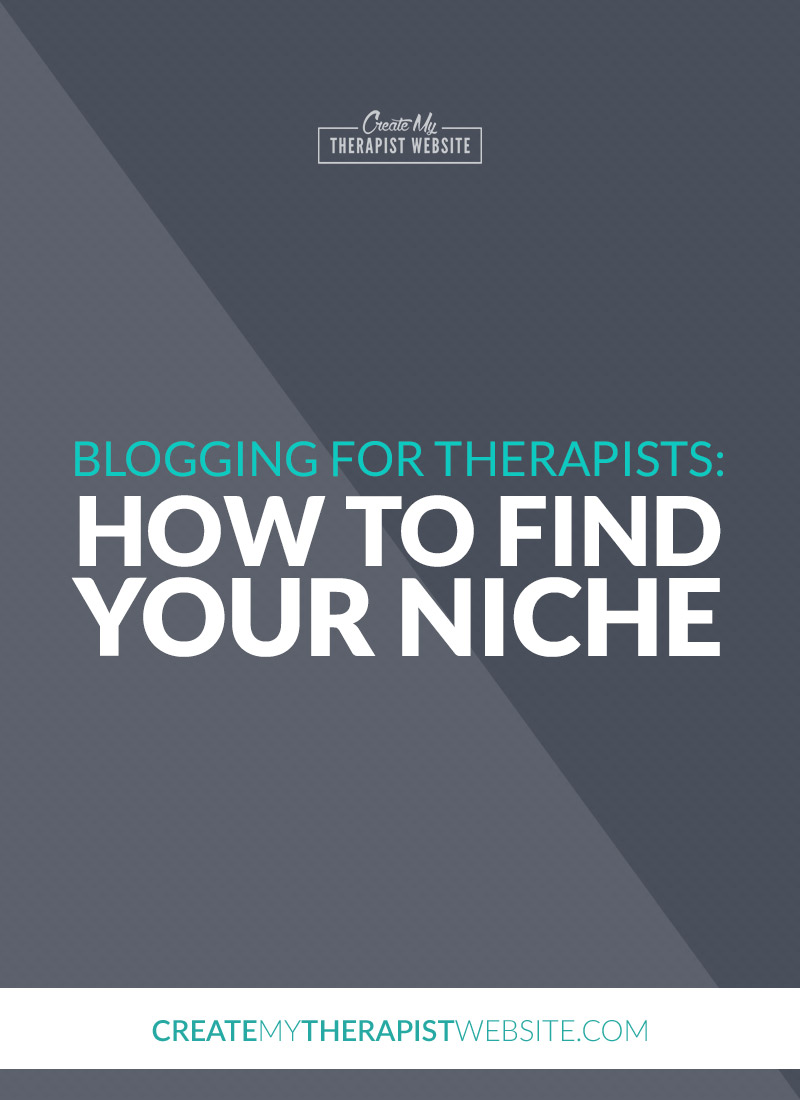 Understanding who your ideal clients are and creating content specifically for them is key to driving traffic to your site.
Though casting a wide net and writing in generalizations can be appealing in the beginning, it actually shuts out the opportunity to provide the best content to the specific type of client you're looking for.
Related: 5 Tips To Increasing Your Website Traffic by Choosing a Niche
How to Find Your Blogging Niche
Take some time to go through the exercise below to help you uncover the focus of your blog and your ideal audience.
Step 1: Take a step back and ask yourself "What clients do I really love working with?"
Really think about that and try and describe your ideal client.
Think about their lifestyle, their age and career. What does their family look like?
Try to describe the in as much detail as you can.
Step 2: What are some common challenges that you love to help your clients overcome?
Think about some of the things you've worked together to overcome and the outcome of your work together.
What type of therapy work really excites you?
Do you love helping newly married couples start their marriage off with solid communication skills?
Or is it helping someone move past a trauma in their life?
Step 3: How can reading your blog posts help this population?
What transformation can you help your clients achieve?
Why should they read your blog and what can they expect from reading your blog?
Step 4: What impression do you want to leave on someone after they've read your blog?
Think about how you want an ideal client to feel after reading one of your blog posts and describe it.
Do you want them to feel inspired to connect with their family in new ways?
Or maybe you want your ideal client to feel proud and unashamed of who they are.
Do this for each client that has energized you to discover what marketers call your "Target Audience."
An Example of Defining Your Blog's Focus
Because I like to be a little more show than tell, here's an example of what it looks like when you define your blog niche and ideal client:
"I'm energized by the work I do with young professionals, aged 25 -30 years old. They are primarily unmarried, focused on their career and have an active social life.
They often struggle with insecurity, poor boundaries and overcoming shame from past and present relationships.
My blog posts can provide this population with ideas and knowledge that they can apply to their lives today in order to understand their boundaries, improve their communication with others and begin seeing a positive change in their lives and relationships."
See how descriptive you can be?
Then, every time you have a new blog post to write, you can sit down and picture your ideal client.
Pretend like you're talking to just one person, and I know your blogs will become packed with extremely valuable information that will attract your ideal clients to your private practice website.
Download the Free Find Your Blog Focus Worksheet
To help you navigate through finding your blogging niche and establishing your private practice's voice and tone, I've created a worksheet for you to download here.
This worksheet is from a future course (tease!) I'm creating all about driving traffic using your blog.
With this Free PDF, you'll be able to:
Identify your ideal client
Create a list of blog categories and subcategories (topics) to write about
Break through bouts of "writer's block" with ease
Every client you see is unique, but chances are, they have several things in common.
That is your specialty. It's what you've trained years for and are now spectacular at it. The same practice should be used when blogging for your private practice.
https://createmytherapistwebsite.com/wp-content/uploads/2017/06/Blogging-for-Therapists-How-to-Find-Your-Niche-Blog.jpg
303
807
Daniel
https://createmytherapistwebsite.com/wp-content/uploads/2015/07/create-my-therapist-website-logo-rev1-300x124.png
Daniel
2017-06-14 07:00:09
2017-11-03 13:30:50
Blogging for Therapists: How to Find Your Niche