How to Choose the Perfect WordPress Theme for your Therapy Website

Of all the platforms you could choose to build your private practice website on, nothing offers the most power, flexibility for your business, customization and SEO potential as WordPress. But with so many amazing WordPress themes out there, how can you tell which one is right for your therapy website?
In this post I'll break down the process of choosing a WordPress theme for your private practice website.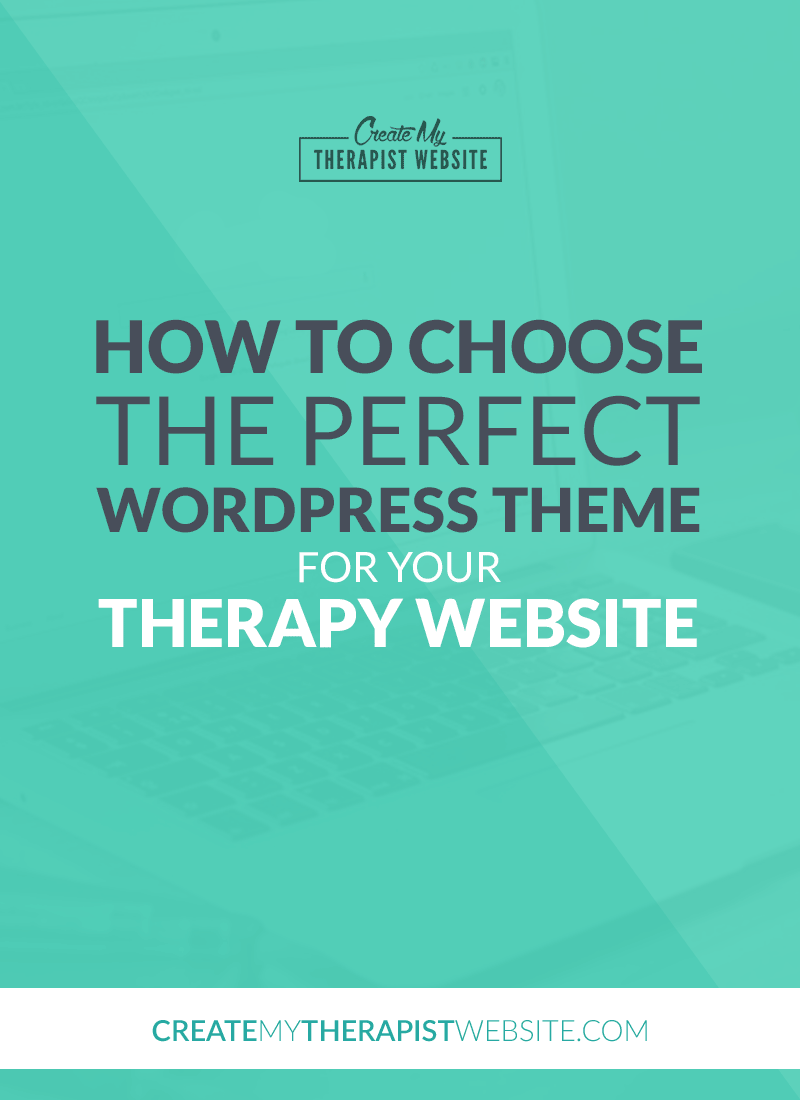 What Exactly Are WordPress Themes?
WordPress is a free website framework. It gives you everything you need to create a website and update it easily with pages and blog posts. One of the great features of WordPress is that you can add on any theme of your choosing to make the website look exactly how you want it to look.
A WordPress theme modifies the way your website is displayed without modifying the core WordPress software that runs your website.
A flexible theme will allow you to change the look and feel of your website, adjust colors and fonts, create advanced page layouts and add elements like contact forms and social sharing.
Where To Find WordPress Themes for your Therapy Website
My favorite resource for WordPress themes is the website themeforest.net (affiliate link).
This website is a place where thousands of professional designers and developers sell the products they create, including WordPress themes.
I highly recommend using a premium WordPress theme (a theme you pay for) rather than a free theme, and themeforest.net is a great place to find them.
Premium themes are often better designed, easier to use and often come with customer support to help you when you get stuck while putting your website together.
The themes range in price from $29 up to $64. What's amazing is that this is a one-time fee you'll pay; a small investment to have your therapy website look professionally designed.
How to Choose a WordPress Theme
Ok, let's go step-by-step through my process and the things I want you to look for when choosing a WordPress theme for your therapist website.
Head on over to themeforest.net and click on the WordPress link in the gray navigation bar.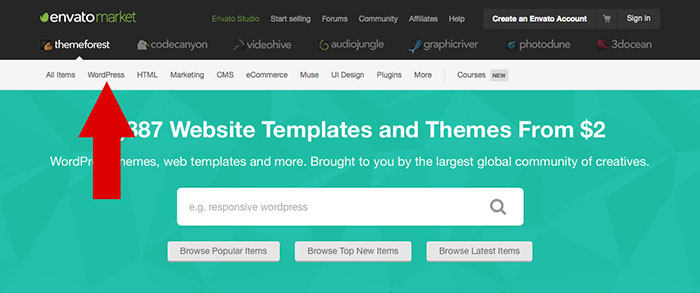 Now you should be looking at an un-filtered list of WordPress themes: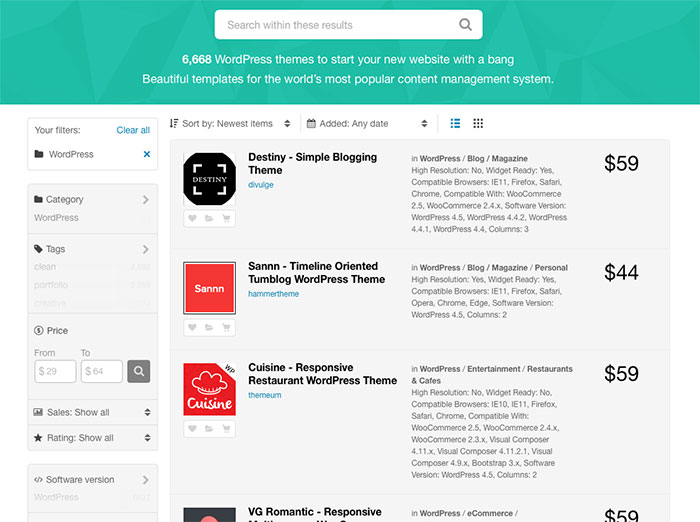 Now is where the real fun (but often time-consuming) work really begins. Use the Tags section on the left to narrow down the results. This way you won't waste your time looking at WordPress themes for real estate or something not your style.
Take a look at the various ways that Themeforest tags the WordPress themes available. Some WordPress themes can span a few different tags, but try and think about you're own style and types of therapy websites you're inspired by. Are they simple or clean? Are they creative or modern or elegant?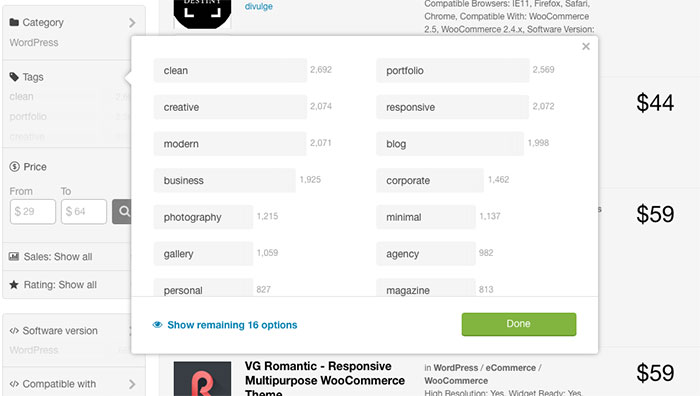 Use the tags to narrow down the search a bit.
Here's a tip: I've had a lot of luck with the tag "personal" as these often contain WordPress themes for a personal blog or website, rather than a corporate business.
Another great tip is to use the tag "multipurpose". The resulting WordPress themes are often great for many different types of businesses and blogs. Heck that's where I found the theme I'm using at the time this post was written.
Start Collecting WordPress Themes You Like
Ok, now that we're looking at a smaller pool of WordPress themes by clicking on some tags, it's time to start previewing a few and collecting some that you think would work for your therapy website.
If you hover over the image next to each theme's name, you'll see a little preview of what it looks like. If one piques your interest, open it up in a new tab (so you don't loose your place).
This will take you to the landing page for that specific theme: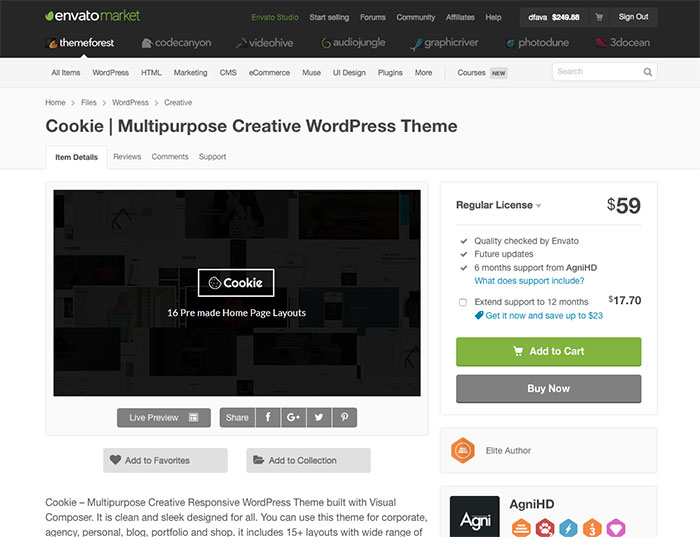 This page will give you all the information about the WordPress theme, including reviews, comments and price. You'll also be able to see some screenshots of what it looks like.
Some will even list out all the features of the theme, which is extremely helpful to get a glance of some of the special things the theme can do.
The next thing you'll want to do is check out the live preview of the theme to see if it could work for your private practice and personal taste.
A new tab will open up with a demo of the WordPress theme. Spend some time here really clicking around and checking out the various web page layouts.
Many of these premium themes come with "demo" content, which means you can import them at the very beginning of building your therapy website, as a starting place. You'll just go in and fill it with your content later.
Look for that demo content, as well as homepage layouts and imagine your content within these pages. Really try to envision it!
If you like what you see, go back to the theme's landing page and click on the "Add to Favorites" button. If you haven't already created a free Themeforest account, you can do so here.
Adding the theme to your favorites folder will save it for later as you continue to look at other themes you may want to use for your private practice website.
Continue this process with as many WordPress themes as you like. It's time consuming but will be worth it when you find a theme you really like for your therapy website.
I'll usually do a first sweep, adding about 10 themes to my favorites. Then I'll come back another day and start winnowing it down to the best one for the project at hand.
How to Choose the Best WordPress Theme
So, now that you still have a bunch of WordPress themes in your favorites, how do you choose the best one for your private practice website?
Here are some ways to help you make the best decision:
Read the reviews and comments to see what past customers of the theme are saying. Are they satisfied with the theme? Are they having trouble with it? Also take note of how the theme author responds to those comments.
Make sure you go with a theme that offers support from the authors of the theme. This will pay off when you have questions later as you start building out your website. For a small price you can often extend theme support to a year.
Check to see that the theme is responsive. It should say so in the features but you can check to see how it looks at different sizes by dragging your browser window in and out. You don't want to purchase a theme that will not look good on mobile devices. They're hard to use and Google awards websites that are mobile friendly.
Pay attention to the buyer rating and don't go with a WordPress theme with a low rating
I recommend purchasing a theme with a drag-and-drop page builder, like Visual Composer. This means you'll be able to create new web pages without writing any code. You can easily choose from a number of content elements, drag them where you want them and edit from there.
If you want to save time, go with a theme that has demo content. This will give you a great place to start if you really like the theme's demo layouts. You can then replace their text with yours and save a lot of time
Some WordPress themes also come with video tutorials or online documentation. These are extremely handy, especially if you're new to WordPress. They'll show you how to make updates and use the Themes settings.
For some examples of WordPress themes you could use for your therapy website, check out this post here.
Conclusion
Themeforest.net offers you thousands of choices for the perfect WordPress theme for your private practice website. And they're adding new ones all the time!
With a little patience, you can narrow your choice of themes down to a few that you love, then really spend some time with them, envisioning where you'd put your content, reading reviews and exploring the WordPress theme.
And guess what? If you get tired of your theme after a year or so, the beauty of WordPress is that you can always switch it for a new one.
For even more guided learning, check out my online course The Create My Therapist Website Toolbox, where I share step-by-step video tutorials all about how to create an awesome therapy website using WordPress. Just click the banner below to learn all about it:

SaveSave
https://createmytherapistwebsite.com/wp-content/uploads/2016/05/how-to-choose-wordpress-theme-therapy-website.jpg
303
807
Daniel
https://createmytherapistwebsite.com/wp-content/uploads/2015/07/create-my-therapist-website-logo-rev1-300x124.png
Daniel
2016-06-02 08:03:42
2019-04-03 20:24:50
How to Choose the Perfect WordPress Theme for your Therapy Website