Client Spotlight: Jarod Carter & Carterpt.com
If you've been reading my blog for some time now, you've probably noticed that my work usually involves helping psychotherapists in private practice with their websites and online marketing. But there's also been a growing number of physical therapists joining the CMTW community as well.
I recently had the honor of helping Jarod Carter, a doctor of physical therapy and certified manual therapist in Austin, TX, redesign and relaunch the website for his practice, Carter Physiotherapy.
Why It Was Time For A New Website
There were a few factors that made it prime time for Jarod to want to redesign the Carter PT website.
1: Aesthetics to Match Expertise
When Jarod first approached me, his current website had been in place for years and was looking a bit dated.
Here's a glimpse of the homepage before our project began: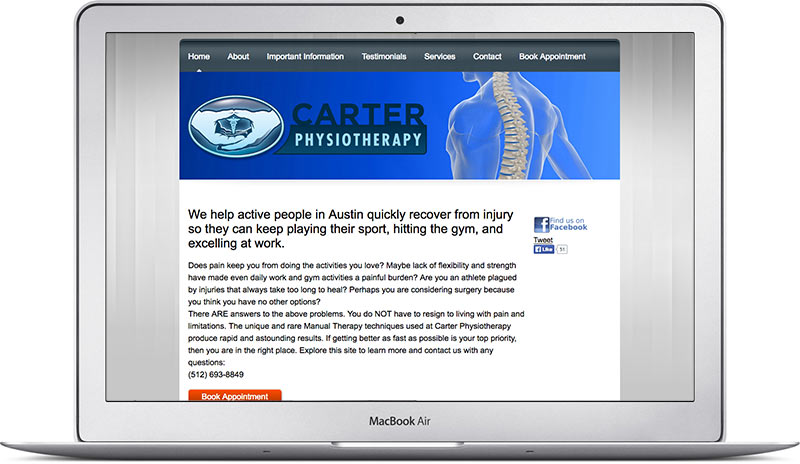 Not too much to it, right?
Jarod and his team have done an amazing job in growing the practice and positioning themselves as experts in manual therapy, helping people heal from pain and injury and live active lifestyles.
Their current website was not reflecting this expertise.
They actually had a ton of great content on the website, it was just hidden behind the dated design.
When your website feels dated, whether it's the layout, colors or fonts, it can actually hurt your visitor's impression of your professionalism.
Carter PT needed a new, fresh look to let website visitors know right away – if you're in pain, these are the guys that can help.
They needed a website that would showcase their amazing content; informational pages and in-depth articles.
So, we used the Divi WordPress theme and customized it, giving it a bright and active feel to match Carter Physiotherapy's reputation for supporting active lifestyles: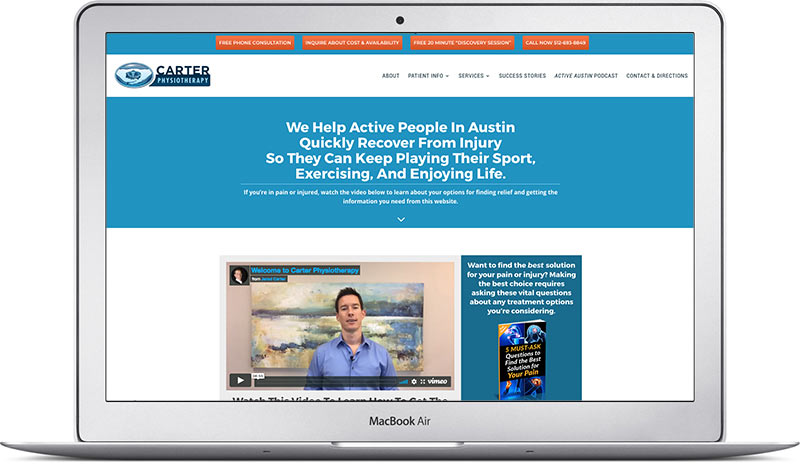 2: Grow The Private Practice Through Lead Generation
Jarod Carter and his team have seen the importance of lead generation in growing their private practice.
So, one goal for the new website was that it had to increase leads.
What's a lead?
Well, anyone who expresses interest in Carter Physiotherapy's services by submitting a little info, such as an email address and phone number.
This gives Jarod a chance to follow up with the potential client, whether that be with a free consultation or simply sending them a downloadable resource.
The website had to make it easy for Jarod to start that relationship with his potential and existing clients.
The way we pulled this off was to include a top bar with four options for folks to start a conversation with Jarod and his team.
This bar is consistent across the website, so when a client feels ready to reach out, they can do it easily.
The next thing we did was to feature 3 specific downloadable resources throughout the website that visitors could enter their info in order to download.
Because there were 3 PDFs, each covering a different topic (from general pain relief to avoiding running injuries) we were able to offer specific resources on specific pages.
So if someone is checking out all the great articles related to running, there in the sidebar the user will find an opt-in form to get a related resource.
This is a great way to connect and serve an audience because they've already showed interest in the topic, now Jarod is giving them a chance to learn more and connect with him as an expert.
Here is his freebie opt-in in action: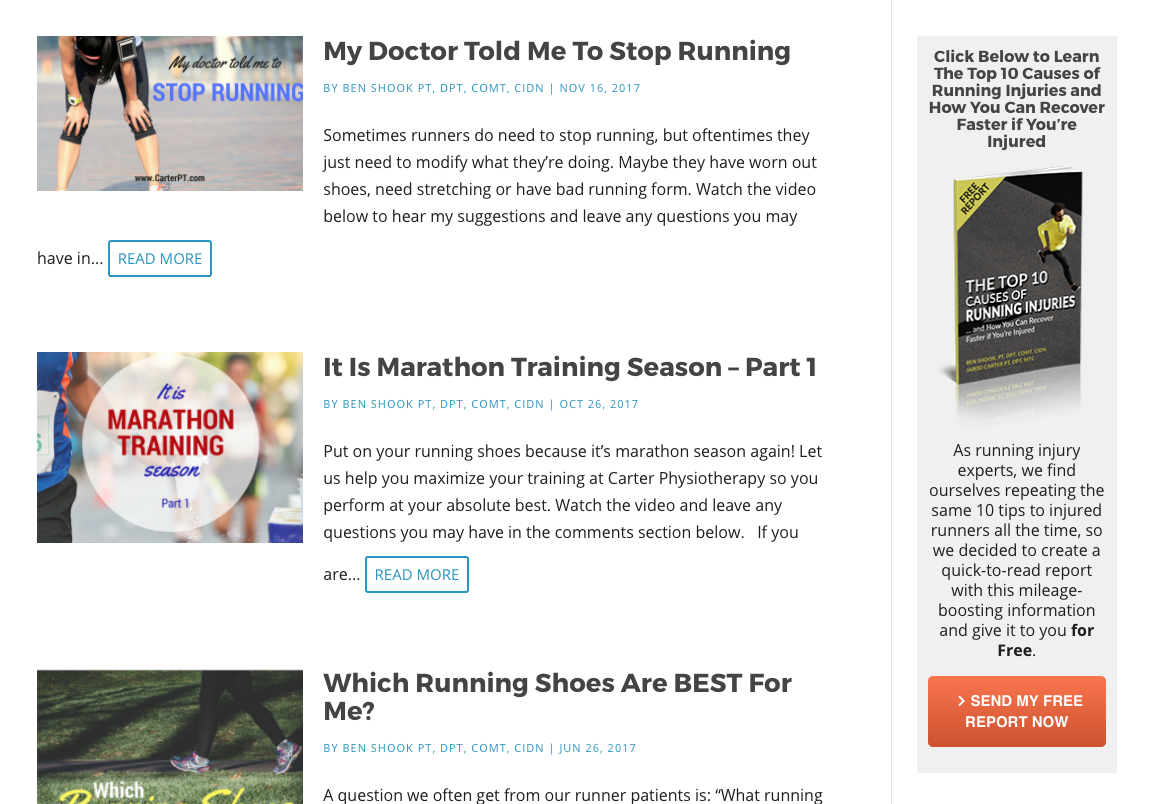 We also featured a prominent opt-in box right on the homepage, coupled with a welcome video featuring Jarod: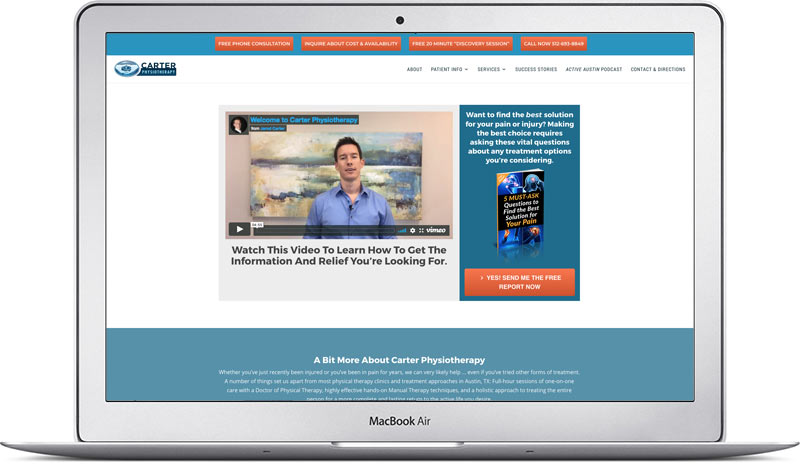 And as far as actually collecting the potential client's info, we used LeadPages (affiliate link) to create LeadBoxes that pop up when the user clicks the button or exits the web page.
This means that no matter what page the user is on, they'll have an opportunity to get more information and connect with Carter Physiotherapy in a deeper way.
3: Launch a Podcast & Make The Content Shine
Another factor that was the impetus for Carter Physiotherapy's need for a new website was the upcoming launch of their podcast, The Active Austin Podcast.
Jarod needed a home base for the podcast where they could share audio and include show notes and extra resources to go along with each new episode.
Not only is this a huge value to the people visiting the website, it's also GREAT for SEO.
With each episode of their podcast they have fresh content to optimize for search engines.
Over time, this will pay off with more and more traffic coming from Google.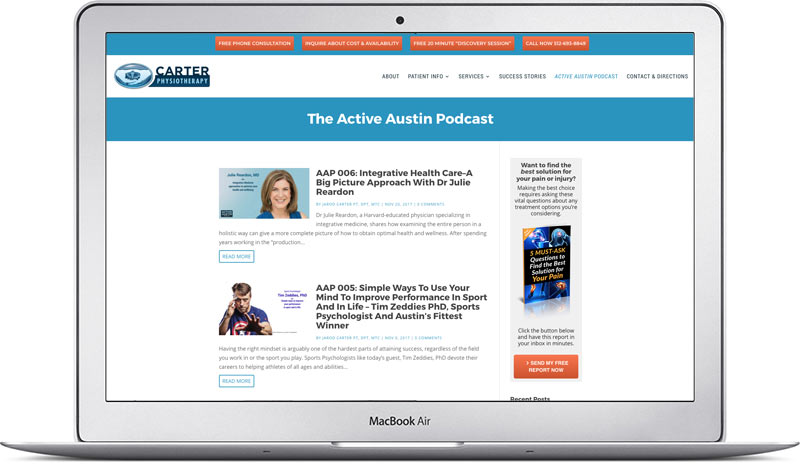 The Website Design Process & Our Work Together
As always, each project starts with a conversation where myself and the client can chat about their business and see if we're a good fit to work together.
My goal for these conversations is to get down to the core of why someone needs a website.
And when you drill down, it's SO much more than just wanting a prettier website.
It really comes down to "what goals do you have for your business?" and then seeing how a website can help you achieve those goals.
When I first met Jarod I really appreciated the vision he had crafted for his private practice.
Once I knew his vision, it became my job to create a website that would help him achieve it.
Because of the many opt-ins, forms and great content we had to showcase with this website, I learned a LOT more about the ins and outs of Divi and took customization to a new level.
It was challenging, but it was fun.
I'm really happy with how the website came out and excited to see Jarod and his team using it as a marketing hub to increase their leads and grow their practice.
Here's what Jarod had to say about working together:
"I've worked with a number of web designers in the past and working with Daniel was an absolutely incredible experience. Unfortunately, there are a lot of web programmers/designers that promise the world and then deliver very little.
With Daniel, he did everything he said he would do, has a fantastic sense of style and design, and always implemented 100% of my revisions/feedback in a very timely manner.
This whole process was as close to flawless as I could imagine. I will most definitely work with him again and recommend him to anyone looking for a great looking website and traffic-converting website."
Click here to visit carterpt.com and explore the new website.
Is Your Website Working For You & Your Private Practice?
As a website designer, seeing my clients use their new websites to propel their business forward is my greatest reward.
It was an honor to be able to bring Carter Physiotherapy's website to life and create an asset for marketing their business.
If you're website isn't growing your practice the way you know it could be, I'd love to chat.
I offer a free 30-minute consultation where we can discuss your private practice goals, current challenges and how a new website could help move your business forward.
Click here to learn more about how we can work together and to schedule your free 30-minute consultation.
SaveSave
SaveSave
https://createmytherapistwebsite.com/wp-content/uploads/2018/01/Client-Spotlight-Blog.jpg
303
807
Daniel
https://createmytherapistwebsite.com/wp-content/uploads/2015/07/create-my-therapist-website-logo-rev1-300x124.png
Daniel
2018-01-03 07:00:38
2019-04-03 20:16:52
Client Spotlight: Jarod Carter & Carterpt.com