Blogging for Therapists: How to Increase The Readability of Blog Posts
Fact: The people reading your blog are busy, distracted and their attention spans seem to be growing shorter by the day. So, how can you help these busy people get the most out of your private practice website and actually read your blog posts?
One way to keep readers around is to ensure your blog posts are organized and easy to read. In this article I'll give you 5 tips to make your blogs more readable.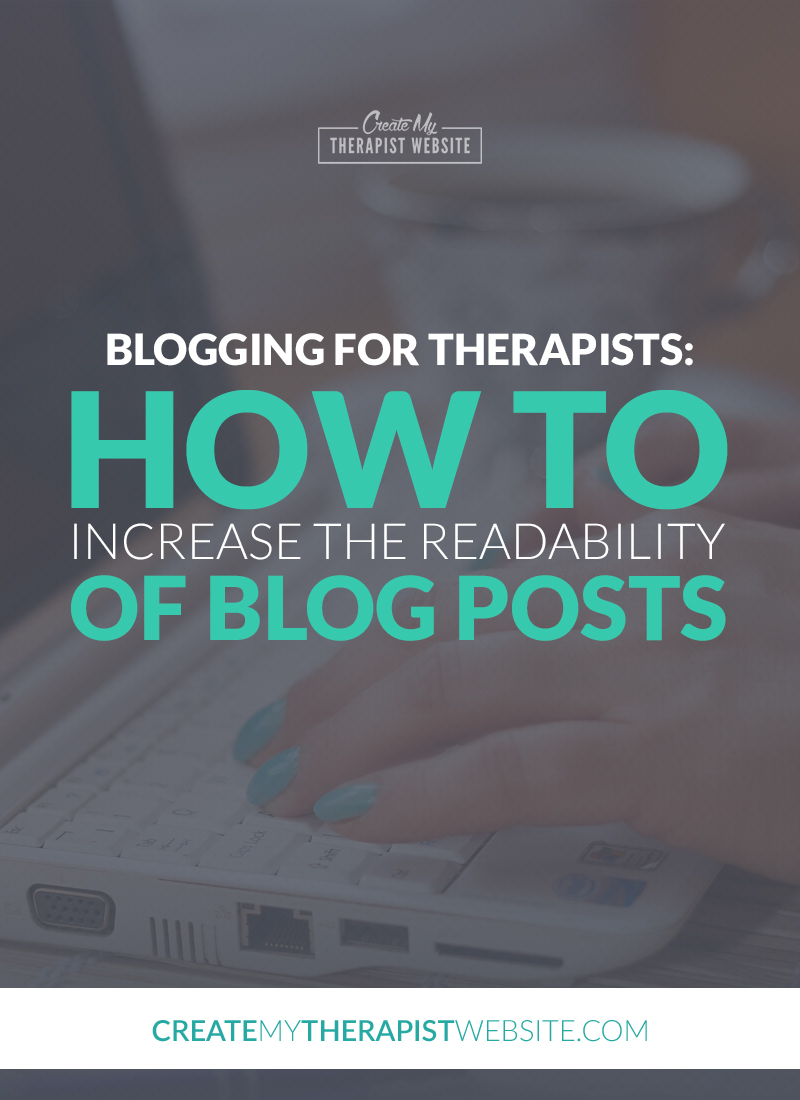 1.  Use a White Background on Blog Posts
If you want to guarantee that your blog is hard to read, add a bright or dark background to your blog posts.
Personally, when I land on a blog that has gotten a bit too lively with the background colors, I just leave.
It hurts my eyes and drives me a bit batty.
You want your information to stand out, not fight with the other design elements on your therapy website.
Using a white background will help do just that. It will make sure the text and photos within your blog post draw attention and (most importantly) can be easily read.
2. Use a Clean Body Font
For the main body text of your blog (and website) you want to use a simple font that's easy to read.
Save script or fancy fonts for bold headers, which are usually larger and thus, easier to read in a decorative font.
It's also best practice to make sure your font is black or a darker gray. These shades are easiest to read on a screen.
3. Use Paragraphs… Lots of Them!
Have you ever visited a blog post, let it load and you were met with a WALL of text.
You wanted some information but now you feel like you have homework to do by having to read this novel before you.
Breaking text up into more paragraphs is one of the best ways to make your blog posts more skimmable and the information easier to digest.
A blog is different than a book. In a book, paragraphs can go on for most of the page. But with a blog, you have to be more succinct with your info.
People are often reading on their phones or doing a number of other things. So they're just not going to read a two paragraph blog post that's 1500 words long.
You can see in this blog post that I try to stick to two to three sentences at the most for each paragraph.
4. Break Up Content With Lists, Images and Headings
Having breaks in your content (especially long blog posts or web pages) gives the reader's eye a break.
It creates anchor points that provide a sense of organization and stability, making the reading process so much more (albeit often unconsciously) pleasing.
Here are some other benefits to breaking up your content (see what I'm doing here??):
Images and video have a way of improving the perceived value of content. It makes it seem more thorough and Google likes this.
Use keywords when using headings (H1, H2, H3, etc.) within your content and this will also help with SEO
Bullets let you get straight to the point, making the info easier to digest
5. Kill The Clutter
This tip is more about the design of your blog, rather than your content…
Sometimes we just get too excited about our websites and we want to include EVERYTHING.
We cram the sidebar or footer with every social profile we're on and everything we'd love our readers to click on.
Try and simplify it to remove distractions.
Think about your ideal client and reader and what they are thinking and feeling and make sure your design helps them get the most out of your content and not overwhelm them.
Keep it simple.
Conclusion
The next time you sit down to craft your next stellar blog post, keep these 5 tips in mind. Doing so will help ensure your readers can truly get the most out of your blog and read all that great information I know you're giving them.
What? You're having trouble staying consistent with your blog? I have you covered… Check out these tips here.
https://createmytherapistwebsite.com/wp-content/uploads/2017/01/featured-Blogging-Therapists-How-to-increase-readability-blog-posts.jpg
303
807
Daniel
https://createmytherapistwebsite.com/wp-content/uploads/2015/07/create-my-therapist-website-logo-rev1-300x124.png
Daniel
2017-01-03 07:00:03
2018-04-27 16:27:54
Blogging for Therapists: How to Increase The Readability of Blog Posts