Blogging for Therapists: 6 Things You Should Do After You Hit Publish
In our last post, we talked about 11 things you should do BEFORE you hit publish on that amazing new therapy blog post you've written. Today we'll talk more about private practice blogging and 6 things you should do AFTER you've posted a blog on your therapy website.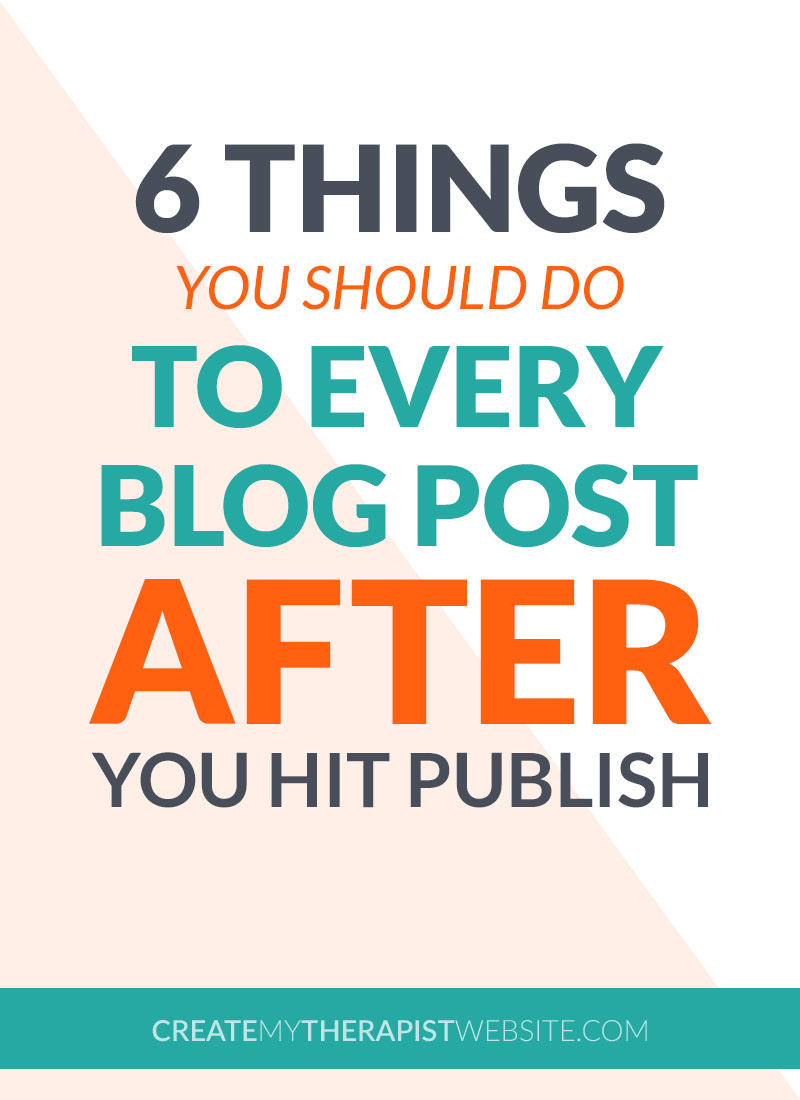 Let's jump right in.
Pin Your Blog Post on Pinterest
If you've followed me on this blog for any length of time, then you'll know that I'm a huge fan of Pinterest and its potential for driving traffic to your website for months and years to come.
If you haven't already, create an image for your post that's specifically for Pinterest, using a program like Photoshop or Canva.
A good idea for promoting your own blog on Pinterest is to create a board that only has pins from your website. You can call it "From the Blog" or something similar. You can then post all your new blog post pins in this board.
After you pin to your "from the blog" board, over the course of the next few days, you can repin from that board onto other relevant boards and group boards to distribute your pin to other audiences.
So, go ahead and create a new pin on Pinterest that links to your blog post, making it very descriptive and using keywords relevant to your blog post.
Pinterest is basically an image-based search engine, so you want to be as descriptive as possible so people can find your pin easily.
If you want to learn more about how to specifically use Pinterest to drive traffic to your therapy website, check out this post here.
Share on Facebook & Twitter
Now that your super awesome blog post is published, the fastest way to drive traffic to it is through social media.
If you're using WordPress and you've created a featured image for your blog post, the good news is that half the work of creating your social post is done for you.
Since posts with images tend to get MUCH more interaction that posts without, you'll want to include a photo if you can.
You can find all the image sizes for social media posts here.
Schedule More Social Posts
On some social media platforms, like Pinterest and Twitter, posts tend to have a short window in which they will be seen. One way to get more traffic to your therapy website is to schedule multiple posts to the same blog well into the future.
To do this, I love to use Buffer. It lets me connect my social profiles and set specific schedules for when I want to post on each one in the coming days, weeks and months: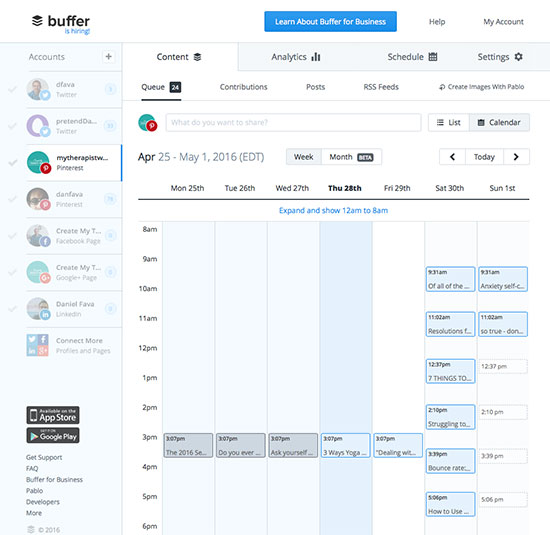 When I publish a blog, I'll send out a Tweet right away. Then I'll schedule one later in the day, later in the week, then later in the month, then waaay in the future. I love it because I don't have to think about it.
I only recommend doing this on Pinterest and Twitter, where the rate of new posts is so frequent. Posting multiple times increases the chances that your followers will see your post.
Send a Newsletter to Email List (If You Have One)
If you've got an email list, now is a great time to get in touch with them.
Blogging regularly and then emailing your list with the link or blog content is a great way to keep in touch with folks who've already expressed interest in your services.
It's also another great way to drive traffic back to your website.
I use Mailchimp (affiliate link) for my email list, and I've set up what's called an "RSS Campaign", where it checks to see if a new blog has been posted. Once it sees a new blog has been added, it automatically sends some pre-specified content out to my email list.
For more information on how to use Mailchimp automatically email your mailing list with your latest therapy blog post, check out the instructions here.
Respond To Blog Comments
If your blog receives any comments, it's pretty obvious the polite thing to do is to respond to them!
Responding to comments is a great way to share a bit of your personality and make you real to your readers and potential clients.
Continue to provide value to your readers within the comments. Make them feel special and glad they read your blog.
Check Your Google Analytics to See How Your Blog Post is Doing
After about a month, it's a good idea to check in on your Google Analytics to see how much engagement your blog post actually received.
You can learn a lot from things like page views, bounce rate and the average time spent on your blog post.
If you've gotten a lot of page views but people are just not staying and reading through the blog post, then you may want to edit the post to make it more engaging or easier to read.
You may even notice some patterns of low or high engagement with certain types of blog posts, telling you what your audience wants more or less of from you.
One of the easiest ways to check the specific Google Analytics for a page on your site is to download the Chrome extension here.
Once enabled, you can navigate through your website and see the info for each page you're on:

Boom. I hope you found these blogging tips useful as you continue to master your online marketing for your private practice. Got any other things you do as part of your blogging ritual? I'd love to hear it in the comments.
If you are a therapist in private practice and you struggle with creating a professional-looking website that you're proud of and attracts the clients you love, I'd love to help.
I'm currently looking for a few great people to work one-on-one with to help them design or redesign their therapy website. If you're interested, you can learn more here.
https://createmytherapistwebsite.com/wp-content/uploads/2016/05/blogging-for-therapists-6-things-after-you-hit-publish.jpg
303
807
Daniel
https://createmytherapistwebsite.com/wp-content/uploads/2015/07/create-my-therapist-website-logo-rev1-300x124.png
Daniel
2016-05-03 06:30:22
2017-11-03 13:33:49
Blogging for Therapists: 6 Things You Should Do After You Hit Publish