5 Tips to Increase Your Therapy Website Traffic By Choosing a Niche
So you've launched your private practice website. You spent hours crafting the perfect description for each of your counseling services and even more hours getting each page just right. But you noticed you're not getting the right kind of clients through your website – the ones you really enjoy working with. Why is that?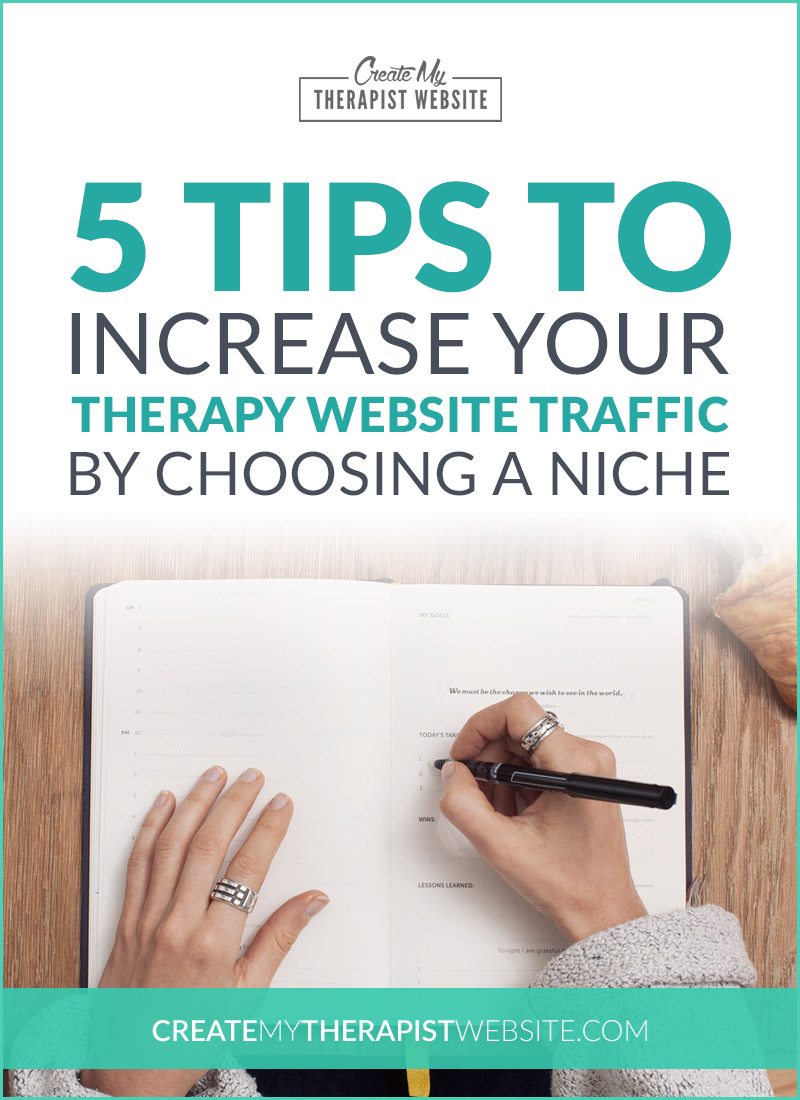 One reason why your private practice website may not be attracting the potential clients you hoped for is because your website (and possibly your therapy practice) lacks a niche; a specific type of person you focus on serving.
In today's post I'll tell you about my failed blogs, how I learned the importance of choosing a niche and how it can increase the RIGHT traffic coming to your therapy website.
My "Failed" Blogs
Once upon a time, I started my first blog.
I was getting ready to drive cross country, from New York to Montana, then do some misison work in India and Thailand.
I loved sharing my stories and photos from that amazing adventure, but really the only people interested in it were my family and a handful of friends from my church.
Judging by blog comments, only my mom was reading. Thanks Mom!
Granted, my goal was not online marketing at the time, but rather I wanted to journal my experiences, so I was fine with the low readership.
Fast-forward a couple years and I started a website and blog centered around travel photography. It was a continuation of sharing the stories and adventures of the many international trips me and my wife love to take.
I wanted to sell photography as a way to raise money for future trips so I attempted to do this through a brand-spankin' new website and blog.
Yet again, this website only seemed to attract our loyal group of friends and family with one or two rogue people who seemed somewhat interested in what I was doing.
Here's a snapshot of my traffic during an average month:

I had a few folks stay on the site longer than a minute, so I guess that's a win!
Ok, so moving right along…
Using My Third Blog as a Training Ground
Photography is still a huge part of my creative outlet as well as the travel we do, however it became more and more clear to me that it wasn't something I wanted to pursue more than just a hobby.
So, as I became a lost creative vagabond, I basically landed back on my old portfolio website blogging about whatever interested me at the time.
How to make wall art, photography, book reviews. All great stuff but it was pretty random.
However, this time around, things were starting to change.
I began to treat blogging less as a hobby and more as way to grow an audience, share ideas and market my services.
I started an email list, I became more consistent with posting content and then sharing it on social media networks.
You can see the comparison from Google Analytics below. In April of 2015 (the orange line), I posted one short blog. In May of 2015 (the blue line) I posted a blog every week and promoted those blogs. You can see the difference: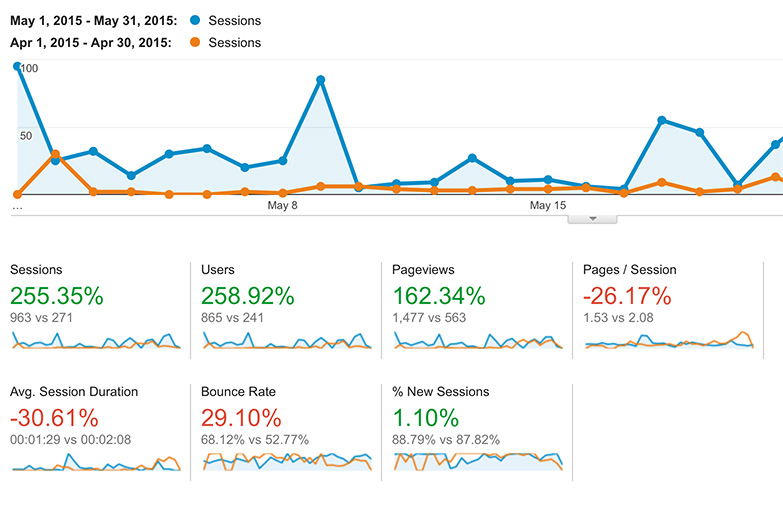 While this was great to see that I was on the right track, it was still unclear who the heck this blog was for.
Who was I actually helping? Who was I speaking to? I was not connecting with anyone through my efforts.
When it Comes to Web Traffic, Choosing a Niche Makes All The Difference
I started this blog here in July of 2015 because I wanted to share my web design gifts by helping others.
After so many of my wife's coworkers at her counseling practice asked me about website design, I realized I could finally start a blog with a very specific focus: helping therapists and counselors create their own websites and market themselves online.
Once I landed on that, ideas for blog posts kept flooding my mind.
I had a million things I could write about and I knew exactly who I was talking to and ideas about ways I could help them.
And within that first month, I had over 2500 pageviews, which was double the pageviews on my previous blog's best month.
I also began to get emails from people thanking me for my content and letting me know how it has helped them. I can't ask for anything better than that!
I also believe that the specific topics I discuss has helped me grow my Pinterest audience much quicker as well.
I've tried to make it very clear by the topics I discuss that if you're a therapist looking to learn web design, you're in the right place.
My wife does this in her counseling practice by focusing on establishing healthy relationships. All the blogs she's posted and content she's written falls under that umbrella.
And for the most part, they majority of work she does with her clients is centered around relationships, boundaries and breaking dysfunctional habits that hurt connection.
That's what she loves so that's the content she creates and that's who ends up in her office.
5 Tips for Choosing Your Private Practice Niche
So what about you and your private practice website?
Have you made it clear who you help and what you help them achieve?
You may very well already be working with a specific population within your therapy practice, but have you found a way to effectively communicate that on your website?
Doing so can help you boost your web traffic, hook potential clients and help you clarify your marketing voice.
Because I always try to leave you with something practical, here are a few tips to help you clarify your own niche:
1. Over the course of a month, look at the types of clients you've been working with. Is there a particular type of client that you just keep attracting? Write down these types of clients, their struggles and how your services can help them and begin to use those words on your therapy website.
2. Thinking about the type of practice you want to have 5 years from now, are there any clients that excite or energize you? Do you love working with couples? Or women with postpartum depression? You can begin to write blogs geared toward helping the clients that you love.
3. Write out your elevator pitch and use it on your website. Something along the lines of "I help [insert population you work with here] achieve/get/establish [desired outcome here]". Use this on your homepage and on your about page.
4. Write website copy with your ideal client in mind and seek to serve them and guide them. I'm confident doing this is what helps create connection with your website users. You want your potential ideal client to know that they are in the right place and seeking therapy with you is the answer to the problem they're facing.
5. Ask friends, family and colleagues. Speaking to the people that know you best is a great way to find out if there are any areas where they've observed you thriving. They can see gifts in you that maybe you can't see yourself and help you determine the type of people you are gifted in helping within your therapy practice.
Have you found your niche yet? I'd love to hear more about it in the comments! Post your elevator pitch in the comments below.
https://createmytherapistwebsite.com/wp-content/uploads/2016/08/5-tips-increase-therapy-website-traffic-choose-niche.jpg
303
807
Daniel
https://createmytherapistwebsite.com/wp-content/uploads/2015/07/create-my-therapist-website-logo-rev1-300x124.png
Daniel
2016-08-17 15:21:18
2018-06-20 12:33:17
5 Tips to Increase Your Therapy Website Traffic By Choosing a Niche