11 Things You Should Do To Every Blog Post Before You Hit Publish (+ Free Checklist)

Let's face it – blogging can be a lot of work. As a therapist focussed on face-to-face client time, it may be hard to juggle all that goes into blogging for your private practice website. You're busy writing client notes, not SEO ready, easy-to-read, highly-sharable blog posts. But you know that blogging is a fantastic way to get potential clients to your website.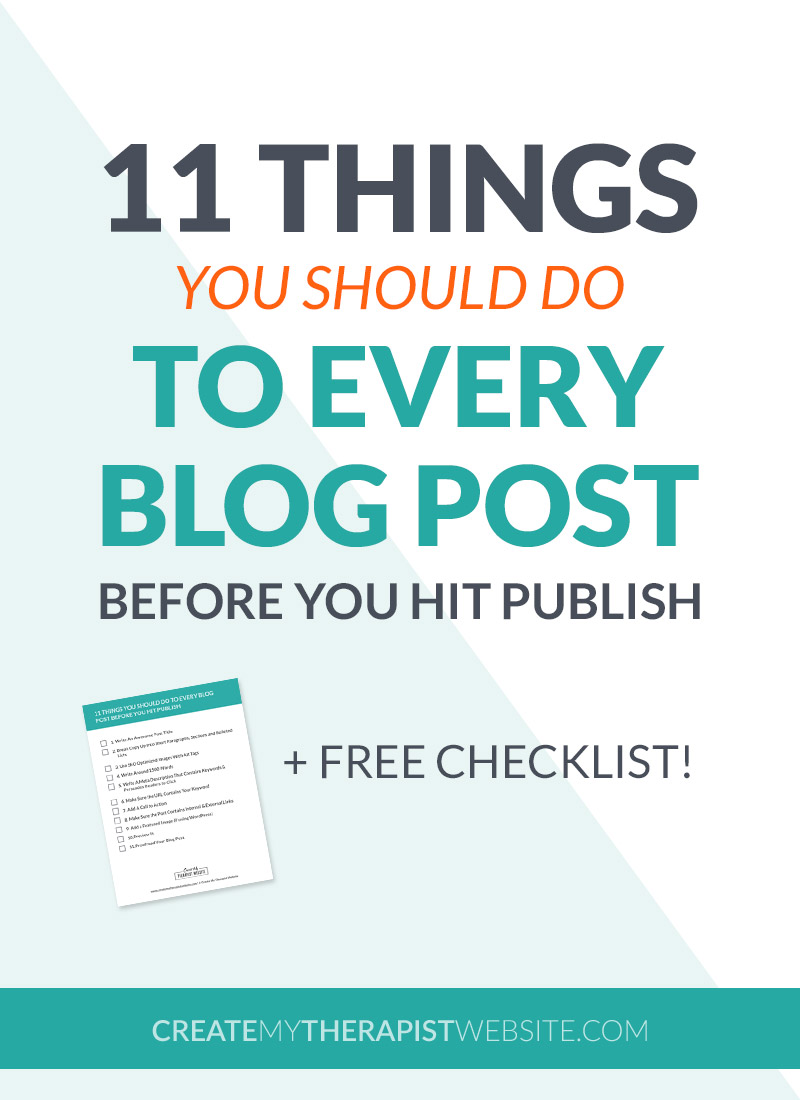 So, in this post, I'll share 11 things to do before you publish your next blog post. Making these things a habit along with your blogging routine will help ensure each post is the very best it can be. I also created a free checklist you can download and refer to during your next coffee-fueled blog-writing session. (or am I the only one who needs coffee when they blog?)
1. Write An Awesome Post Title
How is your blog title looking?
When it comes to your blog post title, you'll want to be aware of 2 things:
Is it intriguing and does it encourage readers to click through to your brand spankin' new blog post?
Does it contain the keywords or phrases you want people to use to find you in search engines?
The title of your blog post is extremely important. It's the very first thing that readers will see before reading – or NOT reading – your blog post.  So it deserves some special attention and time to make sure you've written a title that will persuade people to read it.
For me, I usually spend this time after I've written the blog post.
Check out this neat tool from CoShedule. It'll help you analyze your blog post titles and score them based on the types of words you use and the emotions they project.
You can have the most amazing therapy blog post ever, but if your title is weak, then people may never read it.
Your title also holds a lot of SEO weight and is key to being found by search engines. So make sure you include keywords in your blog title to optimize it for SEO.
Ok, let's take a look at an example.
A so-so blog post title could be something like: "How to Communicate in Marriage."
This isn't a great title because it's pretty boring. It's not intriguing and it's very vague. That post could be about SO many different things.
A better title could be: "5 Things Newlyweds Need to Know About Communication."
This is better because it's much more descriptive about what you'll learn from reading the post. It also targets a population – Newlyweds. So it's much more optimized for SEO and could be something a newlywed would search for.
2. Break Text Up Into Short Paragraphs, Sections and Bulleted Lists
I like this tip because it's simple.
You're writing blog posts for people with short attention spans and probably reading on their phones.
You are NOT writing the next great American novel.
So leave out the long, drawn-out paragraphs and huge blocks of text.
Because the majority of visitors to your therapy website will be skimming the content to decide first if it's useful to them, you want to make it easy to digest. Doing so will help them stay longer and hopefully lead them further into your content.
Here's how you can make your blog post more readable:
Break up large paragraphs into smaller ones of about 2-3 sentences
Use section headers to signify to the reader the different parts of your blog post
Use bulleted lists (hey! I'm doing that right now!)
Creating huge blocks of text overwhelms readers and keeps them from being able to quickly assess what your blog post is about.
3. Use SEO Optimized Images With Alt Tags
You'll want to be aware of two things when it comes to embedding images in your blog post:
The title of your images contains the keyword relevant to your post
The Alt Tag contains a full description of what your post is about
When you create images (especially your featured image if your using WordPress) you'll want to literally name the JPG file so that your keyword appears within it.
5-things-newlyweds-need-to-know.jpg is much more descriptive than image495838.jpg
It's another indicator to search engines what you blog post is about.
Alt Tags don't carry a ton of weight with search engines but there is one huge benefit to making sure you include a descriptive one with each image you upload.
That huge benefit is Pinterest.
If and when someone pins an image from your blog post, Pinterest will automatically pull in the text that is in the Alt Tag. So you'll want to  make sure you optimize this text with keywords and a clear description.
Check out this post for some more tips on using Pinterest to promote your therapy website.
If left up to the reader, they may leave it blank or just fill it in with something that's not descriptive, that will never lead new readers back to you.
In WordPress, you can add the "alternate text" when you upload your image. Or you can do it after it's uploaded, by clicking on the image edit pencil icon, and filling in the alternate text field: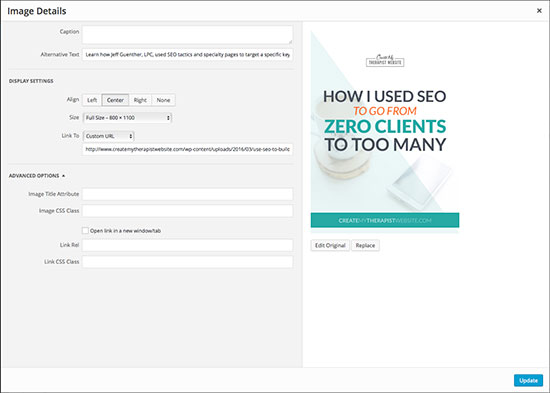 4. Write Around 1500 Words
There has been many tests done to see whether long-form content impacts your Google rank.
That study, by CoShedule showed that the top 5 pages on Google for a keyword averaged more than 2,000 words. The results for pages 6-10 averaged around 1400.
The reason being is that longer posts tend to rank higher and be shared more because they are perceived as more valuable.
Basically, just writing more than 1500 words alone will not boost your post in search results. But combined with other SEO best practices, it is one of the indicators of the quality of your content.
It really all comes down to the usefulness and quality of your blog post. If you can write an awesome blog post that's super useful to your audience in less than 1500 words, go for it. But if it takes much more than 1500 words, that's fine too.
I've found that with my blog, it's very hard to be useful in just 500 words, so I prefer longer posts where I can give a lot of value to amazing folks like you.
So go big, be helpful and write write write!
5. Write A Meta Description That Contains Keywords & Persuades Readers to Click
This goes hand in hand with your awesomely optimized title that we spoke about earlier.
You'll want to write and informative and persuasive meta description for each post you write.
A meta description is the description of the page content that people will see under the title in Google. If I search for "How to dance salsa," one of the results looks like this:


See how descriptive that sentence is below the title? It contains the keyword "salsa dancing" three times.
If you're using WordPress, you can create custom meta descriptions using a plugin like Yoast SEO. This plugin is amazing and will analyze how many times you use your keyword in a blog post, so you can continue to optimize it.
6. Make Sure the URL Contains Your Keyword
Another shot in the arm for the SEO of your awesome therapy blog post is to make sure the URL for your post contains the keywords you're targeting.
This is one of the first indicators to Google as to what your post is about. So let Sir Google know!
One way to do this automatically in WordPress, is to make sure your permalink structure is set to /%postname%/ under Settings/Permalinks.

Now, when you publish a blog post, it will use your title (which I KNOW you already optimized, right?) for your URL. You can, of course, customize it entirely by clicking the Edit button under your WordPress title:

7. Add A Call to Action
So what do you want the reader to do AFTER they read your blog post?
Think about that. Do you want them to comment? Do you want them to call you for a free consultation? Do you want them to sign up for a newsletter?
Determine the end goal of your blog post and make sure to include a call to action. A little nudge or signal that their interaction with you has only just begun.
When we leave out these calls to action, we leave it up to the reader, which just might end in them leaving your website and going on their merry way, never to return again. #bummer
So create a button or link or ask a question and tell readers to leave a comment. Do something to lead them in the right direction, which is towards more of you!
8. Make Sure the Post Contains Internal & External Links
The reason you'll want to add internal links is to help with your bounce rate.
Bounce rate is the rate at which someone comes to a page on your site then leaves without doing something. It is very important when it comes to your page rank in Google, because it lets Google know that people are finding your website useful and sticking around.
One way to lower your bounce rate is to include internal links to other content on your website that is relevant to the post they're reading.
The reason why you'll want to add external links within your blog post is that Google likes to know that you are adding value to the online community you serve, not just out to promote yourself.
So, having a link or two to valuable and relevant information that supports your topic can be an indicator that you are providing quality and helpful content.
So with each blog you write, try and include some helpful internal and external links.
9. Add a Featured Image (if using WordPress)
There are two main reasons why you'll want to make sure to choose a featured image for your blog post:
This image will be used by your WordPress template throughout your private practice website
This image is what will be associated with your blog post when someone shares it on social media
Most WordPress themes use this featured image in various places throughout the theme.
The most common place is on your blog landing page, which is typically a list of your latest blog posts, displaying the featured image along with the post title and maybe a few sentences of the blog post.
This page will look a lot prettier and engaging if you include a high-quality photo along with each blog post.
Another place where having an image along with your post title can boost engagement is on social media networks.
According to Buffer, posts with an image get 39% more interaction than text-based posts.
If someone reads your blog post, then shares it on Facebook, Facebook will pull in your featured image along with the post link and title.
So before you publish that pretty therapy blog post, upload a pretty photo to go with it to maximize the quality of the post and boost engagement both on your website and on social media.
To set your featured image in WordPress, look for this box on your edit post page, and click on "set featured image":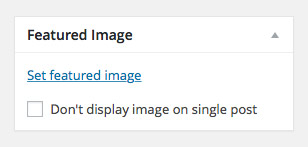 For great places to find free professional stock photos, check out this post.
10. Preview It
It's always helpful to preview your post in it's natural habitat – within your website, surrounded by your header or sidebars or whatever else you have going on.
I'll often work for hours on a blog post within WordPress before I finally look at a preview of it on my website.
Often when I do this, I'll notice things like images out of place or the wrong size. Or maybe a subhead is using the wrong size font and not consistent with the rest of the blog post.
Always preview it to see exactly how it will look to your readers before you publish.
11. Proofread Your Blog Post
Do I REALLY need to mention proofreading? Do I?!
Yes, I do. Because it's something I often need to remember to do myself.
I'll often proofread my blog posts multiple times and STILL find errors after I hit the ol' publish button.
So make sure you do it too. Read and re-read your blog post. Read it slow and take in each sentence so you can really focus in on the structure of each one and find any mistakes lurking there.
I once had a grammar mistake in a sentence ABOUT grammar. A reader had to point it out to me.
Don't be like me. Proofread over and over and over again.

I hope I haven't overloaded you with this to-do list! Believe me, as you blog more and more and create a habit out of content creation, it WILL get easier. And to help you get into that flow and make sure you don't forget what to do, I've created a FREE checklist that you can print out and refer to whenever you write your next blog post. Just click here to download it.
What do you think? Will you add any of the above to your blogging repertoire? Let me know in the comments!
https://createmytherapistwebsite.com/wp-content/uploads/2016/04/11-Things-You-Should-Do-To-Every-Therapy-Blog-Post-Before-You-Hit-Publish.jpg
303
807
Daniel
https://createmytherapistwebsite.com/wp-content/uploads/2015/07/create-my-therapist-website-logo-rev1-300x124.png
Daniel
2016-04-05 06:50:28
2016-10-31 16:32:46
11 Things You Should Do To Every Blog Post Before You Hit Publish (+ Free Checklist)